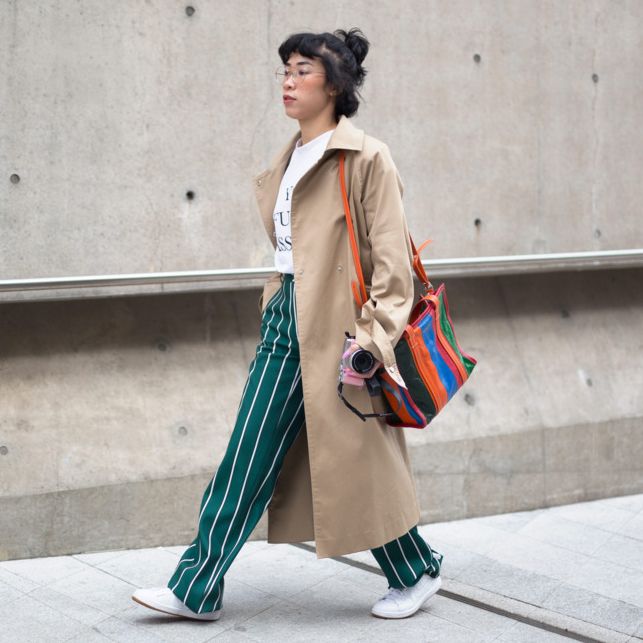 Getting dressed for work shouldn't be a bore. Welcome to Business Casual — here to make your weekdays easier.
Last spring, at Seoul Fashion Week, I developed an unhealthy obsession with trench coats. They looked extremely stylish on every woman who crossed my path, whether styled with sneakers, influencer heels, or baseball caps. I still regret not buying my dream trench while I was in Korea, but it's okay — there are plenty of good options that don't require a plane ticket.
Whether you're looking for a classic trench from everyone's favorite brand Everlane or an avant-garde take by indie Scandinavian label Dagmarr, now's the best time to shop for a new spring jacket. Scroll ahead for our favorites.
The Expensive-Looking Bargain
The slight sheen to the fabric gives it a slick, futuristic feel without veering into Matrix territory.
Cobalt blue is eye-catching and won't clash with your wardrobe.
If You Love Bold Color (But Work in a Conservative Environment)
Not as shockingly bright, but still a break from all of those neutrals.
If You Like Scandinavian Style
Navy is just as sophisticated.
The Best Affordable Classic Trench
Reviewers love this one for its high-quality fabric, sleek look, and handy detachable hood.
Because You Love Everlane
Of course they do a trench coat that's well-priced, stylish, and easy to wear.
The One That Pulls Double Duty
Button it up and cinch it to make it a dress or keep it loose as a coat.
If You're About Robe Life
This flowy coat has all the comforts of a silk robe but is polished enough to wear to the office.
Because You Have an Eye for Detail
Doesn't the red lipstick look striking against the navy collar?
If You Love Awkward Pants
The designer responsible for the high-waisted trousers everyone loved last summer is the mastermind behind this crisp white trench.
The billowy asymmetric hem makes for dramatic entrances and exits.
If You're Looking to Invest
You can't go wrong with the brand that's best known for their classic trench coats.
If you buy something through our links, New York may earn an affiliate commission.