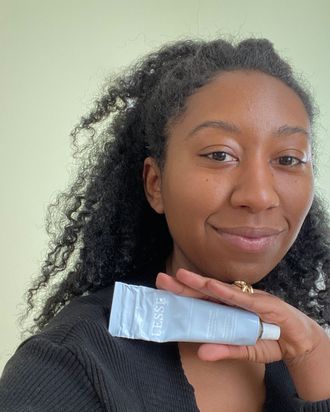 Photo: Photo Courtesy of Trinity Mouzon
When Trinity Mouzon launched her brand, Golde, alongside her high-school sweetheart in 2017, she set out to make the world of wellness more approachable. "I originally thought I was going to become a doctor," she explains of her time as a premed student at NYU. "That's where my initial love for wellness came about. I wanted to become a doctor also because my mom has a severe autoimmune disease. I remember she had a holistic doctor that helped her a lot, but she ended up having to stop going because it was so expensive." Her mother's health forced Mouzon, then a junior in college, "to take a pause and think about what it was exactly that I wanted to do in wellness because it's not always accessible."
After graduating, she did just that, creating what would become Golde's first product: the turmeric blend. "We started with very humble beginnings," she says, thinking back to the time when she and her now-husband were mixing formulations together in her kitchen. Since then, Golde products have gone from their kitchen counter to shelves in Ulta and Sephora. Meanwhile, Mouzon herself has been featured in the likes of Vogue and W and on the cover of Saratoga Living. "It's been a joy to interact with people who love our products. It's led me to so many places I never thought I would be," she says. "I'm just trying to allow myself to enjoy the journey of it all — and that's also just a lesson Golde has taught me about life in general."
With running a rapidly growing business and being a new mom, Mouzon takes her wellness routines seriously. "I think having a ritual in your life is really valuable in helping to restore yourself to a place of strength," she says. "When you take time to do your skin-care routine or put on your favorite fragrance or make yourself a matcha or whatever it is you enjoy doing, you are affirming that you are worthy of that care. I don't think it's selfish either; It's the fundamental foundation of being a productive member of your community."
.

Here, Mouzon's a.m. routine:
6:30 a.m. — I'm usually up with my daughter, just playing with her and getting her dressed. Then I'll usually trade off with my husband so that I can go and get ready.
7 a.m. — I always start the morning with a tall glass of water. When you wake up in the morning, you're likely a little dehydrated. I have a Berkey filter in the kitchen. It's really the centerpiece of my home.
7:05 a.m. — I go brush my teeth. I'm using a new brand of toothpaste called Ojook. I really like it. The toothpaste is kind of salty and gets your mouth superclean. I think there's something to be said about turning all of these little things that you have to do — the mundane things like brushing our teeth — into sweet little self-care moments.
7:10 a.m. — Then I use my Lesse Refining Cleanser. I started using it over a year ago and haven't stopped since.. It's so good that my husband also uses it exclusively — and he usually doesn't do a lot for his skin-care routine. If I'm going to use any sort of toner, I've been really liking the one from Vintner's Daughter. I'll usually do that two to three times per week. I like that it's really gentle.
7:14 a.m. — From there, I'll layer on a face oil. I love the Supernal Cosmic Glow one, and every now and then, I've also been adding in this serum right before I apply the oil. It's from a local Hudson Valley brand called Apis. It's a hydrating serum, and it's really lovely. I think a lot of the ingredients from this brand are grown locally on a farm in Hudson Valley. Other times, I'll just put straight camellia oil or an antioxidant face oil from Hatch.
7:17 a.m. — I love to spritz a bit of perfume from Mondo called The Center of the World. It doesn't give me headaches or anything. It's nice to have that little touch while working from home. It makes me feel ready for the day even if I'm not getting up and going to an office.
7:20 a.m. — The last step in my morning routine is definitely making myself a superfood beverage. I like to go caffeine free when I first wake up and drink matcha a little later in the afternoon. I usually reach for the turmeric blend. I mix it with hot water, a little bit of milk, and some local honey. I'll bring that to my desk as I get ready to start working.
.

Mouzon's p.m. routine:
8:30 p.m. — The nighttime is a little more unpredictable with a baby. Usually it's a mad dash where I'm handing off a sleeping baby to go and quickly brush my teeth. If I manage a proper face-wash, that's also a win. Because of that, I really lean into the mornings as that moment to have my own space.
8:40 p.m. — If I'm washing my hair, I love using the Giovanni brand. I love the Deeper Moisture Conditioner. I also really love Curlsmith. They have a line of fragrance-free products, which I really appreciate. I also enjoy ending every shower with a cold rinse. It's really good for your hair and skin.
9 p.m. — After showering, I love to use Klur's Elements of Comfort Body Oil. It has a nice fragrance thanks to its essential oils. I'm also a fan of the Ebi body oil. It has sesame-seed oil, which I like. I actually use this on my baby, Ruby, too. I love knowing that if it works for her, it will definitely work for me.
.

On the beauty trend that makes her cringe:
I think there's a lot of mindless consumption. There are so many products and brands these days. There isn't a lot of room for more things that don't have heart and intention behind them.
.

On what she's proud of in the industry:
I've been really excited to see more and more founders that are coming from all different walks of life. They are serving their own communities and then some. It's shifted so much in the past six years since I've become an entrepreneur. At the end of the day, the more that you have people from diverse walks of life creating the world that they want to see through their products or their services, the more of an equitable world we'll be in.
.

On the ingredient that's overhyped:
I am not into the excessive use of acids,exfoliators, and harsh ingredients on the skin. I know we've kind of moved away from the million-step routines, but I think there's still a lot of obsession with skin perfection and having poreless skin. It's okay to have a blemish sometimes.
.

On the ingredient she's obsessed with:
I really love camellia-seed oil. My mother-in-law has been bringing me some back from Japan whenever she goes, and it's been so good for my skin because it's a really great nourishing oil that is also somehow not greasy at all.It's also great for your hair. I started recognizing it as an ingredient in a lot of my favorite products.
.

On how she decides what's worth testing:
I will stay away from pretty much anything with fragrance added to it. It can be irritating. I often find that when products are heavily fragranced, it means that the way that they were formulated overall wasn't really with a focus on being gentle and effective.
.

On the one routine she can't live without:
Definitely my skin-care routine. I will let my hair get messy — I can always pull it back and slap it into a bun. But if my skin looks healthy, I think everything else feels put together.
.

On the most important part about her wellness routine:
Creating centeredness and a sense of well-being is very important to me. That means getting outside as much as possible — ideally getting some morning light on my skin every single day. It helps with the circadian rhythm. As the weather gets warmer, I'm definitely out in the garden a whole bunch. But in general, I try to remind myself that self-care can be as simple as stepping outside and taking a breath.