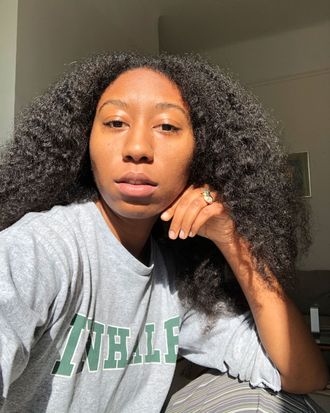 Photo: Courtesy of Trinity Mouzon Wofford
"I'm sort of low-maintenance by force," says Trinity Mouzon Wofford, co-founder of wellness line Golde. "Running a largely self-funded beauty brand as an extremely lean team, I've spent most of the past three years being too broke and too busy to lean into a crazy beauty routine. I used to fuss a lot with my hair and skin, and then suddenly, I just didn't have the resources to do that."
The last couple of months have been particularly busy for the co-founder. With the eruption of #ShopBlack, which began trending following George Floyd's death, Golde made more revenue in June of this year than in all of 2019. "Suddenly investors and retailers that had ghosted us before were banging down our doors, desperate to align themselves with a Black-owned beauty brand," says Mouzon Wofford. "All at once, I was managing growing a team, vetting venture capital funds, scaling our supply chain in the midst of a pandemic, and being a Black person in the wake of one of the most socially turbulent moments in my lifetime."
With so much to deal with, she largely leaves her combination and acne-prone skin alone, and she's found that her skin is actually happier and healthier with fewer products in the rotation. "Any little blemish on my skin always leaves a dark spot behind, so I've really worked to be more careful about not touching my face," she says. "Supernal's Cosmic Glow Oil is awesome for healing those hyperpigmentation marks, and I just don't make such a big deal over a couple of imperfections. Maybe I could get my pores to be like 15% smaller by adding three more products to my routine, but right now, I'm happy with keeping it simple. None of it's permanent, so what's the fuss, really?"
Below, a look at Mouzon Wofford's skin-care essentials, including the shower filter that's made a real difference in her skin's texture, the acne patches that flatten out pimples overnight, and the toner that hydrates, softens, and balances her skin all in one.
The Shower Filter
"I live in an old building with old pipes in Bed-Stuy. My water regularly comes out in a lovely brownish tint, thanks to all the rust. I've found that this, plus the high levels of chlorine in the tap, can cause breakouts and scalp irritation. My shower filter pulls all the questionable stuff out of the water, and I notice a big difference in my skin texture when it's time to replace it — namely increased pimples and a sort of 'rough' texture to my skin. I've been using a shower filter for over two years now and will never be without it."
The Cleanser
"I like to cleanse with something gentle, and I love that this brand is Black-owned. I first discovered Klur over the summer and really like that the founder is an aesthetician also. This formula is packed with antioxidants and natural ingredients like dandelion and olive. It feels really natural and gentle and doesn't have much of a scent. After using this cleanser, my skin feels really soft and smooth but never stripped."
The Face Mask
"A few times a week, I will mix our Papaya Bright face mask into my cleanser for a gentle exfoliating boost. This mask is made with 100 percent pure superfood extracts — the formula is so clean that you could technically eat it! I'm a little biased, but this baby just won an Allure Best of Beauty award, so you can trust the rec. It's a pretty strong exfoliator, so definitely keep that in mind based on your skin type. If you're more sensitive, I would go for our other mask, Clean Greens. I love this one because it really works to instantly soften and brighten my skin, plus it smells like one of those fruit leather snacks, so it's pretty win-win. I mix about half a teaspoon of the mask in with my Klur cleanser, massage it in for 15 seconds, and rinse. Easiest mask sesh ever."
The Toner
"This product has made a toner person out of me. I love how it softens and soothes my skin, and I love that the brand is Black-owned, too. I avoided toners before because I was used to those harsh astringents that just dry everything up. This one is remarkably hydrating and softening. I feel like it nourishes my skin and preps it for the moisturizing step.
It's formulated to balance your skin's pH, which is really important for minimizing irritation and breakouts. Basically, as I understand it, our skin has a natural pH (around 4.5 to 5.75), and certain outside factors, like pollution or washing too often, can disturb it and reduce its natural barrier function and cause irritation. This toner helps balance that pH to prevent any crazy fluctuation. It's got a gentle, herbal fragrance and has yummy ingredients like aloe and chamomile."
The Moisturizer
"My moisturizer of choice is usually Chidori-ya's Secret de Maiko. It's inspired by the beauty routines of the Maiko (Geishas in training!) and is specially formulated for calming and healing breakouts. I first found out about the brand from my fiancé's mom, who is originally from Japan. It features camellia oil, which is a favorite of mine now, and it has a nice matte finish. Camellia oil is great because it's rich without feeling greasy at all. I've been using this for a few years now and love how natural the formula is. The base is shea butter, but it's also got rosehip, rosewood, and geranium oils. I find that skin feels really nicely balanced whenever I use this, and it seems to help breakouts heal way faster."
The Face Oil
"Like my moisturizer, Supernal's Cosmic Glow Oil features camellia oil. As can be expected from the name, this oil is all about the glow. If I'm going for that glossy (not greasy) look, then I'll use Cosmic Glow, whereas Secret de Maiko [above] has a more matte finish. I wouldn't use both together because I try to let my skin breathe and not do too much in general. This one has a super cool green color thanks to blue tansy oil and is also packed with omegas and vitamin C. It helps a ton with clearing up dark spots from hyperpigmentation, which I'm definitely prone to. I also love the luxe, fruity scent of this. Most of my products don't have much of a scent because I don't like added fragrance, so I love capping off my routine with this and letting the natural scent sit with me for a while."
The Spot Treatment
"If I ended up picking at a breakout and need some extra help calming it, I love Hero Cosmetics Invisible Pimple Patches. They're Zoom-call friendly and strangely effective. I can put it on a big inflamed pimple and it will be pretty much flat overnight. I first found out about Hero Cosmetics from their amazing co-founder, Ju Rhyu. They pull out all the gunk from your pimple without aggravating your skin. I'll usually leave one on for a few hours at least."
The Sunscreen
"Sooo, hot take: I don't usually wear sunscreen during the day. If I'm going outside in peak sunlight I just wear a hat, long sleeves, all that jazz. I've done some research on the importance of vitamin D that comes from the sun and so I just choose to get a bit of sun exposure during non-peak hours. If I'm gonna be out playing tennis or something and spending a lot of time in the sun, I'll definitely put some type of sunscreen on. I like the Bioré UV Aqua Rich Watery Essence, but it's a chemical sunscreen, and I'm still on the hunt for a great mineral-based sunscreen that doesn't give a hint of blue tint on my skin since my undertones lean super warm. But I don't use a lot of harsh exfoliants or retinoids that can make skin extra sensitive to the sun, and I'm not that afraid of wrinkles.
There's actually some growing concern that the mandate for sun avoidance is not entirely applicable to dark-skinned POC, and we're being treated with boilerplate recommendations that are based on the needs of much fairer folks. For example, the (extremely rare but very deadly) form of melanoma that does occur in dark-skinned folks is actually not caused by sun exposure. I encourage everyone to read up on sunscreen and vitamin D and make the decision that feels best for them."