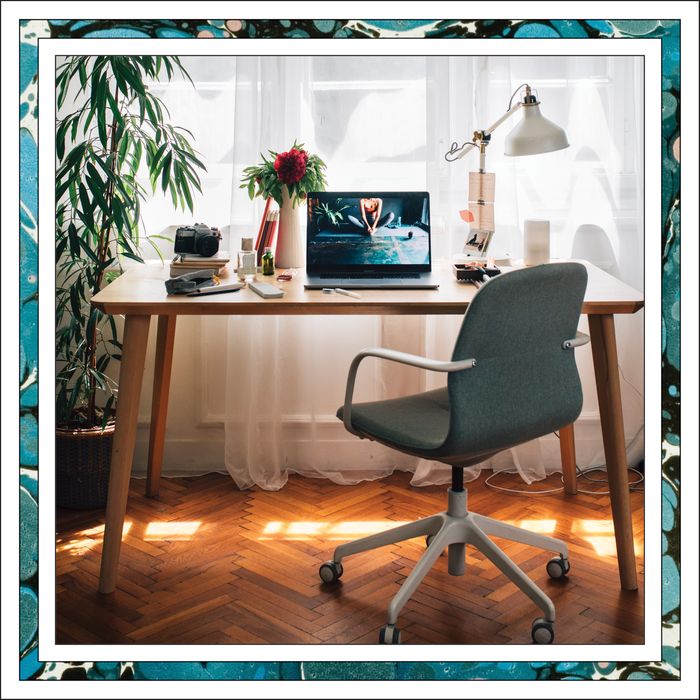 Photo: FreshSplash/Getty Images
Why are we so skeptical of the things right in front of us? "Turns Out It's Pretty Good" is a series that examines the path from resisting the well-known to wholeheartedly endorsing it.
Many of you are only just now experiencing the work-from-home lifestyle, but I've been keeping my work extremely local practically my entire adult life. Until recently, that is, when my home office shifted from my bed to a desk in the living room.
I didn't always prefer sitting at a desk to work, but turns out it's pretty good?
In the years I've spent working as a writer and in media, I've encountered a vanishing number of gigs that actually led me to an office where I was made to sit at a desk. This suited me, as I enjoyed neither. What I wouldn't give to be recumbent and encased in a flannel comforter, I thought to myself as I sat at a cold silver table for a temp job. Warmly ensconced in my bed again a few weeks later, I ordered a desk from Target to see if I could re-create a more comfortable office setting at home, but once I assembled it, I realized a piece was missing. Determined nonetheless, I dragged a chair in from the living room and worked at my swaying desk. I figured it was my fate, and I might as well accept it, but 20 minutes later I was sick of the charade and back in bed, on my back with my head propped up on a pillow, computer in lap.
However, a few things about my life have changed since then. I now own a baby-blue desk that doesn't shudder at every keystroke, the Target one having eventually collapsed under the weight of my cat. In the past few months, I've actually been using my desk and — enjoying it? How did this happen?
The truth is I've long had this fantasy running alongside my very real aversion to desks and general uprightness that I would one day get really into office culture at a regular job I went into every weekday and liked. No longer confined to my mattress, I'd jog through a labyrinth of cubicles complaining about the break-room coffee. In this fantasy, someone with wire-frame glasses asks if I have those documents ready yet, and I respond brightly, "They've been on your desk since this morning."
But the definitive impetus behind putting hours in at a desk came when my co-workers here at the Cut moved their work operations into their homes during the pandemic. Unlike most white-collar workers who've clung to their jobs this past year, I actually started to see my colleagues quite a bit more than I used to — even if it was just virtually. The meetings I never used to attend, because I worked at home, were suddenly a Zoom link away. If office culture was to be at home for the foreseeable future, then all at once I was there. I placed my laptop on my desk and my butt on a chair (which has nails sticking out of it that I literally tolerate — that's how little I thought I would ever use it) and "joined meeting."
It was then that my dormant office fantasy began taking root and flourishing in the domestic sphere I'd so assiduously cultivated for horizontal life. I didn't care so much about being perceived as a chair-sitter by my colleagues; rather, I cherished the sense that, across space and time, we were all working alone in our shared office — together. I started logging in to meetings most weeks. Then I was sitting at the desk for several hours every workday, sometimes first thing in the morning. By the end of summer, I was getting up out of my bed to blog daily. My hands don't hurt from typing anymore, and I think I'm an inch taller than I was in March.
Every product is independently selected by our editors. Things you buy through our links may earn us a commission.
More Turns Out It's Pretty Good
See All