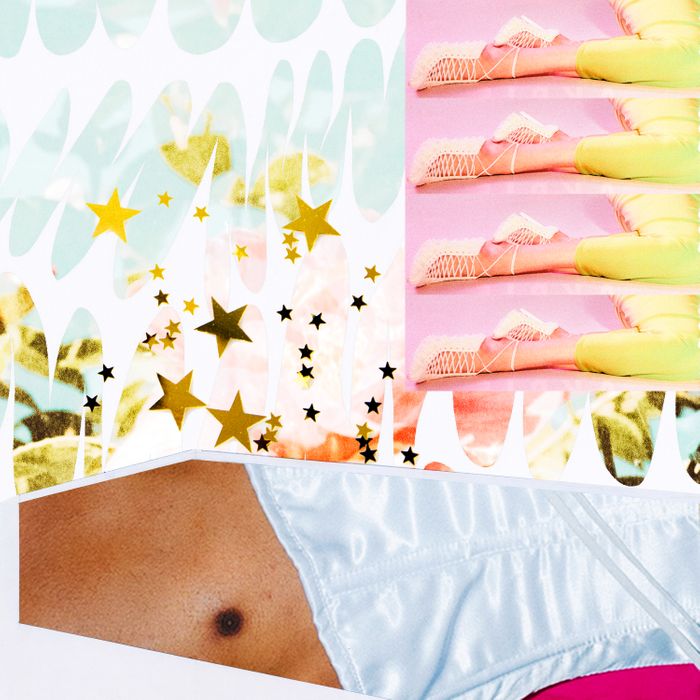 Photo-Illustration: by Marylu Herrera
New York Magazine's Sex Diaries series asks anonymous city dwellers to record a week in their sex lives — with comic, tragic, often sexy, and always revealing results. The column, which began in 2007, is the basis of a new docuseries on HBO.
This week, a woman goes on a string of dates while her job is on pause: 28, single, Los Angeles. 
DAY ONE 
11:00 a.m. Awake and feeling much less hungover than I anticipated. I don't normally go so hard, but last night was kind of a special occasion. My long-distance best friend, R, finally moved to L.A. and we had to celebrate!
I look at my phone and see that G just followed me on Instagram and sent a funny-but-super-corny response to my most recent drunk Story. I've gone out with G twice. I've had a good enough time with him (we drink, we laugh, we make out a little bit), but in the aftermath he always texts in a way that gives me the ick; his messages are very affectionate and cloying in a way that feels unearned. I thought my general lack of responsiveness these past few weeks would have sent him a message, but this late-night DM suggests otherwise.
12:00 p.m. Properly caffeinated and fed, I calculate a good brush-off text with the help of several friends. I strive for honesty, but sometimes the best out is just saying, "I'm not ready for anything serious and I don't want to waste your time." So that's what I told G.
2 p.m. Shake off my guilt and go for drinks with R and some other friends. We talk NY versus L.A. With all due respect for New York, I'm so glad I moved to L.A. after graduating college. The first few years were lonely, but the weather and general good vibes have done wonders for my mental health. Meanwhile, I said I wasn't going to drink in light of last night, but I end up having some wine to keep up with the group.
4:30 p.m. Have to abruptly leave those drinks to get back to my house for (more) drinks with my college friends S and B. We haven't seen each other in a few weeks and catch up on shenanigans. Still no response from G …
8:30 p.m. Roommate L and I get ready for the night. Glitter on and tits out, we head to her boyfriend's place, where we drink and take turns picking music videos.
10:30 p.m. We move on to another party. Everyone here works at Lockheed Martin. Not a hottie in the bunch. Disappointing.
DAY TWO
11:00 a.m. Wake up to a response from G. He's totally chill (but also so dorky about it, which reinforces my decision). Feels like a huge weight has been taken off my shoulders.
I dated this guy Z for like eight months last year. I consider myself a realist who doesn't open up to people easily, but something about this guy really made me think we could go the distance (or at least some distance, like a year). We broke up in January because he wasn't ready to be serious and I thought we already were (yikes). Now, I'm back out there, trying to keep an open mind.
1 p.m. Meet up with my friend O for a street fair. We dish about the weekend, eat nachos, buy some gold jewelry. I get a margarita that's way bigger than I thought it would be. Doing a lot more drinking this weekend than I intended. I love getting O's takes on my love life. He's my closest straight-guy friend and even when I don't take his advice, he has insights that definitely wouldn't have occurred to me.
9 p.m. Stoned and watching Vanderpump Rules with L. K texts me; we've been hooking up for a few weeks now. He's an odd guy … we have a lot of common interests but very different opinions. I can't completely tell if the tension between us is hot or argumentative. The sex, though, is the best I've ever had. I text back immediately.
DAY THREE
9 a.m. I'm just not a morning person. It's best to just accept that and try to get what I can from the day. Drink some cold brew, feed the cat, do a little reading.
1:30 p.m. Driving to the west side for a commercial shoot. I will do almost anything anyone asks me to if it pays — I was writing on a TV show until the strike — so I'm going to play a nurse in a commercial my friend is directing.
2:15 p.m. Get to the commercial shoot. The scrubs they put me in fit in a way I fear is unflattering but I don't want to be difficult.
5 p.m. Dinner break on set. Eat cold pasta and pop an edible.
6:30 p.m. Edible was maybe not the best choice. I'm overthinking my face on camera. What's that thing Ariana Grande does to make her cheekbones look high? I think it's a tongue on the roof of the mouth thing? I try it; the director tells me to stop.
9:00 p.m. Get my check and head home!
DAY FOUR
10:00 a.m. B — a guy from college I recently reconnected with — texts to confirm our plans for tonight. Back in the day, I heard from a friend that he had a crush on me but nothing ended up happening. Two weeks ago, I texted him because I've sensed from his Instagram presence lately that he's single. We've hung out a few times since and it's been fun? I think? He's incredibly sweet and soft-spoken. I think I like him, but I can't tell if this is just me being desperate to feel some adoration. Only one way to find out.
4:30 p.m. Midafternoon swiping break. I'm on Hinge and Raya, but both have been feeling a little pointless lately. I try to be more proactive on swiping on women. I'm definitely bisexual and attracted to people of all genders, but sometimes when I'm feeling vulnerable I fall back into my old habit of seeking male approval exclusively …
6 p.m. Getting ready for my date with B. The plan is for him to come over to play Scrabble. I love to make a statement with my outfits, but B is not a sharp dresser at all. He's worn sweatpants the last three times we've hung out. I have a low-key look: hot '90s mom on vacation.
7:30 p.m. B arrives. Things are a little weird at first, but maybe I only think that because he's so quiet. Generally, I think I prefer someone with more energy.
10 p.m. We abandon playing Scrabble and move to the couch for more intense convo. I think I'm ready to touch now, but he's not making any moves.
11:30 p.m. Okay … conversation going on a bit long.
12:00 a.m. Conversation has taken a kind of intense turn. He's walking me through his most recent breakup, which seems to be fresher than I realized. He apologizes for telling me so much about his ex and says this is his first time getting into it with anyone besides his parents or therapist. This feels like either a lie or a red flag.
1 a.m. We finally make out. It's nice; a little slower than I typically like but definitely good. He leaves about an hour later; we don't go any further than making out. I feel generally good in the post-makeout glow.
DAY FIVE
9:30 a.m. Wake up thinking about B. I don't know about this one … there's something kind of suspect about a guy who uses information about his ex to portray himself as sensitive. Call my friend W to get her read. She makes some valid points about people using vulnerability to create a shortcut to intimacy.
12 p.m. B texts. It's sweet, but the ensuing conversation is so bland. Why is it so hard to find someone who's both sincere and self-aware?
6 p.m. Having a cocktail and listening to Stevie Wonder. I realize I can still smell B's BO on my couch. This is not good.
8:30 p.m. We order pizza, get high, and watch Vanderpump. God, at least I'm not getting cheated on by one of these fucking Toms.
10:45 p.m. Text from K. My ick from B's earnestness inspires me to be a little bold and tell him I want to get railed tomorrow.
DAY SIX
10:00 a.m. Meet up with an influencer friend to help him shoot some online content for a quick and easy check. Maybe I should start directing commercials. He tells me about a date that went sideways when they asked if he believed in God in the middle of sex. There are some real freaks out here.
3 p.m. Zoom check-in with my psychiatrist. She's nice but really has the barest minimum context on my life. I strongly hint that I would like to up the dosage of my SSRI and she agrees, though not before reminding me that good mental health is a balance of medication, diet, and exercise. Smile and nod.
9 p.m. Get ready for my date with K. He works weird hours so we've never hung out before 10:30 p.m., which adds to my suspicion this will never be anything serious.
11 p.m. At K's and something feels different this time. Maybe it's just because we've made it past the early-date awkwardness, maybe we're developing a real rapport, maybe this is the power of communicating directly when you wanna get railed. He makes popcorn and we drink the wine I brought while watching an incredibly boring movie. At one point we make the same joke at the same time.
12:30 a.m. Movie's over and we're talking. K makes fun of the fact that despite my bold text, I always wait for him to kiss me first. Why do I do that?
1 a.m. We kiss for a while until I get on my knees and start blowing him. Before he comes, he picks me up and fucks me on his dining-room table for a bit. Then we move to the bed. GOD this sex is GOOD. So athletic, excellent variety of positions. He's not afraid to be a little bit rough, but also not one of those guys who's so rough it leads me to believe they low-key hate women.
2 a.m. Cuddling and watching another movie in bed. I think I might be getting kind of a crush on K, which is funny given we've fucked ten times already. Could this be something more than sex?
3 a.m. He walks me to my car. We make out for a while in the street before I drive home satisfied.
DAY SEVEN
11 a.m. Majorly sleep in, wake up feeling good and dicked down.
4 p.m. Quit writing early for a happy hour with the homies. We recap everyone's love lives — my dear friend P is recently in love with the girl who they'll probably marry. We're all jealous but also excited at the reminder that love is not, in fact, a lie. I tell my friends about B and K. They're almost all anti-B and pro-K, mostly because of the phenomenal sex. I'm starting to worry I'm catching feelings here, but would that be the worst thing in the world?
6 p.m. My friends and I make our way tipsily down Sunset to find some tacos. I love being drunk and on foot with a group of friends. We think about going into a hookah bar, but decide to save it for another time.
9:30 p.m. I'm wiped. At home I shower and get high. Still thinking about K. I'm still not sure whether to trust my instincts, but I think this might potentially be something good in the making. Or at least a fun summer fling?
Want to submit a sex diary? Email sexdiaries@nymag.com and tell us a little about yourself (and read our submission terms here.)