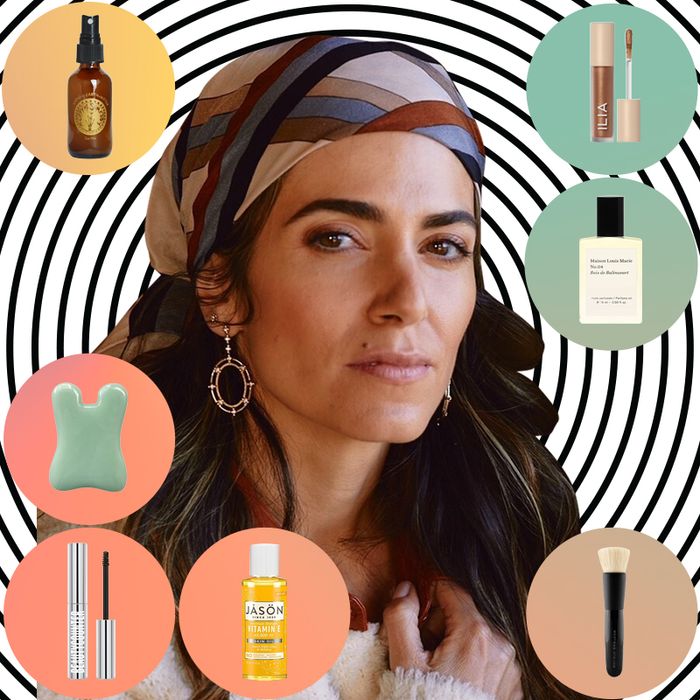 Photo: Courtesy of Nikki Reed
On the Beauty Group, a Facebook community co-founded by the Cut and the Strategist, people chat all day long about the products they love — the ones so good they'll make you hit that little "auto-refill" box at checkout. Below, we asked one of our favorite beauty pros to share her own selections.
Nikki Reed's approach to sustainable and "clean" living began with olive oil. The actress and musician, who is perhaps best known for her role as Rosalie Hale in the Twilight films, says, "I was living overseas in Greece, and I remember sitting down for a meal and the waiter coming up and pouring a bunch of olive oil over my vegetables, and I was like, oh my God. I grew up thinking that oil was bad because the only oil that I knew was when you're going to get takeout and you're getting your French fries; I didn't know anything about organic raw olive oil." But in Greece, she says, "oil was used everywhere: It was used on your skin; it was used in your hair; it was used in your face; it was a staple in the Mediterranean diet. And that was one of many light-bulb moments that I had where I went, Oh, maybe simple is better and maybe a singular ingredient can be used not only in what we eat but what we put on our bodies, as well."
It's this philosophy that also pushed her to consider the clothes and jewelry she was wearing when she was pregnant, and eventually, what inspired her to found her own jewelry brand, BaYou With Love, which focuses on sustainable production through the use of recycled metals from old electronics.
But Reed wants to be clear: Life is all about balance and doing the best with what you know. "I had a mom who was making ends meet, and we were eating fast food, and I was shopping only at the dollar store. In fact, I remember there was a time where I had no idea that throwing trash out of your window wasn't okay, and the reason I talk about these things so openly is because I think we should be proud of progress and also encourage and applaud incremental change," she says. "I mean, I'm still learning and discovering things every single day. I still color my hair, for example, and there's tons of chemicals in hair dye, but I color my hair, and I still wear nail polish, right? Of course, I try to source my nail polish in a way that is aligned with who I am, but there are areas in our everyday life, all of us, where we're just human."
As far as the rest of her beauty cabinet goes, Reed tries to purchase multipurpose products where she can. It's a pillar of sustainability that isn't getting enough recognition, she says. Plus, multipurpose purchases are also the secret to packing. Always at the front of her mind: "How can I purchase the least amount possible that will go the longest way?" She explains, "If I'm ever buying a cream blush, for example, it's always going to be a color that also works on my lips but also works as a bronzer for my face, that also works as an eye shadow, because I want to pack four things in a bag, and that's it."
Below, Reed breaks down her beauty essentials, including the "secret recipe" for her casual and red-carpet looks, the bedsheets she travels with, and the perfume she discovered by following someone at a grocery store.
The Multipurpose Tint
"I love makeup that serves more than one purpose. When I travel, I try to pack as little as possible and choose products that have the most impact with the smallest footprint. This is one of my favorite brands because they use ingredients like bark extract and chestnut flower, providing a high concentration of protective antioxidants. Ilia is also cruelty-free and comes in recyclable packaging, which is a big plus! I use it on my eyes, on my cheeks, and I even use it on my lips. To me, multipurpose also means sustainable."
The Supplement
"This is number one on my must-have list for my bedtime routine. As a busy mom juggling more than one job and running a household, turning off my brain at night can be tough. I truly feel like I had tried it all: teas, tinctures, CBD, meditation, and Epsom salt baths, but I found this to be the most effective. I am a big fan of clean products, and I love that this company has taken out all artificial dyes, flavors, and preservatives. Instead, they use ingredients like organic blueberries and citrus extract to color, flavor, and preserve their products. They have a whole array to choose from for the whole family. I highly recommend looking them up!"
The Brush
"I love a good blender brush. I use this one to apply moisturizer, concealer, my tinted bronzer blush, and more! It's difficult to find a good brush that is also made with fibers that are cruelty-free, and the handles are made from sustainable hardwood. All of that sounds really fancy, but the truth is it's just a long-winded way of saying that this product was made with the planet in mind. I think when we shop with the planet in mind, we purchase better products for ourselves, as well."
The Bronzer
"I have used this bronzing tint for years and years! It is my go-to bronzer for everything. I mix it with my foundation when I want to feel a little more sun-kissed, or I put a thicker layer on my cheeks and use it as my blush. I put it on my eyelids, and I also use it on a brush if I want to create shadows under my eyes or around my lips. It is my secret recipe for every look from day-to-day casual to red-carpet glam."
The Gua Sha
"I started using this tool only about two years ago. It's so incredible for increasing circulation in the face, and you can see results almost immediately — it creates amazing blood flow and plumps the skin instantaneously. I do a gentle session in the evening after I wash my face, but I also use my gua sha before I apply makeup, as well. I like to think of it like a massage for the face. We all know that massaging our body creates good circulation and lymphatic drainage, but we don't often think about applying that to the face. I feel like it's made such a huge difference with my skin, and it's a product that you don't have to buy over and over again. One tool can last a lifetime!"
The Perfume
"A few years ago, I was in the grocery store, and I smelled something so amazing I kept following the scent. I walked through all the aisles trying to figure out what that smell was until finally I turned a corner and found a woman looking at a wall of soup and realized it was coming from her. I said, "Hello, forgive me for the odd question, but could you please tell me what perfume you're wearing?" She told me it was Maison Louis Marie. I went home and immediately Googled because I'm not really a perfume person, but was so drawn to this scent. I love the No. 04 Bois de Balincourt perfume oil, which is a sandalwood and amber wood combination, but I have also purchased the No. 12 Bousval (Italian bergamot and white ginger flower) as well, and mixed them together. I usually take the oil and rub it on my hands so I can pull it through my hair. That's how I choose to wear my perfume!"
The Dry Brush
"I love this dry brush! I've made it a part of my morning routine since I had my daughter. It takes less than 30 seconds, but it is so invigorating. I start with my ankles and brush in small, deep strokes all the way up to my shoulders and then move the direction toward my lymph nodes in my armpits. It wakes up all of your senses and makes you feel fresh and energized. It is essential skin detox that exfoliates dead skin and helps to promote lymphatic drainage. I love that this brush uses biodegradable sisal fibers, too."
The Brow Gel
"My three-minute makeup look involves only a few essentials: bronzer, lip balm, and a groomed brow, and what I love most about this brow gel is the ultra-small brush tip. It makes combing through brows while applying the tint easy and manageable while also sculpting them. I have found that clear gel tends to get white and flaky over the course of the day, so discovering this was ultra-exciting because it kept my brows shaped and full without any white flakes. I use the dark natural deep brown color, which is great because it doesn't have a ton of warm or red in it. Most eyebrows have a cooler tone to them, so finding a shade like this that enhances that cooler tone without adding any gold or red undertones is amazing."
The Spray
"I spray this everywhere! I use it as a body mist, and I also spray it in my home and on my clothing. Everywhere I go, people ask me about this scent. It's not really a perfume — it's more of a story you carry with you on your body, if that makes sense. It's like wearing a memory, because my favorite pieces of clothing and my bedroom all have this scent on them."
The Sheets
Photo: Courtesy of Dazed but Amazed
"I am one of those people that travels with my bedsheets if I'm going anywhere for an extended period of time. My linens are my way of bringing my home with me because I feel like your bed is so personal and you spend so much time in it, you need it to feel like you. I have the eucalyptus bedsheets and the rose clay set, as well. They are the perfect combination of earthy and luxurious, and I love knowing that they were made consciously by an incredible artist."
The Oil
"This is the real secret sauce! I mix three drops of this oil into my nighttime face cream, and I use it every single day. Then I take a couple of extra drops and pat it around my eyes after my face cream has absorbed. I also use it on my lips. It is great for skin that needs a little extra hydration, and it is amazing for dry weather as well as sunburns. I love my vitamin E oil!"