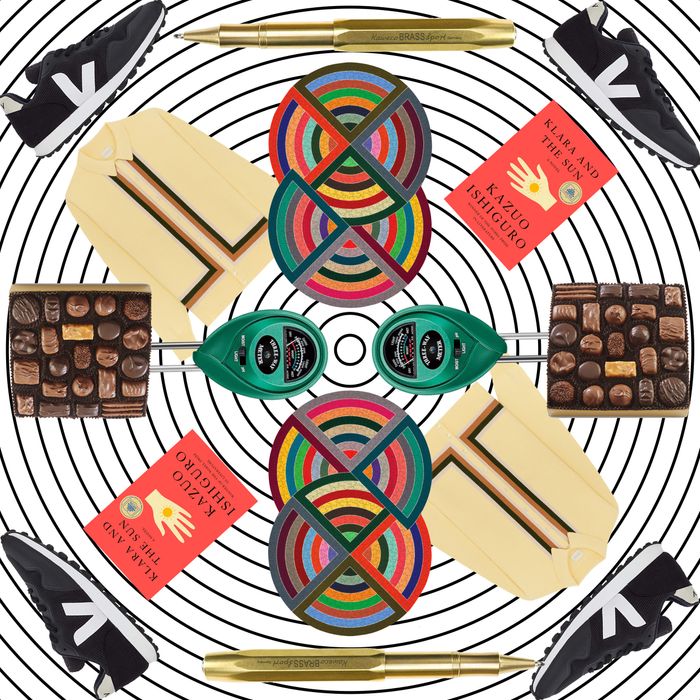 Photo-Illustration: by The Cut; Photos: Retailers
Father's Day gift guides often assume that all fathers are basically the same. But if you've spent your whole life scrolling through shopping lists that are heavy on golfing supplies when your dad has never set foot on a green, you know that's a false assumption. Below, we've rounded up 48 weird, unexpected, and fun gifts for your very own Manic Pixie Dream Dad (or any other father figure in your life).
For the Dad Who Doesn't Have a Team
Not a sports guy? He still deserves a statement baseball cap like this one.
For the Dad Who Loves a Picnic
More portable than a heavy cooler and fully lined in flashy silver insulation — all the better to keep his signature sandwiches at peak freshness.
For the Dad Who's a Kid at Heart
Dads of all ages will love the childlike fun of this set — and it offers plenty of opportunity for bonding with kids and grandkids alike.
For the Dad Who's Tired of You Mocking His Ghostly White Sunscreen
This mineral-based sunscreen is made to blend into darker skin tones.
For the Dad Who Never Forgets Valentine's Day
Does he always come through with a box of chocolates? Surprise him with this sweet (and delicious!) gesture.
For the Dad Looking to Upgrade His Weekend Sneakers
These are cool but still pretty classic.
For the Dad Who Does His Crosswords in Pen
Is a fancy pen such an old-fashioned gift that it actually feels kind of surprising? We say yes, especially a retro pen like this one.
For the Bearded Dad
This three-part beard-care system includes a washing bar, beard butter, and styling soufflé, all infused with nourishing shea butter (plus, it supports a growing Black-owned brand).
For the Dad Who Keeps It Gucci
If he's the kind of guy to get you or your mom an investment bag, pay it forward.
For the Outdoorsy Dad
Parks Project's gear looks great, and the proceeds go to support state parks.
For the Dad Who Eats in His Car
Way better than those plastic sporks you keep finding on his floor mats.
For the Dad Who Always Wanted to Learn How to Shred
This highly rated digital lesson plan by guitar maker Fender is a great way for him to get back to his teenage dream.
For the Literary Dad
Photo: Publisher
Written from the POV of an artificial companion coming to terms with, well, existence, this masterful novel is a thought-provoking and lyrical read.
For the Dad With a Sweet Tooth
Blow his mind with a very cool (ice-cold!) delivery of six different flavors like skillet cinnamon roll and blackout chocolate cake.
For the Dad Who's Dedicated to His Pool Time
Essentially an air-filled La-Z-Boy, this sturdy float is a great option for dads who dedicate way too much time to keeping the pool clean for everyone else.
For the Dad Who Loves to Try New Recipes
This Zoom class hosted by expert Japanese chef Sonoko Sakai includes the class, a prep list, and recipes, so he can follow along as she demonstrates how to make crowd-pleasing okonomiyaki.
For the Dad Who Takes Dental Health Seriously
A fancy way to floss for guys who value their pearly whites.
For the Dad Who Still Has a Tom Selleck 'Stache
This compact razor is anything but old-school.
For the Dad Who Loves Ergonomics
A truly supportive splurge that will make his WFH life so much more comfortable (and a little bit weirder).
For the Dad Struggling With Typos
If his compact Mac keyboard is a little too compact, this streamlined mechanical keyboard might help (works with iPads, too!).
For the Dad Who Loves to Dine Alfresco
This wonderfully unexpected, slightly off-kilter book is a paean to the art of eating outside, complete with inventive recipes like a chicken Kiev sandwich.
For the Dad Who Wishes He Was a Wildlife Photographer
Photo: Melissa Groo/Melissa Groo Photography
Help crisp up the shots he sends you of the local fauna with help from a seasoned bird photog.
For the Modernist-Puzzle Dad
Abstract enough to keep him busy for days, pretty enough to frame.
For a Dad Struggling With Dandruff
This handy scalp massager can hang in the shower and be used to help with lathering up, or just on its own to increase blood flow and exfoliate. Plus, it just feels good.
For the Dad With a Signature Steak
These decadent compound butters are infused with different combinations of herbs, peppers, and spices to take his butter-basted strip steak up a notch.
For Design-Buff Dads
Founded by Gio Ponti, Domus continues to be the journal to beat for design nerds.
For Trying-to-Get-Buff Dads
An affordable way for him to work on those biceps.
For the Dad With Flowing Locks
If his hair is his calling card, gift him this classic, schmancy Mason Pearson.
For the Dad Who Starts Every Day With a Smoothie
The Vitamix is the gold standard of blenders. This stick version offers plenty of power to purée his supergreens.
For the Plant Daddy
To take the guesswork out of keeping his Monstera thriving.
For the Dad Who Thinks It Sounds Better on Vinyl
If his record collection is collecting dust, this might get him spinning again.
For the Dad Who Likes Slow Cooking
Heirloom beans are a weird gift to most people, but when it comes to Rancho Gordo, if you know, you know.
For the Dad With a Latte Addiction
This frother makes hot or cold foam, so he can flex his barista vibes all year long.
For the Weekend Weeder Dad
Help him stay comfortable while tending to his tomato patch.
For the Fancy Stoner Dad
Photo: ANDREW CEBULKA
These novelty rolling papers are made with 24-karat gold.
For the Bike-Commuter Dad
Super-bright and easy to attach, this will keep him safe as he pedals around.
For the Dad Who's Bauhaus Curious
This colorful tome tracks abstract painter Josef Albers's travels through Mexico during the mid-century, and offers a window into how each location shaped his vibrant work.
For the Dad Who's Not Afraid to Show a Little Leg on the Shore
Whether you're gifting a young dad who's jumping on the short-short trend or an older dad who never let his '70s style die, these statement shorts are worthy of a confident guy who's ready to have the best summer ever.
For the Crafty Dad
It seems like a lot of dads in movies were making ships in bottles, but you never really see that in real life. If your dad is a hobbyist, float this idea to him.
For the Star Wars Nerd Dad
If he's kinda corny and can't get enough of Kylo Ren, this cute tee is a no-brainer.
For the Dad Who Loves Hoops
Photo: Courtesy of the vendor
This bright-yellow regulation ball will keep his motivation up, even when he's struggling with a layup.
For the Insomniac Dad
Introduce your bleary-eyed dad to the wonders of a weighted blanket.
For the Dad Who Just Wants to Read His Book on the Beach
This sturdy beach lounger has more neck support than most, and will really cement his place as the most prepared dude on the beach.
For the Dad Who Starts Each Day With a Few Slices of Toast
He can soak this ingenious ceramic block in water and place it in the toaster oven while the bread crisps, for a "golden on the outside, moist on the inside" result that mimics the results of some super splurge-y toaster ovens out there.
For the Dad Who Loves to Read in Bed
These absurd-looking, sort of magical glasses allow the wearer to lay flat while watching or reading something in front of them, and are supposed to be great for posture and neck pain.
For the Dad Who's a Dapper Dresser
Classic but still super-chic, this striped long-sleeve polo from cool-guy brand Aimé Leon Dore is a subtle flex that'll get him compliments from the right crowd. And what's more fun than making your dad feel cool?
For the Dads in Charge of the Fire
If his "clicker" is always out of gas when it comes time to light the grill, give him the last lighter he'll ever need — it's ecofriendly, doesn't require butane, and looks pretty slick to boot.
For the Dad Who Hates When You Leave the Lights On
These smart plugs can be controlled via Alexa or Google Home, or from a phone using the Gosund app — so he can conserve energy without constantly nagging everyone around him.
Every product is independently selected by our editors. If you buy something through our links, New York may earn an affiliate commission.