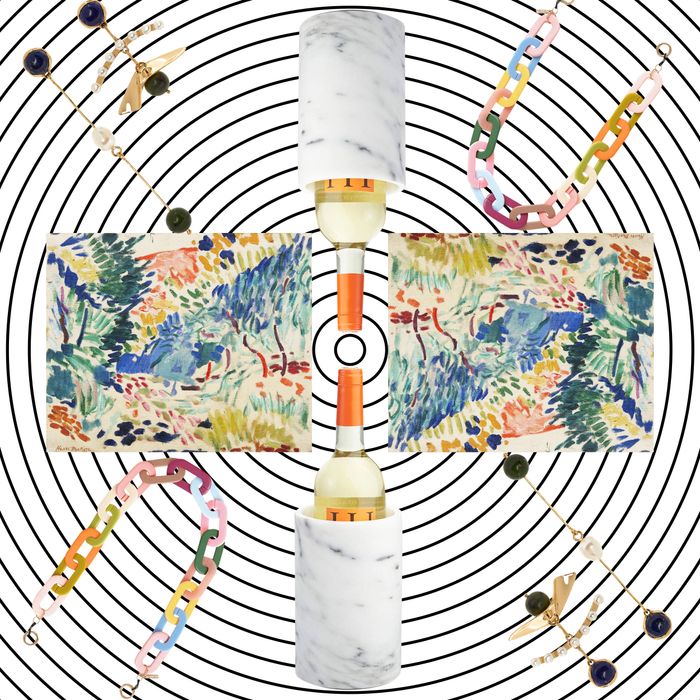 Photo-Illustration: by The Cut; Photos: Retailers
Despite what the sitcoms of your childhood would have you believe, not every mom dreams of a bath bomb or bathrobe. One of the cool things about getting older is seeing your mom as a real person — one who's just as layered and full of her own specific interests as everyone else you know. (Watching your friends become parents goes a long way in this department, too.) With your fully realized mom — or stepmom, or standout mother figure, or BFF turned new mom — in mind, we've rounded up 21 unique Mother's Day gift ideas and experiences to make them feel seen and appreciated.
For the Actively Artsy Mom
Turn the tables and buy your mom a paint-by-numbers kit. The new, more sophisticated options bear little resemblance to what you grew up on — think a Frida Kahlo portrait or a dreamy abstract Matisse landscape.
For the Mom Who Dreamed of Attending Pastry School
Join extremely charming cooking expert Sonoko Sakai and her pro pastry-chef sister, Chef Fukuyo, on Mother's Day as she walks your mom (and you, if you're in the same household or buy a second spot) through the process of making eclairs via Zoom.
For the Mom Who Spends Every Weekend Gardening
Get her heirloom seeds for plants like peppery mizuna, fresh okra, and juicy beefsteak tomatoes.
For the Well-Hydrated Mom
Many moms might scoff at the idea of a $95 water bottle that self-cleans using UV technology — but we're willing to bet if you present her with this sleek model that will never get that metallic or mildewy smell, you may find it permanently attached to her hand.
For the Mom Who Keeps Losing Her Glasses
This chic, colorful resin chain is a youthful way for her to keep her readers handy — and it does bonus duty for masks, too.
For the Recently Vaccinated Extrovert Mom
If she loves going out in a statement earring, look no further than this asymmetric pair adored with semiprecious polished stones like lapis and jade. She probably won't mind if you borrow them every now and then, right?
For the Interior-Design-Obsessed Mom With Great Taste
Created by Kai Avent-deLeon, the mind behind Sincerely, Tommy, this new line of linear, warm, and striking home goods is wonderfully simple. A side table might seem like a weird Mother's Day gift, but for the right kind of home-design buff, it's a home run.
For the Bookworm Mom
This buzzy new novel is rife with meditations on the tangled expectations around motherhood and family for both trans and cis women. It's a generous window into the experience of a trans woman hungry for parenthood — and practically pulsates with love in all of its messy forms.
For the Mom Who Cooks With a Drink in Her Hand
Does she love to entertain? This class from one of Brooklyn's best pie spots, Emmy Squared, includes a pizza-making kit that gets sent to her door, and a class that walks her through concocting a cranberry-Champagne cocktail and signature pistachio-and-truffle cheese pizza.
For the NYC Mom
There's nothing wrong with a great bouquet — especially this wildly charming one from cool-kid Crown Heights flower shop Park Deli, home of many Zizmorecore merch options. Oh, and it comes with a beautifully illustrated (and delicious!) French chocolate bar.
For the Mom Who Loves the Beach
Is she happiest in a beach lounger slathered in SPF? Lend some flair to her beach routine with this delightfully retro, fringed umbrella.
For the Sentimental Mom
If she loves a trip down memory lane, make it easier for her to transfer those phone pics to photo albums with this super-simple wireless printer.
For the Mom Who Went to Woodstock
Help her tap into her spiritual side and work out some questions about the great unknown with a virtual read by one of witchy Bushwick bookstore Catland's resident tarot readers.
For the Stoner Mom
Niche smokewear brand Sundae School was founded by two best friends who met in elementary school in Seoul. This cute hat has a utility tab on the side that can be used to help her keep track of a pen … or something else of a similar size.
For the History-Buff Mom
The story of a daughter's complicated relationship with her wildly accomplished Black physician mother in Reconstruction-era Brooklyn is an engrossing deep dive into family and freedom.
For the Mom Who Loves to Sleep In
Make up for all those nights she lost sleep over you with this cozy striped cotton robe, perfect for doing the crossword over a cup of coffee.
For the Vinophile Mom
Is she prone to throwing ice cubes in her glass of Vouvray? Help her live a less watered-down life with this smart marble wine cooler, which can be refrigerated or frozen beforehand to keep her bottle at the ideal sipping temp.
For the Mom With the Top-Secret Guacamole Recipe
For some people — and you'll already know if your mom is one of them — there's literally nothing better than a crate full of ripe avocados.
For the Mom Who Prefers Movie Night to Everything Else
A box full of supplies for adult movie night: a pretty wine key, perfect red, and four Jon & Vinny's chocolate-chip cookies. (Maybe if you're super nice, she'll invite you to share.)
For the Mom Who Really Put Up With Everything
This candle says it all — and smells like fresh citrus.
For the Mom in Need of a New Recipe Repertoire
Pepper Teigen, mother of Chrissy, passes on her favorite Thai family recipes in this new cookbook.
For the Mom Who Loves a Trendy (But Not Too Young) Shoe
If you buy something through our links, New York may earn an affiliate commission.