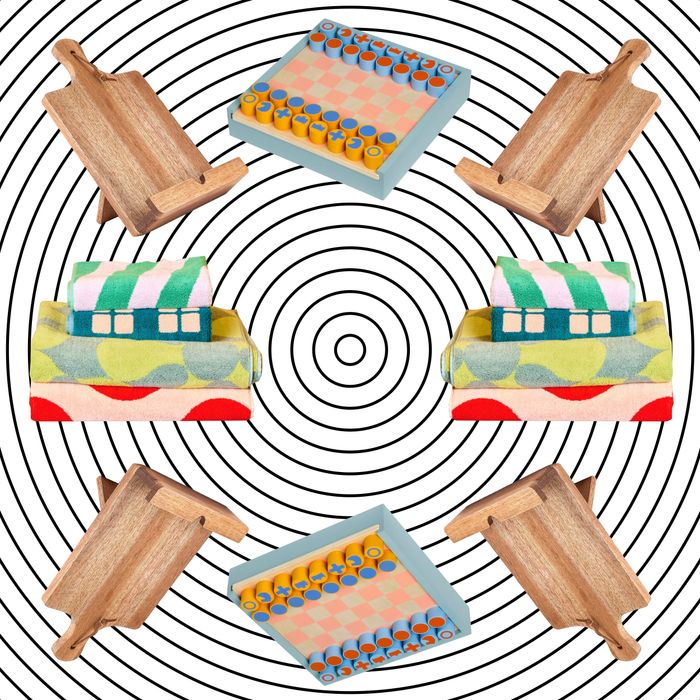 Photo-Illustration: The Cut; Photos; Retailers
We are vaxxed, we are boosted, and many weddings are back in full swing this season. Your social calendar is full of everything from intimate engagements to destination weddings. In short, besides outfits, you need unique wedding-gift ideas and lots of them.
Gifting is a reflection of you, from your design sense to your expertise. Regardless of where you fall in the gifting spectrum, you still have to check off some boxes. As nice as it would be to gift whatever we wanted, the couple probably still needs some of the basics like linens and the such.
Either way, read on to find out what your unique wedding-gift idea says about you.
You're playing it safe
Maybe you skimmed their registry for ideas but you still want to do gifting your way. These gifts are still crowd pleasers but stay within the realm of reason.
Not in their relationship, of course. This cute set converts from checkers to chess, depending on what they're in the mood for.
More practical than another set of wine glasses and prettier than a set of plastic cups.
Coasters aren't the most interesting thing to gift but they are useful, make them more interesting with these pretty pastel ones.
Odds are they have fluffy bath and hand towels on their registry, opt for these reversible patterned towels that are way more fun than the standard beige and white.
You know the couple
No matter if you're closer to half of the couple over the other, you know the ways they complement each other so you want a gift that reflects your knowledge on inside jokes and hobbies.
Do they have a thing for scatological humor (and excellent hygiene!)? Surprise them with an easy-to-install bidet for a gift that keeps on giving.
Practical but still luxe, this gift box supports olive farmers in Puglia and includes some high-quality EVOO with a chic crock to keep it in. If you really want to level up, add a year's subscription for refills.
The perfect size for a tablet or their favorite cookbooks and it's on sale. Put all that money you saved towards a new cookbook for them.
Know a duo who were too intimidated to hop on the sourdough-starter trend but still want to give it a shot? This kit provides everything they need for a cute couple's activity.
Listening to an audiobook with your loved one is a great way to pass the time during long car rides or a sweet alternative to binge-watching on a weeknight with a glass or two of wine.
You're the designated third wheel
There's knowing the couple and then there's being their third wheel throughout their relationship. This type of commitment requires a special skill for gifting.
Say hello to another one of those gifts that you'll also benefit from. The couple that likes cocktails and speakeasies will love trying out these monthly cocktail starters whenever you visit. Be sure to gift them the proper glassware, too.
They're plant parents so they'll appreciate a pretty place to store their favorites. They'll also appreciate another plant so pair this with a gift card to The Sill.
Adopting an olive tree is too much? These infused olive oils for pastas, salads, pizzas, and dipping are one of many gifts you'll also get to enjoy whenever you visit the newlyweds.
They're coffee and design snobs, gift them something that will satisfy both.
You're a plus-one
You don't want to show up empty-handed but you also don't want to play it too safe. These gifts are more thoughtful than cash, but cash is always a good option.
This exceptionally stylish brass vessel can be paired with their home scent of choice for a sensuous, dramatic alternative to a candle.
Practical but luxurious, this kit of minimally branded and supereffective washing products will add a fancy touch to laundry day.
If they seem like the type to leave those wedding portraits gathering dust in a drawer for years, give them a head start with a gift card to Framebridge, which lets them customize to get exactly what they want.
Do they identify as puppy parents before all else? This pet cam is a fun way for them to keep an eye on their furry friend, even when they're not at home.
It doesn't get anymore practical than jewels for the bride. Pandora is affordable and has pieces that she'll cherish forever.
You're treating this like any other celebration
Maybe you're not romantic and you like to keep things practical or this is just one of many wedding you're headed to this summer. Either way, these gifts keep things practical.
Make a camping couple's dream come true with the ultimate status cooler (yes, that's a thing).
Thoughtful without being too cheesy, couples can customize a welcome mat with this kit. So they can add their own welcoming message for guests, practical and fun.
Interesting? No. Practical? Yes. They might not ask for a trash can but they need it and this one is sensor operated so they'll be very grateful.
You're projecting what you want to be gifted
Your wedding is just a few weeks or months away and they're on the guest list, too. These gifts are nice but they're also strategic.
A little bit silly but still useful, this color-blocked shower curtain is transparent — just right for adding an element of flirty fun to their morning routine.
Flatware, we all need it, most of it isn't this interesting or cool. Gift this.
Bar-cart gear that isn't boring, these amber-tinged glasses are the perfect addition to any décor.