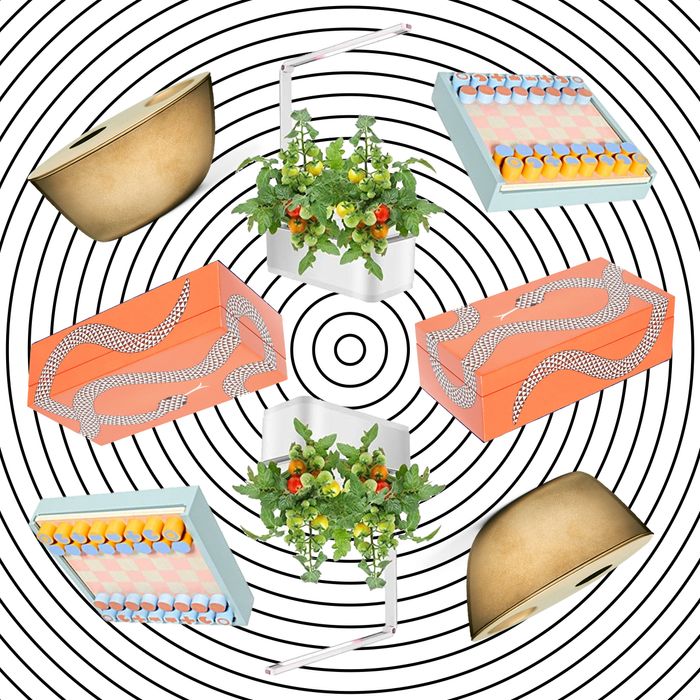 Photo-Illustration: by The Cut; Photos: Retailers
Maybe you have friends who tied the knot during the pandemic and you want to send them a special gift worthy of these strange times. Or maybe you're just heading into a year of rescheduled weddings for couples who have lived together for years already and don't need any more plates or flatware. Either way, here are 20 unique wedding-gift ideas to cement your status as their coolest friend.
For the Couple Who Love to Play Games
Not in their relationship, of course. This cute set converts from checkers to chess, depending on what they're in the mood for.
For the Couple With No Room for a Garden
This compact hydroponic garden will add some manageable greenery to their lives, even if all they have to work with is a windowsill.
For the Duo Who Love a Cooking Project
Know a duo who were too intimidated to hop on the sourdough-starter trend but still want to give it a shot? This kit provides everything they need for a cute couple's activity.
For the Pair Who Walked Their Dog Down the Aisle
Do they identify as puppy parents before all else? This pet cam is a fun way for them to keep an eye on their furry friend, even when they're not at home.
For the Obsessive Cooks
Practical but still luxe, this gift box supports olive farmers in Puglia and includes some high-quality EVOO with a chic crock to keep it in. If you really want to level up, add a year's subscription for refills.
For the Couple Who Love to Cuddle
Some people want a classic family quilt, but there's definitely some duos out there who would prefer this thick and slightly edgy throw.
For the Couple of Total Cheeseballs
If they plan their weeks around Saturday trips to the cheesemonger, the whey (sorry!) to their hearts is through a handpicked monthly delivery from Murray's.
For the Couple Who Compare Birth Charts
Astrology queen Chani Nicholas offers this series of prerecorded videos designed to help them understand their relationship needs and how each person's chart is compatible with the other's (i.e., synastry).
For the Couple Prone to Losing Things
Give them somewhere special to keep those shiny new rings.
For the Couple Who Love a Poop Joke
Do they have a thing for scatological humor (and excellent hygiene!)? Surprise them with an easy-to-install bidet for a gift that keeps on giving.
For the Couple Who Go Bird-Watching
This angular bird feeder looks like a hanging sculpture and provides plenty of seed perches to draw in their local feathered friends.
For the Couple Who Worship Ottolenghi
Their kitchen might already be stocked with the basics, but this pack of freshly harvested seasonings includes flavor-packed options like sumac and green-cardamom powder to spice up their newly married life.
For the Couple Who Love Fragrance
This exceptionally stylish brass vessel can be paired with their home scent of choice for a sensuous, dramatic alternative to a candle.
For the Outdoorsy Couple
The best wedding gifts are items they'll appreciate but would never buy themselves. Make a camping couple's dream come true with the ultimate status cooler (yes, that's a thing).
For the Couple of Bookworms
Listening to an audiobook with your loved one is a great way to pass the time during long car rides or a sweet alternative to binge-watching on a weeknight with a glass or two of wine.
For the Couple Who Love to Host
A monogrammed doormat has a kind of Nancy Meyers vibe that's classic but probably not something they'd think to register for. It's also a little corny in the best way possible.
For the Couple of Snazzy Dressers
Practical but luxurious, this kit of minimally branded and supereffective washing products will add a fancy touch to laundry day.
For the Colorful Couple
A little bit silly but still useful, this color-blocked shower curtain is transparent — just right for adding an element of flirty fun to their morning routine.
For the Couple Too Busy to Frame Anything
If they seem like the type to leave those wedding portraits gathering dust in a drawer for years, give them a head start with a gift card to Framebridge, which lets them customize to get exactly what they want.
For the Always Caffeinated Couple
Offer an alternative to their French press with this stainless-steel filtration kit that makes enough for a whole brunch crowd of coffee lovers.