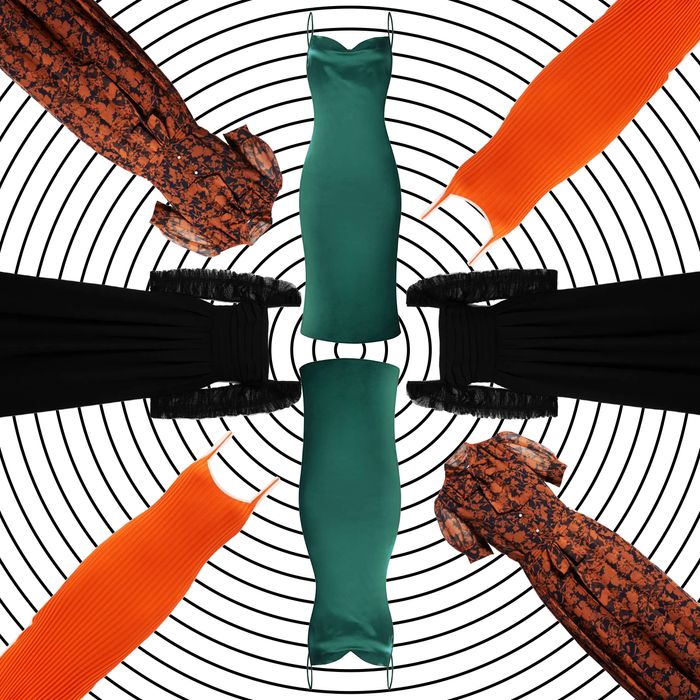 Photo-Illustration: The Cut; Photos: Retailer
Valentine's Day has always been a hard thing to get dressed for — you want to look hot, but it's single-digit degrees outside and slick as an ice luge. Plus, there's the dilemma that comes with any color-themed holiday: Is it corny to wear red or pink, or is it kind of fun? Really, the best way to handle Valentine's Day fashion is to treat it as an excuse to buy something cute and frivolous — especially this year, when we could all use a pick-me-up. Read on for 14 Valentine's Day dresses at every price point.
A Sexy Slip Dress
You could wear this on its own for a bold look, or layer it under a chunky sweater if you're feeling more casual. Maybe even get it in two colors?
Available in sizes S to XL
A Classic Valentine's Day Look
Frilly, pink, and subtly sexy, this sweetheart of a dress checks all the Valentine's day boxes.
Available in sizes XS to XL
A Very Modern LBD
Smocking doesn't seem to be going anywhere, and that's just fine by us.
Available in sizes 2 to 10
For an Old-School Date Night
You could wear this elegant dress for a V-Day Zoom now, then save it for when weddings/holiday parties/birthday dinners finally come back.
Available in sizes 0 to 14.
For the Hopeless Romantic
A timeless tea dress cut in flowy floral chiffon.
Available in sizes XXS to XXL
If You're Feeling Like a Caged Animal
Lean into it with this wild leopard-tiger mashup print.
Available in sizes 0 to 12
If It's Freezing in Your Apartment
This ribbed knit number looks like a perfectly matched skirt and top, but has all the ease (and coziness!) of a stretchy one piece.
Available in sizes S to XL.
If You Love a Freaky Floral
This dress is a party in and of itself. Colorblocked florals, a flattering low-cut neckline, and a babydoll shape are exactly what you need for dancing around your living room with a glass of wine.
Available in size S to 3XL
A Bodycon in a Cool Print
Ah, the elusive hybrid of form-fitting and comfy. This stretch mesh bodycon dress hugs in all the right places, and won't leave you feeling constricted — plus the fun print keeps it from feeling basic.
Available in sizes 14 to 28
If You Have Spring Fever
Evoke summery picnic- in- the- park vibes with this empire-cut midi dress in a grassy green polka-dot print.
Available in sizes 14 to 24.
A Practical Splurge
Extremely committed to loungewear right now? Makes sense. This cozy cashmere turtleneck dress will make you feel fancy even if all you're doing is takeout in front of the TV.
Available in sizes XS to XL.
For the Non-Traditionalist
Psychedelic and supremely stretchy, this marbled T-dress is an easy way to dress up your everyday duds — and it's not so fancy you couldn't throw it on for your Zoom meeting the next day (plus, it's on sale!)
Available in sizes XS to XL.
The Bold Knit
Sunny orange, a comfy rib knit, and a chic tank cut all evoke sunnier days spent outside. Wear it in the spirit of wishful thinking.
Available in sizes XS to XL.
For the Diamond of the Season
Thinking Bridgerton, but with an edge? This straight-neck number has all the trappings of a showstopper, but the black keeps it from feeling overly girly and saccharine.
Available in UK sizes 6 to 14.