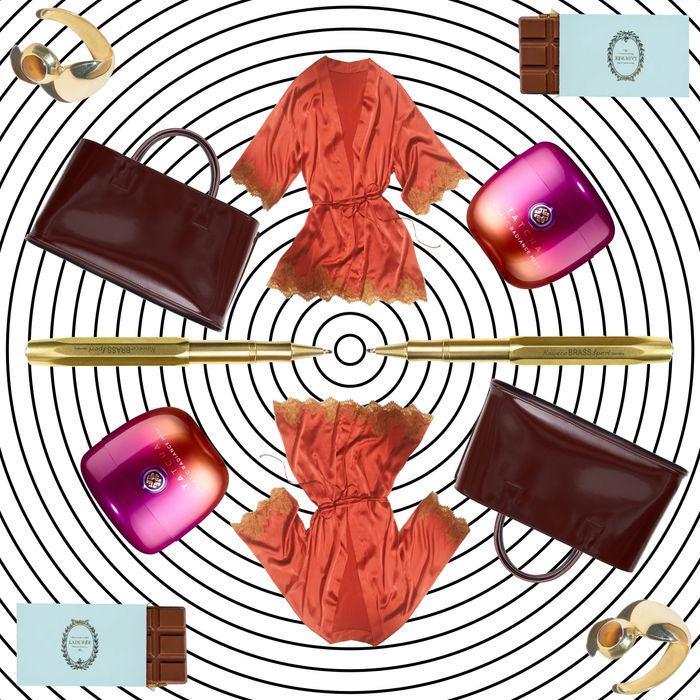 Photo-Illustration: The Cut; Photos: Retailer
We may be nearing a year in lockdown, but one of the last firsts on the horizon is a quarantine Valentine's Day. This might seem like a bummer, but those-in-the-know have been treating this as an indoor holiday for years already. Whether you've been cooped up on a one-bedroom apartment with your sweetie for 11 months or are making it work over Facetime, forgetting to get your girl a V-day gift is still very uncool, so we've rounded up some of the best gifts in every price range. Pop the champagne, throw on your slippers, and don't forget to get one of these in the mail, stat.
$25 and Under
Slim and perfect for layering, this initial necklace is a personalized gift you could easily tuck into a card.
Hair TikTok has revived the French twist, and these timeless tortoise pins are a great gift for long-haired ladies of all ages.
Obviously, whether this is an appropriate Valentine's Day gift is highly dependent on the status of your relationship. But we like that these condoms are free of harmful chemicals and come in very cute gender-neutral packaging.
An ultra shiny and moisturizing lip gloss, in a universally flattering color, designed by Rihanna. Win, win, win.
Handwashing has done a number on all of our digits this year. This fragrance-free cream looks chic and comes unscented — so there's no chance of you getting her favorite fragrance wrong.
If you can't whisk her away to Paris, send a little piece of it in the mail, in the form of these pastel-packaged chocolate bars.
What's this year about if not having things to look forward to? Pre-order your gal a copy of this collection of love stories and myths from around the world, collected and re-imagined by author Bolu Bablola (ships April 12).
The woman in your life deserves to take her desk lunch to work in something pretty.
Delightfully bright and a little bit wacky, what woman wouldn't want a more thrilling vessel for everything from water to margaritas?
Photo: Brown, Indya
These bookends look a lot nicer than you'd expect for under $20 on Amazon.
$50 and Under
A mental vacation in a candle, scented like summer, beaches under the moon, and freedom.
A pair of cashmere socks may seem overly luxurious, but that's what makes them a perfect gift: She most likely wouldn't buy them for herself, but she'll really appreciate having them.
A great-smelling body polish for soft skin.
These handmade soaps have a silky feel and are infused with natural botanicals like hibiscus and shiso, for luxe showering vibes.
Does she think flowers are too sappy? Get her a bath product that smells like leaves instead.
A perfectly temping pair for a Valentine with a bit of an edge.
A rarity: the Valentine's day chemise that is not cheesy.
Available in sizes XS–XL.
Three different scents, ideal for the multifaceted lady in your life.
For the woman who makes your life just a little bit sweeter.
For the woman who loves luxe fabrics.
$100 and Under
Upgrade her love-note writing situation (also adds a lil glam to grocery lists).
"I love you" and "I want you to be cozy always" are pretty much the same thing.
A modern, design-y vase that will go with any flowers you want to get her.
A silky lipstick with a sinuous shape that glides perfectly over lips.
Give her the greatest gift of all: glowing skin.
The tonally appropriate oxblood (and chic shape) make this bag a Valentine's home run.
Already binged The Queen's Gambit together? Do the necessary thing and supply her with this elegant chess set.
$250 and Under
A timeless smoking jacket cut that would look great all on its own.
Put it all out there and let her wear your heart on her lobes.
For the woman who like sneakers but isn't a sneakerhead.
A super sexy red bodysuit that she'll want to wear beyond Valentine's Day.
Available in sizes 30C-36F.
A scent that will remind her of nostalgic high-school days.
Retro without feeling costumey, this dressing gown makes even bingeing Lupin on the couch feel like a proper date night.
Classic and sophisticated earrings that she'll wear forever.
Lucky enough to have a lover who got into bread-baking this year? Reward her efforts immediately.
For the woman who can never have too many bags.
We've got a few more months of being stuck indoors ahead — soften the blow with this cotton-and-silk blend pullover.
A dramatic ring with a modernist twist — maybe just right if your relationship is a little open-ended at the moment?
If you buy something through our links, New York may earn an affiliate commission.