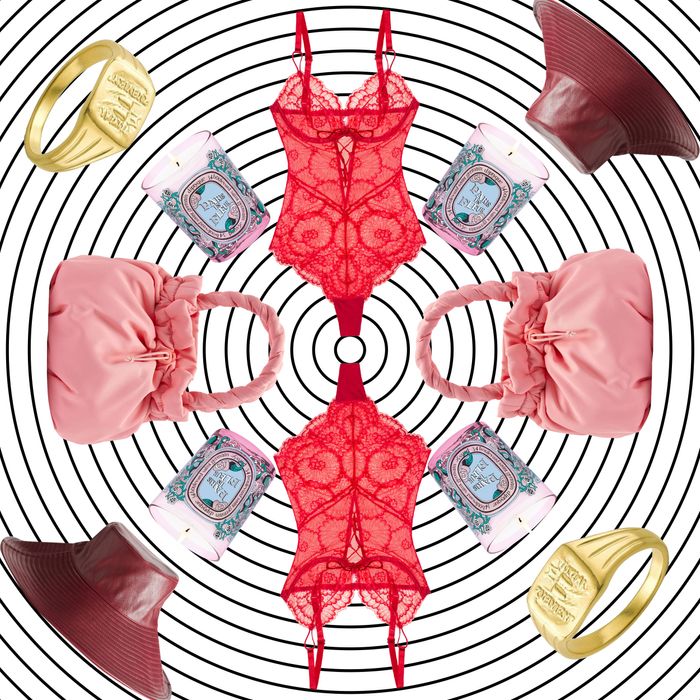 Photo: Courtesy of the Retailers
What do you get the woman who has everything? Or at least the woman who has the gift you just got her in December? From the It-girl candle taking over Instagram to a present that will feel personalized with little to no effort, we've rounded up 35 great Valentine's gifts under $200.
$25 and Under
People love getting personalized gifts, and this one couldn't be easier.
Obviously, whether this is an appropriate Valentine's Day gift is highly dependent on the status of your relationship. But we like that these condoms are free of harmful chemicals and come in very cute gender-neutral packaging.
The woman in your life deserves to take her desk lunch to work in something pretty.
An ultra shiny and moisturizing lip gloss, in a universally flattering color, designed by Rihanna. Win, win, win.
While robes are a lingerie staple, this one is casual enough that she can wear it while hanging around the house.
Available in sizes XS–XL.
Fun socks are a low-lift gift — perfect if you're in a new relationship and don't want to be caught on Valentine's Day empty handed. These would look great with heels or classic white sneakers.
A date night dress if there ever was one.
Available in sizes 12–28.
Something sweet, on-trend, and statement making.
Photo: Brown, Indya
These bookends look a lot nicer than you'd expect for under $20 on Amazon.
$50 and Under
For the woman who loves luxe fabrics.
A rarity: the Valentine's day chemise that is not cheesy.
Available in sizes XXS–XXL.
Does she think flowers are too sappy? Get her a bath product that smells like leaves instead.
Celebrate Valentine's Day with a drink, at home, out of cute glasses.
A great-smelling body polish for soft skin.
Photo: necklace
A birthstone necklace is classic, won't go out of style, and shows that you care (enough to know her birthstone).
These CBD gummies are like Valentine's Day candy's grown-up sibling. They come in passionfruit plus one special raspberry flavor in the center of the box.
A pair of cashmere socks may seem overly luxurious, but that's what makes them a perfect gift: she most likely wouldn't buy them for herself, but she'll really appreciate having them.
A trendsetter will love this red leather hat.
These hook over the top of your ear and hang down like glittery hair extensions. Perfect for the woman who is way ahead of the fashion curve.
It comes in a cool geometric shape and smells like a honeymoon.
A simple, unfrilly, but still sexy approach to lingerie.
$100 and Under
"I love you" and "I want you to be cozy always" are pretty much the same thing.
A silky lipstick with a sinuous shape that glides perfectly over lips.
Available in a myriad of colors and sizes, J.Crew's cashmere sweater is a best seller for a reason.
Available in sizes XXS–3X.
A very fancy limited-edition candle from a brand with a crazed following. Get it soon!
A modern, design-y vase that will go with any flowers you want to get her.
If she loves a matching set, nothing will make her happier than having her AirPods match her phone.
$200 and Under
Extremely fancy slippers for the extremely fancy woman.
This signet ring feels like a true heirloom, but at a price that's quite reasonable for jewelry.
A scent that will remind her of nostalgic high school days.
The gift here isn't just the bag — it's also the compliments she'll get on the bag.
A super sexy red bodysuit that she'll want to wear beyond Valentine's Day.
Available in sizes 30C-36F.
A perfect hybrid of classic pearls and a handmade-feeling beaded necklace.
For the woman who like sneakers but isn't a sneakerhead.
If you buy something through our links, New York may earn an affiliate commission.