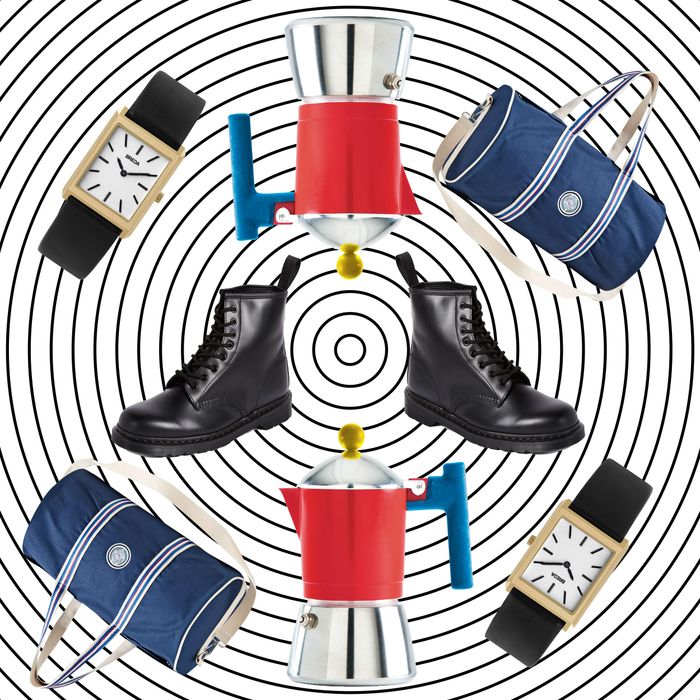 Photo-Illustration: Retailers
Yes, it feels like Christmas just happened and everyone is all shopped out, but that's just how Valentine's Day works. And while a lot of pressure often falls on men to show up with flowers and jewelry, surely they deserve a little something nice around this time of year, too. Here's a whole slew of great ideas for reciprocating this love this V-Day — a year when the loved ones who've stuck by us really deserve to be celebrated.
$25 and Under
All the better for practicing his Bond skills (and making you drinks, of course).
Equal parts American history and thrilling adventure story, this paperback is a perfect read for outdoorsy dudes.
No more fumbling around to charge your phones before bed.
President Barack Obama, noted pickup-basketball star, is a huge fan of this collection of hoops essays.
Makes everything from coffee to cocktails look a little bit cooler.
The flyest winter accessory around right now is also one of the most affordable.
Next time something breaks, he'll feel well-equipped to fix it.
If jotting down notes on thinly sliced sheets of fine Japanese wood doesn't get him inspired, nothing will.
A fun take on classic dopp kit bags, for helping dudes who understand the importance of skin care stay organized.
A subtle hint that the mustache he's trying to grow isn't totally working.
Writes smooth, looks good, can't lose.
$50 and Under
For the BF who rocks a varsity vibe.
Brighten up his mornings with this Memphis Design–inspired moka pot.
Spice up his life … literally.
Got a guy who loves to hang out around the legendary West 4th St. basketball courts? This ballcap ode to the iconic spot will never go outta style.
Remind him how you light up his life.
Men deserve pretty chocolates too — flip the script and gift your sweetness a classic box of sweetness.
Socks are always a good gift. Who doesn't love being cozy all the time?
The couple that belts Oasis together stays together.
Instantly makes any coffee table feel roughly 15 percent swankier.
Just like Marty McFly used to wear.
A grown-up, goes-with-everything baseball cap.
Because every time he says his hands aren't cold, he's lying.
$100 and Under
Is your guy sleeping on the glory of super-fluffy slippers? These shearling suede ones are a timeless fave of dads, boyfriends, and brothers everywhere.
Music buffs will love this all-access time capsule of the year Dylan went electric.
The rare concert poster that doesn't look like it belongs in a dorm room.
Sometimes there's nothing sexier than the perfect white tee — remind him with this three-pack from cool guy line Aimé Leon Dore.
For the guy who likes to play (harmless) games.
Made from natural hemp, these unisex waterproof boots are the perfect protection from spring showers (and they look pretty rad, too).
For the dude who needs to fidget — and has a need for cool coffee-table art.
Old-school Vans are never not totally rad.
A shirt so soft and comfortable that he'll forget that he looks put together.
For dudes who love to cook, this'll open up a whole new world of experimentation.
Makes drinking great Scotch even better, makes cheap whiskey seem halfway fancy.
$300 and Under
For the confident guy with an eye for accessorizing.
Got an entrepreneurial guy on your list? Help out his hustle with this soft leather card carrier.
Masculine without feeling bulky, this watch is perfect for men trying to cut back on their screen time.
Level-up his polo game with this cashmere number.
Timeless, sleek, and designed to last a lifetime, these leather derbies will upgrade his date-night style game, whenever going out is a thing again.
For the stylish guy who always forgets to charge his phone.
A deluxe fuzzy blanket for the most important softie in your life.
If he likes his food spicy, this'll keep his tongue on fire in new, delicious ways all year long.
Tough, versatile, and oh so clean.
Elegant enough for the office, offbeat enough for the weekend.
Get him ready for your next beach vacation.
State-of-the-art sound in a handsome package.
Slightly over our $300 cap, yes. But these cool-guy shades will look good on just about every face shape.
If you buy something through our links, New York may earn an affiliate commission.