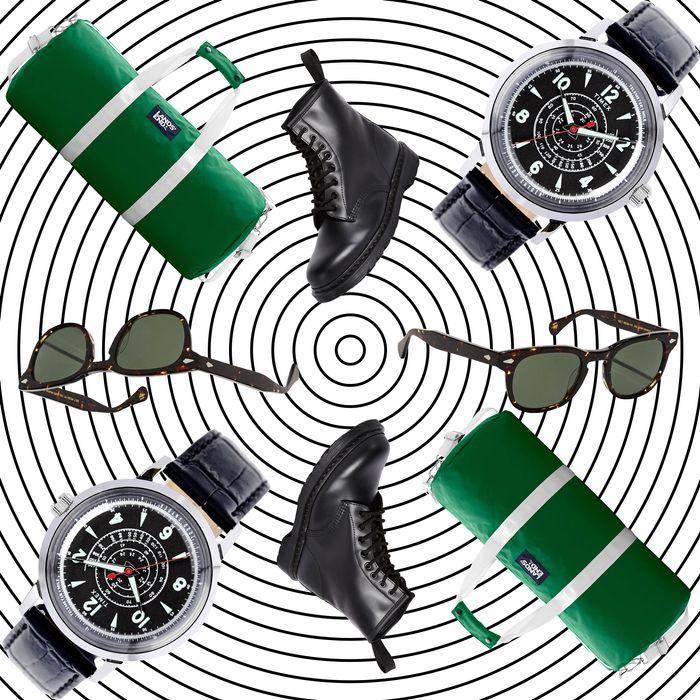 Valentine's Day has a terrible habit of sneaking up on people. Your nerves and bank account have barely had a chance to recover from the holidays, and then boom — you've got to buy another present? And it needs to be thoughtful and personal and sweet? Jeez. This year, though, you can breathe a little easier because we've made things as simple as possible. Below, you'll find our foolproof list of can't-miss gifts for every taste and budget.
$25 and Under
Let Elvis tell him exactly how you feel — for less than ten bucks.
No more fumbling around to charge your phones before bed.
President Barack Obama, noted pickup-basketball star, is a huge fan of this collection of hoops essays.
Makes everything from coffee to cocktails look a little bit cooler.
The flyest winter accessory around right now is also one of the most affordable.
Next time something breaks, he'll feel well-equipped to fix it.
If jotting down notes on thinly sliced sheets of fine Japanese wood doesn't get him inspired, nothing will.
Writes smooth, looks good, can't lose.
$50 and Under
Socks are always a good gift. Who doesn't love being cozy all the time?
A subtle hint that the mustache he's trying to grow isn't totally working.
The couple that belts Oasis together, stays together.
Instantly makes any coffee table feel roughly 15 percent swankier.
A major upgrade on the ratty old gym bag he uses as a carry-on. For bonus points, get it monogrammed with his initials.
This'll start off as a charming decoration before quickly becoming a highly competitive nightly activity.
A grown-up, goes-with-everything baseball cap.
A coffee maker doesn't have to be nice-looking, but isn't it a bonus when it is?
Music buffs will love this all-access time capsule of the year Dylan went electric.
A cozy, sustainably made sweatshirt in a handsome shade of brick.
True lazy-Sunday staples.
A work of art he can wear.
Because every time he says his hands aren't cold, he's lying.
Preserve your memories together in the simplest, artsiest way possible.
The rare concert poster that doesn't look like it belongs in a dorm room.
$100 and Under
Make your next road trip together a whole lot tastier.
Old-school Vans are never not totally rad.
Just like Marty McFly used to wear.
For keys, coins, cuff links, earbuds, and whatever else winds up in his pockets.
Looks great under a topcoat right now, works even better as a top layer come spring.
For dudes who love to cook, this'll open up a whole new world of experimentation.
Makes drinking great Scotch even better, makes cheap whiskey seem halfway fancy.
$300 and Under
If he likes his food spicy, this'll keep his tongue on fire in new, delicious ways all year long.
Photo: 17-11-13 Accessories PM1 B8 toddmaughan M
Tough, versatile, and oh so clean.
Elegant enough for the office, offbeat enough for the weekend.
Get him ready for your next beach vacation.
If all else fails, get him a big ol' blanket he can keep on the couch. Y'all watch Netflix, right?
State-of-the-art sound in a handsome package.
A stylish sweater for your stylish guy.
Cool-guy shades that'll look good on just about every face shape.
This piece first ran in January 2019 and has been updated throughout. If you buy something through our links, New York may earn an affiliate commission.