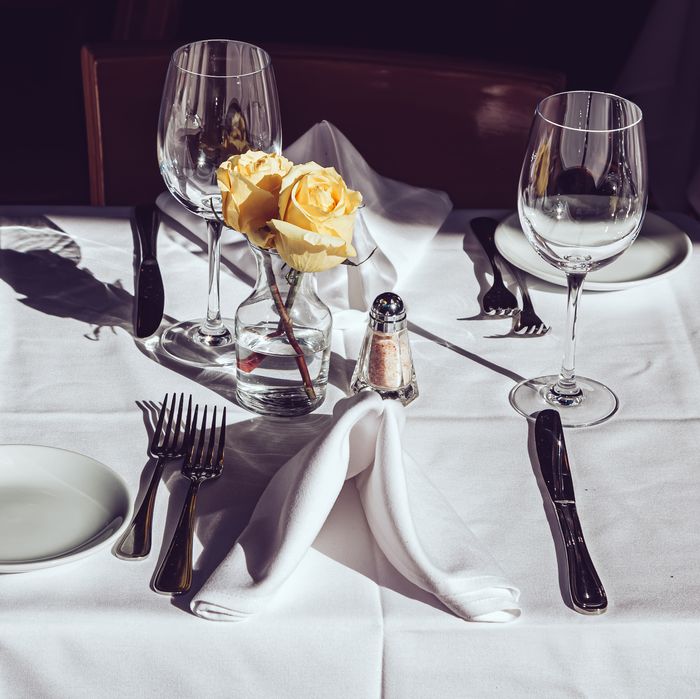 Photo: Koldertsov ALEX/Getty Images
What should you do on Valentine's Day? It's a good question. Going out to dinner and/or having sex are two obvious options, which honestly seem pretty good to me, if those are available to you. But maybe you're not dating anyone at the moment, or you think restaurants are too crowded on Valentine's Day, or you're just looking for something a little more creative. If so, here are 24 very good ideas.
1. Drink Beers in the Shower
"Stay home! Drink beers in the shower together, pretending you're on vacation. Do NOT do anything sexual in there — just enjoy the warmth and the escape from winter. What you do afterward is none of my business." — Jen Gann, senior editor
2. Go to White Castle
"Weirdly, White Castle goes all out for Valentine's Day. I went with a friend, 'ironically,' several years ago, but it was actually really sweet and funny. You even make reservations, and they decorate — there was heart confetti all over our table. The real couples there seemed really happy, and it's a pretty cheap date if you're looking to do something special, but not spend too much money."  — Katie Heaney, senior writer
3. Paint Portraits of Each Other 
"All you need are two canvases, some paint, some brushes, some newspaper for the floor, maybe some wine, and an expression you've practiced that communicates, 'I love it!'" — Kelly Conaboy, writer-at-large 
4. Make a Lasagna
"Have you ever made a lasagna? All those layers make it a pretty satisfying project, and the end result is a very comforting and, I think, romantic meal. Plus, it's (debatably) poised to be the hottest aphrodisiac of 2020." — Erica Schwiegershausen, editor
5. Go Out for Steak With Your Best Friends
"My lady friends and I always make a steak date the week of Valentine's Day. (You know, in case anyone is actually dating someone. [Insert eye-roll.]) We've gone to St. Anselm in Williamsburg in the past, but it's tough because you can't make a reservation. Last time, the wait was too long, so we ended up eating burgers at Long Island Bar and it was just as lovely. I think all that matters is that you get dressed up and go eat and drink something decadent. — Emilia Petrarca, fashion news writer
6. Go to a Burlesque Show
"I like celebrating holidays two ways: (1) Go experiential rather than just a gift exchange, and (2) lean into cheesiness that might otherwise be alienating or embarrassing (as with Valentine's Day more than any other day). So last year my Valentine and I went to a classic burlesque show in a basement in midtown. It was extremely funny and silly, but also a unique memory for us to have together. It's so unique in fact that he won't let me name it lest our new tradition gets out … But anywhere with feather boas, sexy-themed cocktails, and a snare drum will suffice." — Bridget Read, writer
7. Rank Your Worst Dates
"The best Valentine's Day date idea is to have all your friends buy a bottle of wine and then sit on someone's apartment floor and rank the worst dates everyone has ever been on." — Katie Berohn, intern 
8. Watch Some Terrible Rom-Coms
"My favorite Valentine's Day activity is renting the worst rom-coms I haven't seen yet or didn't manage to watch on a plane and do a double feature of them, alone. Yeah, sure, it might sound depressing, but it's actually really fun. I discover movies that I'd never even pay a friend to watch, like the depressing One Day, or I end up discovering a new rom-com favorite like What's Your Number? And if you want something really cheesy and terrible, may I recommend Valentine's Day? Perhaps our greatest too on-the-nose rom-com of all time." — Kerensa Cadenas, senior editor
9. Take an Art Class
"Go to a wine and painting class. I would argue it's even more fun if neither of you is artistic, since you can flirtatiously make fun of each other's excuses for art." — Alexia LaFata, SEO editor 
10. Make Cocktails 
"Each of you can come up with a 'signature cocktail' (or mocktail) for the other person, as if you are on a cocktail-focused reality show. 'Gin because you're … um, juniper-y … lemon because you're … sunny … and umm … honey … because you're my honey!'" — Kelly Conaboy, writer-at-large 
11. Shelter in Place
"Partnered or no, I do not enjoy going out on Valentine's Day. It feels like taking part in a weird mass date, plus the vibe is … a little tense, I would say? Valentine's Day can be a lot of pressure, which is why I recommend picking a safe indoor location and hunkering there for the whole night. You will of course need to stock up on supplies first: Me personally, I like to get a bottle of red wine, and a little treat — ice cream feels correct, although chocolate might be on sale — and my favorite food, delivered. Maybe it is sushi, maybe it is fried chicken, I really can't make that call for you. Anyway, assemble your fighters and then just … do nothing, for many hours. Watch a movie while doing a face mask, light an irresponsible number of candles, bring out each and every one of your blankets, see where the mood takes you. Am basically just telling you to have a night in with take-out? Yes, and where is the problem? The beauty of this plan is that it works just as well with a partner or friends as it does by yourself. Also, Valentine's Day falls on a Friday this year, so maybe you want to throw a little edible into the mix? Just a suggestion." — Claire Lampen, writer
12. Get a Pedicure
"Getting a manicure or pedicure is excellent for Valentine's Day. I prefer a pedicure, because you can chat with your partner, or eavesdrop on someone else together. Also, a foot massage is always relaxing, and then you both have pretty feet afterwards." — Sangeeta Singh-Kurtz, senior writer
13. Go on a Trip
"This Valentine's Day I brought a surprise ticket to see my boyfriend in San Francisco. We've been long distance for about a year now, and I couldn't think of anything I'd rather do than spend it somewhere warm with him. However, since he's always traveling for work, I knew this plan could fail horribly, so if you try this, I recommend that you buy flight insurance. If you aren't in a long-distance relationship, you could go for a short road trip somewhere that you and your partner have always wanted to visit. Take a risk and explore together. It'll make some of your best memories." — Nana Agyemang, social media editor
14. See a Movie By Yourself
"If you're single on Valentine's Day, you could stay home, ignore everyone, and binge-watch Netflix (no judgement here). But I maintain that the best (and correct) way to go to the movies is by yourself. Yes, you might run into some couples at the theater, but what will it matter when the lights go down, and it's just you and your snacks? Extra points if you sneak in a full meal." — Daise Bedolla, social media editor
15. Benihana
"I live and die for Benihana. I can't think of anything more romantic for Valentine's Day than a hibachi chef throwing pieces of broccoli and overcooked shrimp at me with a spatula. And few things are as timeless as the onion volcano." — Charlotte Klein, fact-checker
16. Bake Something
"One date thing I've been doing lately with my boyfriend that I think would be good for V-day is baking something together. This is especially good if neither of you are good at baking, and you agree that if you fail, you will order dessert from Seamless." — Sangeeta Singh-Kurtz, senior writer
17. Karaoke
"This year, Valentine's Day is on a Friday. Shake off the week with your SO by crooning your favorite love songs together at your favorite karaoke joint. Get there early to snag your spot, and then kick back and watch the other rookies give it all they've got. For couples who experience a bit of stage fright, book yourselves a private room and really belt it out." — Kelsi Trinidad, producer
18. Go to the Russian Baths
"I have not been to the Russian baths in New York, but my husband has, and he can't stop talking about it. Apparently, you get to sit around a big indoor pool in bathing suits and drink beer and eat pickles, making it a perfect mid-February activity." — Erica Schwiegershausen, editor
19. Play a Morbid Parlor Game
"Interrogate your date with a morbid romantic parlor game by asking if they would "Force Majeure" you (i.e. throw you under the bus in the face of an impending threat). Who knows what they'll say!" — Anna Silman, senior writer 
20. Have the Conversation You've Been Dreading
"What better time than Valentine's Day to corner your boyfriend, domestic partner, or undefined-person-you've-been-seeing into a difficult conversation that at least one of you has been avoiding? So are we moving in together soon or what? Are you still flirting with the woman at your gym who you know I detest? Do you even like me? Regardless of how it goes, you're guaranteed a passionate night!" — Amanda Arnold, writer
21. Go to an Anti-Valentine's Day Party
"When I lived in L.A., there was a bar that would have a big anti-Valentine's Day party every year. I'd get a big group of all my single friends and we'd make dinner and desserts while watching our favorite rom coms (13 Going on 30), and we'd have a very college night of "getting ready to go out together." We'd hit up the party ten women deep, order drinks and dance, and someone would end up sleeping with a techno DJ or comedian. Even if you can't find a local anti-Valentine's Day party, I'd recommend just getting together with your friends like this, because it's a blast." — Kerensa Cadenas, senior editor
23. Exchange Love Letters
"This is so cheesy but: exchange love letters with your person. Especially if you've been with someone for a while, having to put the way you feel into words is a good way to remind yourselves of what you're still doing together. Plus, it's free, and, unlike anything else customized you might get each other, so embarrassing that you can guarantee it stays just between the two of you." — Jen Gann, senior editor
23. Get a Couple's Massage
"A couple's massage sounds much fancier than it is. Really, you just get a massage a few feet away from your partner, who also gets a massage. It's great. Also, massages can be awkward, what with strangers touching you naked and all, so it's comforting to have a loved one in the room with you." — Alexia LaFata, SEO editor
24. Go Climbing Together
"Hear me out: Bouldering with Your Person is a surprisingly fun way to spend Valentine's Day, whether you're belay certified or the word 'sloper' is meaningless to you. If you climb regularly, you get to show off your skills; if you've never been before, you're probably going to feel uncomfortable as hell on the wall, but the person with whom you're climbing is going to get a pleasant view of your butt, which is nice. Also, since climbing has become 'trendy' or whatever, finding a gym near you is easier than ever." — Amanda Arnold, writer
This post has been updated.