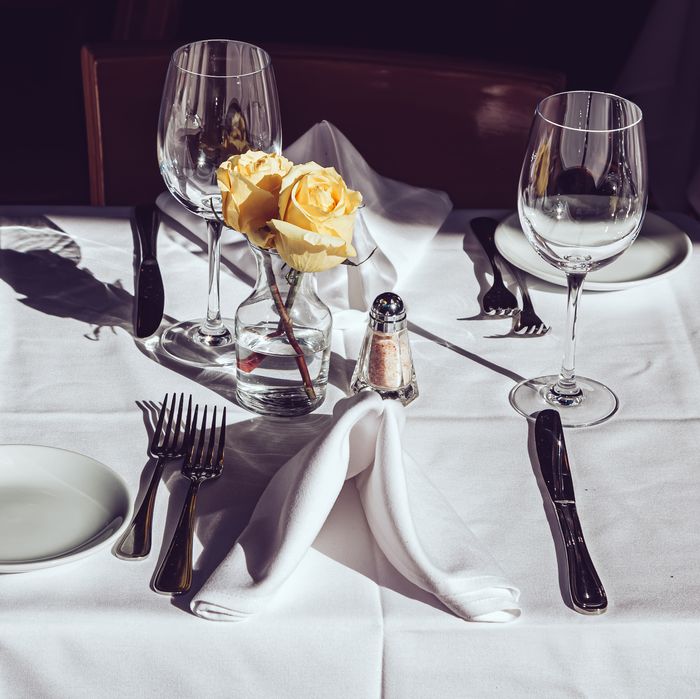 Photo: Koldertsov ALEX/Getty Images
As hard as this year has been, there's something kind of nice about being let off the hook for making Valentine's Day reservations, or trying to just do regular things while avoiding prix fixe menus covered in hearts. Could you throw the towel in completely on this holiday? Sure, but we also all need a little bit of excitement, and Valentine's Day is as good of an excuse as any to celebrate. Here are a number of ideas from extremely trustworthy sources on how to take a moment to appreciate the partner you've been quarantined with this whole time — or indulge in some much-deserved solo self-care.
1. Watch a Rom Com — A Really Good One
"I'd definitely recommend watching Sylvie's Love, Juliet, Naked, or all three of the To All the Boys I've Loved Before movies *the final installment of those, To All the Boys I Love: Always and Forever, comes out Feb. 12.)" —Kerensa Cadenas, senior editor at the Cut
2. Treat Yourself (or Your Lover!) to a New Robe
"As a lingerie expert, I like to think I'm also a bit of a relaxation professional. After all, loungewear is lingerie too, right? Since quarantine has begun, I've been all about that caftan life. While silk is always a fave, I don't look down my nose at a good, comfy jersey either, and Natori's Floral Zen Caftan is perfect for a bit of light lounging. Or hardcore lounging. Whichever you prefer." —Cora Harrington, founder and EIC of the Lingerie Addict and author of In Intimate Detail: How to Choose, Wear & Love Lingerie
3. Get All Dressed Up with Nowhere to Go
Did you buy a gown for a black-tie wedding that never happened? Can't remember what your partner looks like outside of sweatpants? Go all out (get dressed up in separate rooms if you can), even if all you do is just eat pizza on your couch again.
4. Stream a Singles Party
"This Reductress comedy show Single's Party, featuring funny women like Rehka Shankar and Naomi Ekperigin, has been on my radar this year. Perfect if you need a V-Day laugh." —Kerensa Cadenas, senior editor at the Cut
5. Dip a Toe Into Audio Erotica
If you've been in quarantine with your partner, chances are things might not be the most physically thrilling after being cooped up together for so long. Maybe check out Dipsea, which offers a library of sexy audio stories that could bring a little heat back into your pandemic sheets.
6. Plan a Marcella Hazan–Inspired Pasta Night
"Everyone needs to get as creative as possible this year, so The Great Eros is partnering with Pasta Club NYC on a custom kit of special ingredients to make a romantic dinner safely at home. It's a classic spaghetti and tomato sauce, inspired by Marcella Hazan's recipe: San Marzano tomatoes, plus onion and French cultured butter. They selected an extra-long spaghetti from Italy for that Lady and the Tramp moment, and it comes with hand-dipped candles — plus 10 percent of proceeds goes to feed families in need. At our house, my husband and business partner Emilio and I will be keeping up the dinner and a movie theme by watching Ghost. Dessert will be a classic throwback of chocolate fondue with fruits and sweets." —Christina Viviani, co-founder of the Great Eros
7. Keep Things Chill and Send a Penguin-Gram
For just $2.99, the Philadelphia Zoo penguins will record a personalized Valentine's Day message for your loved one on Cameo, which is truly the best use of that platform we've ever seen.
8. Create a Cute Cookie Moment for Your Valentine
"For a classic sweet treat I am extremely charmed by the Ovenly Conversation Cookies, which would be A+ warmed up with some Häagen-Dazs Vanilla Bean (the only acceptable vanilla ice cream!) plopped in the middle." —Claire Mazur, co-host of A Thing or Two with Claire and Erica
9. Commit to a Plant Baby Together
Is your partner one of the many people who's gotten super into plants this year? Give them this ficus from the Sill and set aside some time to take the free workshop that comes with it (maybe with a cocktail in hand?), so you can both learn how to keep this new leafy symbol of your love alive.
10. Have Miyazaki Marathon
"Running a business 24/7 while being together 24/7 makes it difficult to plan a date night. We're consciously making an effort to press pause for one night to enjoy a marathon of Studio Ghibli films like Howl's Moving Castle and Princess Mononoke by director Hayao Miyazaki. (Our three dogs will join us.) A chill yet romantic dinner will be provided by Matthew, who is an excellent cook. I'm requesting steak with some sort of potato/celery/cauliflower mash and red-eye gravy. Then it's back to work the following morning!" —David Kien and Matthew Herman, Boy Smells co-founders and creators
11. Cook with a Vegan Power Couple
The world's new favorite vegan influencer, Tabitha Brown, is hosting this V-Day themed cooking class, making vegan scallops alongside her husband, Chance. Cook along or just enjoy the vibes with one of the internet's cutest couples.
12. Toast Your Love With Johnnie Walker
Love might be blind. But taste buds don't have to be. This Valentine's Day, give the best to the best with Johnnie Walker Black. The perfect combination of smooth and sweet for a flavor that makes taste buds swoon.
13. Relax with a Romance Novel
"If you're looking to treat yourself, may I offer you The Idea of You? It's a romance novel in a class of its own that's quickly gaining cult status, about a 40-year-old divorced mother who starts a torrid love affair with a boy-bander not-so-loosely based on Harry Styles. You can, and will, read it in one sitting, which sounds like a perfect way to spend the day." —Claire Mazur, co-host of A Thing or Two with Claire and Erica
14. Go Through Your Camera Rolls Together
There's something really lovely about seeing what your partner chose to capture on any given day, or another person's angle on one of your favorite memories. Scrolling back side-by-side can be a great way to remember everything that you've survived together the past year, a funny story starter, or a just a way to get those unsent selfies the love they deserve.
15. Plan a D.I.Y. Spa Day
"Typically, I use Valentine's to take the day off work for a fully programmed day of pampering — massage, acupuncture, facial, mani-pedi, and a nice dinner out. Well, that's canceled. So this year, I've planned a 'bathrobe day.' After waking up, I'm going to get straight into my plushy Standard Hotel robe, try to ignore my responsibilities, and maybe even set up an email OOO message. I'll light a candle, play some Ethiopian jazz, make a breakfast burrito, and read. By the evening time, I'll draw a bath, smoke a little, and do a long skin-care routine — de-puff, two different masks, gua sha — and I'll retire to the living room where I'll order a burger and fries from the place two blocks away from me. If everything goes to plan, I'll be asleep by 9:30." —Fran Tirado, writer/producer of queer things, host of Food4Thot
16. Book a COVID-Safe Staycation 
"I had a staycation at the Wythe Hotel in the fall for a change of scenery, and I think it would be a perfect idea for both couples and single folks. I stayed alone, and it was SO nice and just perfect and calming." —Kerensa Cadenas, senior editor at the Cut
17. Air Fry With Your Person
"My husband and I aren't traditionally a holiday family, but we did a spirited Christmas with the trees and the lights, and in pandemic times it was so good for overall morale that we've agreed to celebrate every tiny event until we're out of this. So, for Valentine's Day I imagine we'll do what all humans do when they want to get extra sexy, which is to find something to air fry. We'll probably do kofta kebabs and eat them with yogurt and this Yemenite hot sauce, zhug. We get the Sun Lion kind from Sahadi's. It harnesses that magical quality that Laoganma spicy chili crisp possesses which is that it immediately vaunts your cooking to taste like outside food, which is profoundly romantic. Then, we'll watch The Notebook (and not watch Blue Valentine, even if at times one feels more accurate than the other after a year of sheltering in place). Or, we might scrap all of this and order ribs from Dinosaur BBQ and watch Gremlins again." —Mary H.K. Choi, New York Times bestselling author of Emergency Contact, Permanent Record, and Yolk, out March 2.
18. Dress Up and Read a Book
"For Valentine's Day this year, I figure there will be two layers — what my partner and I are doing and what I'm doing for myself. For the first part, I just bought the coziest all-wool heathered getup from Kochetkov that's essentially a sweatsuit but fancy since it's Italian waffle weave with a proper waistband, and will likely feel like I'm wearing a prom dress at this point. Then, I'll start leisurely making my way through a one-day-old Levain chocolate chip cookie (no walnuts) on a perfectly sized salad plate with a small, serrated knife. I'll also read some of Sherry Thomas's Lady Sherlock Holmes series, which isn't something I'd ever thought I'd get into but am enjoying immensely." —Mary H.K. Choi
19. Splurge on Something Sparkly
"If you're in the market for some jewelry to gift, Brinker & Eliza, Jessica Winzelberg, and Kathryn Bentley all have great options — I love the idea of something custom, but they have great pieces in stock, too." —Claire Mazur, co-host of A Thing or Two with Claire and Erica
20. Wake 'Em with Baked Goods
There's truly an embarrassment of pastry riches in New York right now, in the form of all kinds of pop-up and small-scale independent bakeries. That means limited hours and availability, but an extra dose of creativity and an element of surprise. From Fox Bread Bakery in Crown Heights to Apt. 2 Bread in Clinton Hill and Mel the Bakery on the LES, among many others, there's lots of options for pre-ordering a freshly baked treat to surprise your sweet.
21. Book a Virtual Lingerie Styling Session
Why not buy some very impractical underthings that make you feel amazing? Much-beloved lingerie shop Journelle is offering virtual styling sessions to re-create that dressing room feeling, to help you get the right fit and find what you're looking for without leaving the house.
22. Throw a Kid-Friendly Mocktail Party
"As a family, we plan to eat a full box of chocolates while watching something like Pretty in Pink. But first we'll make themed nonalcoholic cocktails, a favorite activity for the kids. For V-Day I'll put out some grenadine, maraschino cherries, juices, agave, soda water, bitters, limes, and then they'll mix up a concoction and dust it off with fresh nutmeg." Kavi Ahuja, co-founder of D.S. & Durga
Every product is independently selected by our editors. Things you buy through our links may earn us a commission.