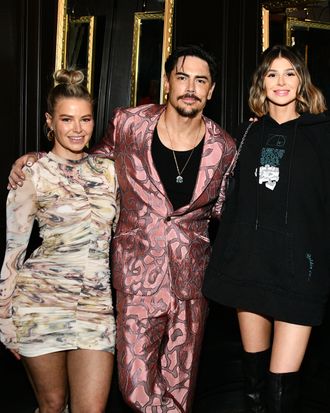 Ariana Madix, Tom Sandoval, and Raquel Leviss.
Photo: Araya Doheny/Getty Images
Have you checked in on the Bravo fan in your life lately? Chances are that they, like the rest of the Bravoverse, have been in a state of chaos ever since TMZ broke the news in March that Vanderpump Rules stars Tom Sandoval and Ariana Madix had broken up after nine years together. According to TMZ, the breakup came after Sandoval cheated on Madix with their friend and castmate Raquel (Rachel?) Leviss.
Nearly a month after the cheating rumors became news, paparazzi asked Sandoval if he would change anything if he could go back in time. Speaking publicly about the scandal for the first time, Sandoval noted he could have handled things better. "Hindsight's always 20/20, man," he said, per ET.
Following the initial reports, Sandoval posted a statement to Instagram saying that he was "sorry for everything," writing, "I fully understand and deserve ur anger & disappointment towards me." To fans, this was both a confirmation and a confession. He later apologized to Madix in another Instagram post, saying, "I made mistakes, I was selfish, and made reckless decisions that hurt somebody I love. No one deserves to feel that pain so traumatically and publicly."
By the time news of their breakup broke, Madix had deleted her social-media accounts. This didn't stop friends, co-stars, fans, and seemingly anyone who has ever watched Bravo from publicly proclaiming that they were #TeamAriana. Madix eventually returned to Instagram, where she posted a photo of herself in Mexico and thanked family, friends, and "people I've never even met" for their support.
For her part, Leviss apologized "for my actions and my choices foremost to Ariana, and my friends and fans," and she called the circumstances surrounding her relationship with Sandoval "indefensible."
If you haven't been obsessively following #Scandoval, here's what to know about the drama, which earned the show its first two Emmy nominations.
Hold on. Who are these people?
Now in its tenth season, Vanderpump Rules follows the lives and dramas of the staff — hostesses, servers, bartenders, and their friends — at former Real Housewives of Beverly Hills star Lisa Vanderpump's Los Angeles restaurants: SUR, Pump, and TomTom. Unlike more constructed reality shows (where people are brought together for filming, then never see each other again), the Vanderpump Rules cast is known for its close-knit and intertwined friendships, romantic relationships, and other entanglements.
Sandoval, 39, has been a cast member since the first season, when he was introduced to viewers as a bartender at SUR. Tom previously dated former cast member Kristen Doute, who infamously cheated on him twice with his best friend and co-star Jax Taylor (who was also Doute's best friend and co-star Stassi Schroeder's ex) while on the show. Sandoval himself was accused of cheating in the relationship. When Doute and Taylor's indiscretions came to light, a single slap and several punches were thrown, a book was written, and everyone appeared to move on.
Madix, 37, appeared on the show in its early days and officially joined as a full-time cast member in its third season as Sandoval's friend and fellow bartender. Her disposition as a "voice of reason" made her a popular character with fans. She and Sandoval confirmed that they were dating a few months after Sandoval's breakup with Doute. Soon, they were Instagram official and have been the show's most stable couple ever since. Well, until recently.
Leviss, 28, was brought into the fold during season six in 2016, when she was dating series regular James Kennedy (or, as he then called himself, DJ James Kennedy, the "White Kanye"). The two were engaged for seven months before breaking up in December 2021.
But Sandoval was cheating on Madix with Leviss?
Reports of Sandoval cheating with Leviss left the Bravoverse in a state of utter disarray — not just because these three are on a show together, but because they are close friends.
Leviss has spoken in the past about how much she values her friendships with Sandoval and Madix, particularly in the wake of her breakup with Kennedy. She previously called Madix one of her "true friends." Similarly, Kennedy and Sandoval were known to be close on the series with Sandoval even helping plan and split the $25,000 cost of Kennedy's Coachella-themed proposal to Leviss.
To viewers, Sandoval and Madix's relationship seemed steady despite occasional tiffs about their busy schedules. Sandoval told paparazzi that he thinks part of why the cheating has become such an enormous scandal despite the show always having drama is because "it was really unexpected." Sandoval runs TomTom with co-star Tom Schwartz — with whom he's a junior partner — and the two recently opened another restaurant, Schwartz & Sandy's. A week prior to the breakup, Madix was photographed at one of Sandoval's cover-band shows. (Yes, a cover band: Tom Sandoval & The Most Extras.) All seemed well — or as well as could be at a cover-band concert.
During a recent episode of Doute's Sex, Love, and What Else Matters podcast, Doute said she was there the night Madix found out about the cheating, claiming that Sandoval's phone fell out of his pocket and a friend picked it up and handed it to Madix. "The real truth is that Ariana had his phone, and she told me that she just had this gut intuition to look at it," said Doute. "She just felt like she had to look, so she goes into his photos. He had screen recorded a FaceTime of himself and Raquel masturbating to each other."
Fans pored over old episodes, social-media posts, and interviews and many now feel that Leviss and Sandoval were secretly gleeful in their cheating — like when Sandoval dressed as Leviss for Halloween and went out with Madix and Leviss (who wore matching costumes) that night. Some people even think that Sandoval and Leviss have been wearing matching lightning-bolt necklaces for months as a sign of their affection for one another. In a July 2022 interview, Leviss said that Sandoval had become one of her "best friends lately," which now has people raising their eyebrows.
So how long has Sandoval been cheating on Madix with Leviss?
According to some sources, since last summer. "This has been going on for upwards of 6 months — all the while, Tom was sleeping next to Ariana in bed," one source told People. "She was completely blindsided by this; devastated doesn't even scratch the surface of how she feels." Sandoval confirmed in the final episode of the season that the cheating went on for seven months.
To add to the shock and confusion of it all, many fans previously believed that Schwartz — Sandoval's business partner — and Leviss were hooking up after they were seen kissing at Coachella in April 2022. Those rumors only escalated when they kissed at fellow cast member Scheana Shay's wedding in Mexico. On the current season of the series, one story line revolved around the flirty, "Will they or won't they?" nature of Leviss and Schwartz's friendship and the drama it's causing in the group. (Schwartz's ex-wife, Katie Maloney, is a cast member.) Leviss seemed to lean into the speculation, posting a photo of herself with Schwartz on Instagram. Now fans suspect that the whole thing was a misdirect intended to distract people from the affair between herself and Sandoval — a tried and true strategy on other Bravo shows. In an Instagram post following the scandal, Sandoval seemed to address the theory by claiming that Schwartz "only found out about this very recently." Schwartz told TMZ that he didn't kiss Leviss to cover up her affair with Sandoval. "I was just a pawn in the game," he said.
Schwartz's timeline of when he first found out about the affair keeps changing, but it is clear that he knew about it for at least a few months before it became international news. On an April episode of Watch What Happens Live, he told Cohen that he initially learned in August that Sandoval and Leviss had a one-night stand while Sandoval was "having, like, a midlife crisis." That one-night stand, he said, led to "an emotional affair, which is still inappropriate." He said that he believes that Sandoval tends to have obsessions and he is obsessed with Leviss, saying, "That's his heroin."
Schwartz also said that in January Sandoval told him that he was in love with Leviss and was trying to break up with Madix. After that admission, Schwartz claimed that he and Leviss became more "brazen" and Sandoval kept putting off breaking up with Madix, leading to the current chaos. According to TMZ, Sandoval took Leviss to St. Louis, his hometown, to meet his friends back in December, though they reportedly thought it was inappropriate for him to come home with a woman who wasn't Madix.
On SiriusXM's Andy Cohen Live on March 6, Cohen described an "odd energy between" Schwartz and Sandoval when he filmed with them in February: "Schwartz was looking at Sandoval the entire time, almost for guidance on answers." Cohen said that during a pre-break up episode of What What Happens Live he asked Shay and Leviss which Tom they thought was cuter — Sandoval or Schwartz — and they both, surprisingly, said Sandoval. Cohen said that during the commercial break, Shay said to Leviss, "I only picked Sandoval because I knew that you were going to pick Schwartz," to which Leviss responded, "Well, Sandoval has abs." On her podcast, Doute claimed that Schwartz found out about Sandoval and Leviss a month ago.
Cohen also warned fans that even though the current season of the show hadn't caught up to real life, the episode airing on March 15 would have a scene so "shocking," viewers would likely think it was recut after the scandal broke. "It was not recut," Cohen said. In the episode, Kent confronted Leviss after Leviss made a move on Oliver Saunders — the son of Real Housewives of Beverly Hills star Garcelle Beauvais, who was married at the time — at a club in Las Vegas. Kent said to Leviss, "You drinking, I would never trust you around my man. Never."
Leviss responded: "Thank God you don't have a man to like f–king have around."
Moments later, Maloney said that Leviss was "Mrs. I'm gonna make out with your man," adding, "Hide your kids, hide your boyfriend, hide your boyfriend, hide your boyfriend." In a confessional, Maloney added, "I'm starting to see a pattern in Raquel. It seems that she's only interested in men that her friends are either married to or interested in, and that is a big red flag for me."
The April 19 episode showed that, even before it was confirmed that Sandoval and Leviss were having an affair, some people in their friend group had questions. Ally Lewber, Kennedy's girlfriend, said in a confessional that she saw Sandoval and Leviss dancing together. She said she told Kent, Maloney, and Kristina Kelly off-camera about what she saw when it happened. "I thought it was kind of weird, because it was like 1 a.m. and we were like, 'Where's Ariana?'" Lewber said.
Asked by a producer during the April 26 episode of the show if anything physical had ever happened between himself and Leviss, Sandoval said, "No." He added, "Nothing has happened between Raquel and I. Like, nothing." But in the season finale, Madix claimed that when she confronted Leviss and Sandoval about the affair, Leviss said that she and Sandoval kissed for the first time in August, right after Madix's dog died. Sandoval, however, admitted to having sex with Leviss in her car at the time before returning to the home he shared with Madix. "He didn't have a key to get in, so he had to ring the doorbell, and I had to let him in," Madix said.
Have the other cast members responded?
The whole world, it seems, rallied around Madix. Her brother, Jeremy, commented on a now-deleted post from Kennedy, who shared a screenshot of the TMZ story, that Sandoval is "a try hard having a midlife crisis with his cringy band" and "Raquel has faked her way to the top trying to make something of her life willing to step on whoever to get there starting with James."
Co-star Lala Kent posted several Instagram Stories — including one asking that everyone going to Sandoval's weekend show bust into a chant of "Ariana! Ariana!'" She added, "I am activated. I am activated as fuck. Now that I have consent from Ariana … blowtorch, gasoline, grenade launcher, it's all ready." (Someone did, in fact, chant "Ariana" at a show, to which Sandoval responded, "We love her.")
Following the split, Shay, Maloney and Doute were seen arriving at the house Madix and Sandoval live in together. (Meanwhile, Sandoval was seen sneaking into Leviss's apartment building). Doute (Sandoval's ex) posted a video with Madix with the caption, "I ❤️ Ariana. PERIOD. #TeamAriana #TeamSandwichShop." The two had their arms wrapped around each other. "I love you so much," Doute told Madix before they kissed. "I love you more than anything in the whole wide world, and I'll kill people for you."
Maloney posted a photo with Madix and captioned it: "You are going to thrive like you were always meant to!" Leviss's ex-fiancé, Kennedy, posted to Instagram: "Hope you all feel as sick as I do … This explains everything."
While Shay has been good friends with Leviss, describing herself as a big sister and encouraging her to hook up with Schwartz, Shay and Madix are longtime best friends. Following the split, Shay posted video from a Tove Lo concert with Madix to her Instagram Story with the words "we rally." Shay also posted a photo of the two of them with the caption "Always got your back! 👊🏼 #TeamAriana."
According to an early DeuxMoi tip, Shay allegedly punched Leviss when she found out about the cheating. The Los Angeles Times reported that Leviss filed a restraining order against Shay, while TMZ released photos of Leviss with what appears to be "her bruised eye and cut face" that were reportedly part of Leviss's court filing obtained by the site. However, in a statement to "Page Six," Shay's attorney, Neama Rahmani, called the case a "fabrication by a known liar," claiming that "Scheana never punched Rachel, period."
Support for Madix isn't just coming from cast members. Fans and Bravolebrities alike have spoken out as being on #TeamAriana. A number of fans have left bad reviews for TomTom and Schwartz & Sandy's (other staff and owners are asking people to please not do that). Per TMZ, people have left so many negative Yelp reviews for the restaurants since the scandal became public that Yelp had to stop allowing new reviews while it sorted out which ones were real and which ones were fake. Instacart even got involved, offering to bring Madix free groceries. (Through a rep, Madix asked the company to make the donation to a local women's shelter.)
What happened next?
Predictably, paparazzi have been hounding everyone involved and snapped some photos of Madix, McDonald's in hand, flipping them off. A source told "Page Six" that Madix and Sandoval filmed together in the days following the split, claiming she felt "gaslit" by Sandoval's excuses about why he cheated and never confessed to her about it. In his second apology since the scandal started, Sandoval said he was "beyond sad" that his relationship "ended the way it did." A week after the breakup, TMZ published photos and video of Madix dancing at a wedding in Mexico, claiming she "couldn't be happier." Five weeks later, Madix was dancing again at Coachella. TMZ also published videos of Madix making out with her trainer, Daniel Wai, at the festival.
In her statement apologizing, Leviss said she is talking to a counselor and "learning things about myself such as my patterns of codependency and addiction to being and feeling loved." She added, "I have sought emotional validation through intimate connections that are not healthy without regard for my own well-being, sometimes negatively affecting others and often prioritizing the intimate connection over my friendships."
In a subsequent Instagram post, Leviss said that her feelings for Sandoval are real. "Besides the indefensible circumstances surrounding our relationship, my feelings for Tom have always been sincere and born out of a loving friendship," she wrote. "I care for Tom and I don't want to label anything or predict what lies ahead." She concluded the statement by writing that she needs time to "heal." Leviss recently told Backgrid that she doesn't know where her relationship with Sandoval currently stands. "We're just kind of trying to get through these next few steps and trying to, you know, make amends, hear everybody out," she said.
Meanwhile, when asked by TMZ if Leviss has called Madix to apologize, Madix responded: "I don't know who you're talking about."
TMZ reported that Leviss's lawyers say Sandoval recorded the "sexual" FaceTime video call with Leviss without her permission, and that they've sent a letter to cast members warning them against posting it to social media and forwarding it to others. In an Instagram Story video, Kent apparently took issue with Leviss's "little Mickey Mouse lawyer" contacting her directly, saying he should "SEND IT TO DARRYL" (Kent's lawyer). A meme and merch were born.
Appearing on Watch What Happens Live, Lisa Vanderpump — the cast's boss and owner of the restaurants where they work — said that she was "gobsmacked" and "flabbergasted" by the reports of cheating. "It's been going a long time," she continued. "That's what's so shocking to me. It wasn't just a shag." Vanderpump added that Madix is "devastated" and there have been "a lot of tears."
"Ariana was always that ride-or-die girlfriend," she told Cohen. "It seems like Raquel was the 'ride' girlfriend, she was the 'die' girlfriend."
Vanderpump asked fans to be kinder and more thoughtful in their responses to the scandal. "This kind of vigilante justice, I don't agree with it at all," she said. "These are people living their lives in a public forum, which is very difficult. There's so much infidelity in the world. It's not like they murdered [someone]. It's a show, but they're all hurting. I'm not saying we should let them off the hook. Condemn their actions, but don't condemn the people."
How quickly did Bravo decide to reboot production?
Apparently immediately. Days after news of the affair broke, cameras were rolling again and less than a month later, Bravo released a midseason trailer that showed the entire Vanderpump cast responding to what's gone down thus far. At one point, Sandoval told Madix, "I wish we both would have tried harder," to which she responded, "You don't deserve one fucking tear of mine." In the final few seconds, Sandoval asked Madix from the kitchen, "Do you want anything?" She breezily responded from the couch, "For you to die."
Viewers who were worried that Leviss's restraining order against Shay would affect taping of the reunion can relax: Leviss attended the reunion.
So … are Leviss and Sandoval together now?
In a spontaneous no-frills interview conducted outside a nail salon in L.A., Leviss shared that she and Sandoval were "taking a break for now" and "not putting a label" on things. A day later, Madix arrived to tape the reunion in a sweatsuit with "1-800-BOYS-LIE" written on it. After the reunion, Leviss and Sandoval were spotted chatting in the parking lot while on a break, marking the first time they've been seen publicly together since news of their affair broke.
Taylor told Extra that he heard that at one point during the reunion that Sandoval and Schwartz had to be separated to keep from fighting and that the whole reunion was dramatic. "I heard it was crazy, heard it was everything that everyone thought it was going to be," he said.
In a new interview on Howie Mandel's podcast, Sandoval described, in detail, the first time he and Leviss kissed, which he said happened before Shay's August wedding. During what was supposed to be a guys' night at the Mondrian (which was memorialized in season seven), Leviss and Sandoval apparently headed back to the house he shares with Madix. "I'm locked out of my house," he said, "and we just … we kissed. It was magnetic. We were moving closer as we were talking, and all of a sudden, we're kissing. I felt something that I hadn't felt in so long. Like, emotionally." Sandoval also claimed that he had broken up with Madix on Valentine's Day — before the cheating became news — and that she had been in denial.
Bravo fans have been dragging the podcast appearance, saying Mandel shouldn't have given Sandoval a platform to justify cheating on Madix. On Watch What Happens Live, Cohen said that Mandel "didn't do his homework" and it showed. "Howie, you have to be careful before you take a side," he added. "Bravo fans are very passionate."
Talking with Mandel, Sandoval echoed Leviss's statements on the status of their relationship, saying they are "good friends," "not putting any label on it," and "kind of taking a break." Huh!
While visiting Austin during the week the show's finale was airing, Sandoval was photographed with influencer Karlee Hale, fueling rumors that he and Leviss had broken up and that he had already moved on with Hale. But according to a source who spoke with People, Sandoval and Leviss never broke up because "they were never a couple." And as for moving on with Hale, TMZ writes that the two are just friends and were hanging out in a group when they were spotted together. Supposedly, they were just catching up because Sandoval's band was in town.
TMZ reports that Leviss and her family say they have received so many graphic messages and death threats that the family has had to call the FBI. The threats apparently include phone calls and messages sent to Leviss on social media, with people saying they want to "tear you limb from limb" and "un-alive and dump the body."
What went down on the season finale?
Viewers finally got some clarity about the affair and its timeline. They also got to see Madix tell off Sandoval in a satisfying way. "You're worth nothing and I want you to feel that deep in your soul," she snapped at him. "I want you to hear those words coming from the mouth of the woman that fucking stood by you and loved you and was ready to build the rest of my life around you. Hear my words and know that that's how I feel about you. I regret ever loving you."
One of the most surprising things about the finale was how little remorse Leviss showed about the affair. In her confessional videos, she smiled and took a playful tone when answering questions about her relationship with Sandoval and why it began. "I was just so curious to know what it would be like to be physical with someone that you love, 'cause I already knew that I loved him as a friend. And I've never had sex like that before. I should've, like, completely removed myself from the situation, but I did not have the willpower to not see him."
Every Bravo show has a villain, and, as expected and teased throughout this season, Sandoval is now VPR's. In conversations with friends, he appeared to blame Madix for the affair. Schwartz was sympathetic but still shut him down, saying that being unhappy didn't justify not ending the relationship with Madix in a respectful way. "But you had so many opportunities to sit down with Ariana. Me and you had a moment last week. I sat down with you, I was like, 'Dude, it's time to tell her, because if this comes out without you telling her, you're going to humiliate her.' This is just the worst absolute case scenario." Still, Schwartz's silence about the affair over several months didn't sit well with anyone. Sandoval also admitted to cheating on Madix twice before his affair with Leviss.
Weird, then, that Sandoval spent so much of the episode weeping. Cameras captured him crying and whimpering to Vanderpump about his breakup, claiming he and Leviss planned to tell Madix about the affair before the reunion. It was as uncomfortable as you'd imagine, and viewers didn't buy it for a second. The prevailing sentiment seemed to be that if crocodile tears were a person, they would be Sandoval. Fans were irritated and disappointed that Vanderpump didn't give Sandoval a hard time about his behavior, a criticism she addressed on Thursday when she told E! News, "I can't write him off as a person because he had an affair. The way he handled it, yes, of course."
Fortunately, Kennedy clocked in for the finale, calling Leviss (and putting her on speakerphone while other people in the room remained silent, of course) to ask the questions we all wanted answers to. Among them: "How do you feel about what you've done?" and "Are you and Sandoval an item now, Raquel?" He also asked her how she felt, "losing every single person that you thought liked you in Los Angeles?" And on top of all that, he delivered what will surely be one of the most memed moments in the show's history: "You literally, like, trashed it for, like, Sandoval's little cocky cock. Like his stinky 40-year-old cock, like seriously, Raquel!"
What's been going on since the finale?
Immediately after the finale, Madix joined Cohen on Watch What Happens Live. "We've all seen photos of you with him," Cohen said, inquiring about the situation with Wai, the two having been seen on various NYC dates after their Coachella kissing. "You look very happy. He's so cute!" Madix responded: "I'll just say that I am very happy and very satisfied." The next night, Madix and Wai were spotted on a double date with Scheana Shay and Brock Davies. A source reportedly told "Page Six" that Madix and Wai were once again making out and seemed "carefree."
Ahead of the highly anticipated first reunion episode, Madix joined Alex Cooper on the Call Her Daddy podcast and talked all about the affair and breakup with Sandoval. While Bravo has teased that there will be a bombshell reveal during the reunion, Madix gave no hints about what viewers might expect. Instead, she told Cooper that she and some friends had a "funeral" for the end of her relationship with Sandoval. She also said she doesn't think the two would be together even if she hadn't found out about the cheating because Sandoval had a secret plan to dump her without ever mentioning the affair.
Although Sandoval has repeatedly said he tried to end his relationship with Madix and that she wouldn't accept his decision, Madix remembers things a little differently. She said the two had a conversation in February about possibly breaking up, during which she explained to Sandoval that if they split, she would probably quit the show, leave L.A., and deactivate her Instagram account. "And he found that to be very offensive," Madix told Cooper. By the time Sandoval suggested that they try couples therapy, Madix continued, he had already been cheating on her with Leviss, and when he had a chance to break up with Madix, he didn't. "There was a session that got really intense, and it felt like maybe we were ending," she said. When the therapist asked if the two were breaking up, however, Sandoval purportedly said "no."
But the most jaw-dropping part of the interview came when Madix told Cooper that Sandoval and Leviss hooked up in the home she lives in with Sandoval — while she was asleep in another room. Madix claimed that Sandoval once got out of bed with Madix, "went to the guest room, and fucked her." "Her," of course, meaning Leviss.
Speaking of that shared house: On Monday, Madix was seen carrying boxes labeled "FINANCES" into a U-Haul, suggesting she was moving out. But, per People, she later posted a video to Instagram saying she staged the move for a brand sponsorship with a financial-services company. "I'm moving up, not out — well, not yet at least. It's time to get my financial house in order," she said.
Weeks after the show ended, people — somehow — still have plenty to say about the scandal. Jennifer Lawrence, speaking with the Associated Press, said she doesn't know if she hates any actors "enough to want them to play Sandoval" if the scandal ever makes it to television or film. Lawrence is known for loving the show and told Access Hollywood that she finally recently caught up on the three-part reunion. "That was hard to watch," she said. Speaking of …
What happened at the reunion?
Part one of the reunion was as dramatic as promised. Cohen kicked things off by telling Sandoval: "It kind of feels like you're the most hated man on television right now." Madix arrived in a skintight red gown that screamed "revenge dress," prompting Cohen to compare her to Princess Diana. When Sandoval arrived, Madix said, "Well, he looks like shit." Meanwhile, Leviss watched the reunion from her trailer in the parking lot 100 yards away, thanks to her restraining order against Shay.
Sandoval told the group that although he didn't cheat on Madix with Leviss until August, his interest in Leviss started much earlier in 2022. Shay recalled being told in April 2022 that Leviss had said Sandoval told her that he and Madix had an open relationship, making some fans wonder if Sandoval could have lied and manipulated Leviss into their relationship. Madix shut this down on Instagram, saying that Leviss "didn't believe" Sandoval was in an open relationship, per "Page Six." During the reunion, Kent called Sandoval "a fucking narcissist" and "a dangerous human being." When Vanderpump called this "ridiculous," Kent doubled down: "He was sleeping next to her. This was his life partner. If you can do that to her, there's something wrong with this person."
After two months of obfuscating, avoiding, and lying about what he knew about the affair and when, Schwartz finally admitted that he first found out about the cheating in late August. The admission seemed to confuse Sandoval, leading Kent to say what many viewers were thinking: "Oh no, did you not put your timelines together to match?"
The reunion also thrust Vanderpump into the drama, with Madix saying she would "have a hard time confiding" in her if she remains business partners with Sandoval. But by all appearances — and to the irritation of fans — Vanderpump seems committed to supporting Sandoval.
In the second reunion episode, Sandoval visited Leviss in her trailer — which producers hilariously reminded viewers was 100 yards away from Shay— where she told him: "It looks like you had this solid relationship," suggesting that he portrayed his relationship with Madix a different way to her. Sandoval then retreated to man-child behavior, exploding at producers and insisting that he didn't want to be filmed while speaking with Leviss.
In a one-on-one conversation with Cohen, Leviss admitted that she and Sandoval had talked about the reunion and had discussed how to make their stories align. Throughout the episode, she showed little remorse and seemed emotionally detached, though she did tell Cohen she first felt attracted to Sandoval because he made her "feel heard and seen," something that she "hadn't really felt ever." Leviss said that the cheating went on for as long as it did because she hoped Sandoval would break up with Madix and commit to her. "I think I was living in my own little reality hoping it would work out," she said.

The third and final episode of the reunion aired on June 7, closing out the best season of reality television in recent history. In the episode, Madix landed some excellent one-liners, like "fuck yourself with a fucking cheese grater"; she also called Leviss "a dementor" and a "soul-sucking individual." When Leviss agreed that she had been selfish, Madix got a few more digs in, saying, "Selfish does not fucking cover it, bitch! Diabolical, demented, disgusting, subhuman. Start getting a better vocabulary to describe your fucking actions." Madix thanked friends, fans, and strangers for their support and said she will not be rooting for Sandoval from afar. Her parting words to Leviss were, "After today, I will never speak to you again, and I will be better for it."
Throughout the episode, Sandoval cried (again), and when he was called out by Madix for sleeping with her shortly after sleeping with Leviss, he responded not by apologizing or remaining silent, but by complaining that Madix "kept her T-shirt on" during sex. "It was really hot," he scoffed. Realizing how disturbed everyone, including his buddy Schwartz, was, he apologized to Schwartz, not Madix, for the comment.
For weeks leading up to this final installment, producers teased a big reveal that not even the cast knew about. The revelations, they promised, would be so big that some cast members might want to consider not signing new contracts. The bombshell turned out to be a one-on-one interview between Leviss and a producer, taped six days after the rest of the reunion was recorded. Did it deliver the promised drama? Not as much as many fans hoped, but it did provide some much-needed clarity about the timeline of the affair — and it definitely cemented Sandoval's spot as the biggest Bravo villain we've seen yet.
During the sit-down, Leviss said that she feels like she's still "having to lie about specific timeline things," supposedly because Sandoval believes it would be less hurtful for people to think the affair went on for less time than it did. "I've been lying and being so deceitful this entire time that I don't wan to lie anymore," she said, a claim that would be a lot more credible if she and Sandoval hadn't already lied so much. Still, she laid out a somewhat new sequence of events, saying that she and Sandoval were sleeping together regularly during filming and that they slept together multiple times at Shay's Mexico wedding in August — the same wedding where she and Schwartz kissed. She also said the affair picked up speed after filming ended in September, and that she had met Sandoval's mother on a number of occasions, as fans have speculated.
The guilt of carrying on the affair purportedly ate at Leviss so much, she said she "even suggested, like, what would Ariana think of having me as an addition?" as a thruple, but Sandoval shut the idea down. Asked if she and Sandoval hooked up on the night she was seen in a Jacuzzi with him, right after Madix's dog died, Leviss said they did not, but when the producer pressed her on the matter, she added, "He's asked me to not disclose all this information."
Finally, Leviss owned up to one of the most upsetting and obsessed-over parts of this whole saga: the rumor that she and Sandoval had sex in the home he lived in with Madix while Madix was out of town for her grandmother's funeral. "It's the one story that we've agreed on getting straight and I know the reason that Tom wanted to lie about it is because it's a really bad look to hook up with someone's boyfriend in their own house when they've gone out of town, especially for like a funeral of all things," Leviss said, crying. "I don't know, this has fucking killed my soul. I am so sick of lying. I hate it. I hate being deceitful. It's horrible."
After Leviss and Sandoval confessed that they are still in love, Madix chimed in, saying what we were all thinking: "That's the most pathetic thing I've ever heard." In true Bravoverse fashion, we have to wait and see if this couple makes it. For now, we say there's no way.
After months of negotiating, Leviss reportedly signed a contract with Bravo to return for the show's 11th season, per Yahoo News. A source with the network told "Page Six" that Leviss's contract took time to lock in because she was "playing hardball" and trying to get "as much money as she possibly can." Next week, Leviss is expected to start filming with the rest of the cast, who have been taping for weeks. As for Sandoval, footage from a recent day of taping at SUR showed him still crying. But not everyone in the Vanderpump world is struggling: The show was nominated for two Emmys — one for Outstanding Unstructured Reality Program and another for Outstanding Picture Editing for an Unstructured Reality Program category.
This post has been updated.