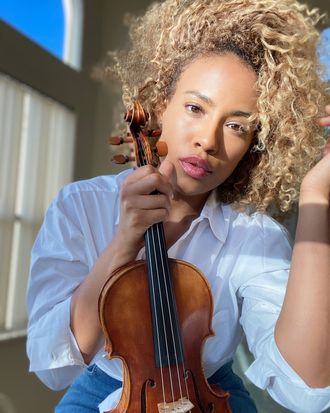 Photo: Courtesy of Ezinma
When Beyoncé performed at Coachella in 2018, she handpicked every single costume, lighting choice, dancer, and musician. Among those lucky enough to receive a phone call was violinist Ezinma, who found herself on the stage after going viral with a cover of Future's "Mask Off" the year before. Now, Ezinma is gearing up to release her debut album Key of Black Minor, which fuses together hip-hop and classical influences. Her latest single "Vivaldi Springs Forth" is out now.
Throughout the stress of putting together an album, the musician has found comfort in an intensive skin-care routine. It's a relatively new part of her life that she discovered through Spark Laser Center in Manhattan, where she would go for hydra-facials before the pandemic. "An aesthetician there really pushed me to take care of my skin and establish a routine," she says, pointing to her experience on the road. "I noticed breakouts from not taking care of myself once I started touring and performing. Long flights, living on a tour bus, eating super unhealthily, not sleeping, drinking, partying … all that stuff adds up."
Among her product rotation, you'll now find Fenty Skin ("I love all things Rihanna!"), SK-II (whose essence she calls a "miracle product"), and a lot of SkinCeuticals (which she tried through a recommendation from her dermatologist). She says, "Trust me, I love drugstore stuff and cheap beauty hacks (hello refrigerated tea bags for puffy eyes), but I'd much rather buy quality skin care over makeup. That's just me. Skin is my priority." And SkinCeuticals really works, she says, so it's worth the investment. "My skin has never looked clearer than it does now. I mix it up with a few other brands, but I always come back to SkinCeuticals."
Below, a look at her morning and night routines, including the eye cream she relies on for depuffing before photoshoots, the exfoliating pads she swapped in for her monthly facials, and the ultra-hydrating moisturizer she likes during the winter.
Morning
The Cleanser
"I love this cleanser because it removes makeup so well. The scent is okay for me, but what I really love about this product is the texture. It is really creamy and doesn't dry my skin like some cleansers. Also, I love all things Rihanna."
The Essence
"A miracle product, in my opinion. The benefits are like a serum and toner wrapped in one. One of my girlfriends, who happens to have the most beautiful skin I have ever seen, uses this product so I decided to try it. The thing about this stuff is that it doesn't work overnight. You have to use it religiously, and you will see glowy, clean, and bright skin."
The Eye Creams
"I use this A.G.E. Eye Complex by Skinceuticals most days and nights, except before shoots or if my eyes are really puffy — in that case, I'll use the Dr. Shauna Diggs rejuvenating eye cream [below]. This one really moisturizes the under eye area. I've also read it's great for fine lines under the eyes. I don't have those yet, but maybe it's because I use this product religiously."
"If my eyes are puffy, this gets rid of any bags instantly. It is my go-to before a shoot, a show … really anything where I need to look flawless. Also, this is a Black woman–owned company, which is a plus."
The Serums
"THIS WORKS! Anytime I get a discolored spot or mark on my skin, I use this bad-boy. Kojic acid and vitamin B3 are big players in fighting dislocation with this product. I usually see results within a week. The spot just fades away into oblivion."
"Vitamin C is so good for your skin. We need antioxidants to help with environmental protection and anti-aging. I love this product because it is more than just a vitamin C serum. It has vitamin E, which helps restore lipids, and ferulic acid, as well. And yes, it smells like hot dog water!"
"I use this under my moisturizer because it helps my skin retain moisture. I do feel like my skin is more supple when I use it."
The Moisturizer
"Very luxurious. This cream is deeply hydrating but not too heavy on my face. Because I have such an intense skin routine, I like that this moisturizer is non-aggressive and uses natural ingredients (like shea butter). It is also great under makeup."
The SPF
"Gotta protect the skin from the sun. Rule number one for flawless skin! This sunscreen is affordable and so good under makeup. I used to date a model with the most amazing skin. EVER. He got me into this brand. I don't get a white cast with it, and it also doesn't clog my pores. WIN WIN."
Night
The Exfolianting Pads
"I used to over-exfoliate, and I didn't realize it until I was on set one day and the make-up artist was like, 'Hun, you have beautiful skin, but it keeps flaking off!' NOT what you want to hear. I now limit exfoliation. Before COVID, I would exfoliate twice per week and have monthly hydra-facials. Now, I exfoliate three times per week because I've been unable to have my facials. These pads really help even out my skin tone and leave my face smooth."
The Serum
"This is basically a super intense antioxidant serum. It works at night by neutralizing any free radicals you've been exposed to. I love it because I wake up with perfect skin — my skin is clear, my pores look smaller, and my tone is more even. This is an essential part of my night routine."
The Retinol
"I have been using retinol for a year. My skin is definitely more sensitive to sun, but I never got the dryness or skin sensitivity that some retinol users get with this. It fixes basically every problem: large pores, hyper-pigmentation, fine lines, and wrinkles. This product is really intense so I don't use it everyday because it's not necessary for my skin (yet)."
The Moisturizer
"I love this super luxurious moisturizer because it hydrates so deeply. I get dry skin easily, especially in the winter, and this just glides on. It has flaxseed, chia seed and macadamia seed oils, and glutathion, which is an antioxidant. I love to massage into my skin and wake up glowing."
The Lip Products
"I am a big believer in treating your lips, as well. We focus on our face but ignore the sexiest part — our lips! I exfoliate almost daily. This stuff is also delicious."
"This smells delicious and is mega-hydrating. It also tastes really good!"
The Face Oil
"This is a bit of a miracle product. It softens the skin and is really moisturizing. I always travel with the stuff. In the summer, I (sometimes) only wear this oil so my skin can really breathe, but I also like to apply it on top of my moisturizer or mid-day."