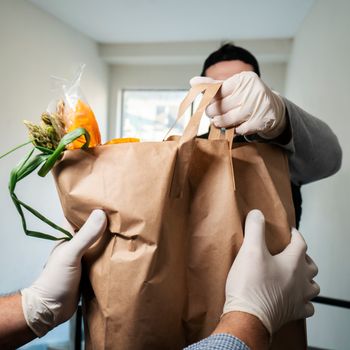 Photo: Getty Images/iStockphoto
It's easy to feel helpless right now. Every day, hundreds of people are dying, and millions more are out of work. If you're not an essential worker on the front lines, it can be hard to know what you can do to help out — besides staying home except for essential trips, and keeping six feet away from anyone you don't live with. Yet in addition to donating, there are ways to volunteer to help those who are more vulnerable. Here are six ways to help those in your community who are most impacted by the pandemic.
Deliver Food and Groceries
For those who are particularly vulnerable to coronavirus — or those who live with people who are at higher risk — even just going to the grocery store poses an additional risk. If you are healthy and able, consider delivering groceries to these individuals by signing up through dedicated programs. Invisible Hands, which serves the Greater New York area and parts of New Jersey, is one such organization; if you're in Los Angeles, you can follow in Meghan Markle and Prince Harry's footsteps and volunteer at Project Angel Food.
Help out at a food bank
As millions of Americans have found themselves out of work, demand at food banks across the country has surged. To find the food banks nearest to you, where you can volunteer to pack meals or do no-contact deliveries, Feeding Bank has compiled a handy nationwide network on its website. But before you show up, make sure to ask if they're still requesting volunteers. Some places, such as Food Bank in New York City, are no longer asking for volunteer assistance. In that case, you can always donate. According to Food Bank's website, they can provide five meals with just $1.
Volunteer at Homeless Shelter
Homeless shelters across the country are currently suffering from major volunteer shortages. Visit the National Coalition for the Homeless's website to find the closest shelters near you, and reach out to see if they could use assistance. Because the homeless cannot self-isolate, and they disproportionately suffer from health issues that make them more susceptible to the virus, they are among the most vulnerable populations to coronavirus. One report, published earlier this month, estimated that 40 percent of America's homeless population — more than half a million people — could become infected with coronavirus.
Partner With a Senior to Help Them With Chores
Umbrella, an organization that pairs elderly individuals with handy people who can help them with groceries and other various errands, is currently seeking volunteers across the country; though they ask that you only sign up if you are not in a vulnerable age group, if you're healthy — and haven't had any symptoms of illness in the past 14 days — and if you haven't been traveling.
Keep an Eye on Scientific Studies
The National Institutes of Health is currently recruiting up to 10,000 volunteers with no known history of coronavirus to participate in a "serosurvey." (Emphasis on "known.") If you qualify to be in the study, you will take an at-home blood sample to send to a lab where it will be tested for any presence of coronavirus antibodies.
Through this study, researchers will get a better picture of how many people were unknowingly infected with coronavirus, either because they were asymptomatic or they did not have access to testing while they were ill. "These crucial data will help us measure the impact of our public health efforts now and guide our COVID-19 response moving forward," said Anthony Fauci, director of the National Institute of Allergy and Infectious Diseases, of the study.
Look Into Mutual Aid Groups Near You
If you live in a city, there's a decent chance a mutual aid group has formed in your neighborhood to help assist those most affected by the coronavirus pandemic. Through these groups, community members voluntarily take on the responsibility for caring for each other; amid coronavirus, this could entail bringing groceries to an elderly couple or running errands for someone with a preexisting condition. In New York City, there are groups operating in Bed-Stuy and Bushwick in Brooklyn; Jackson Heights in Queens; Staten Island; and the East Village. To see if there's a network in your neighborhood, Patch has compiled a comprehensive list of mutual aid groups New York City.