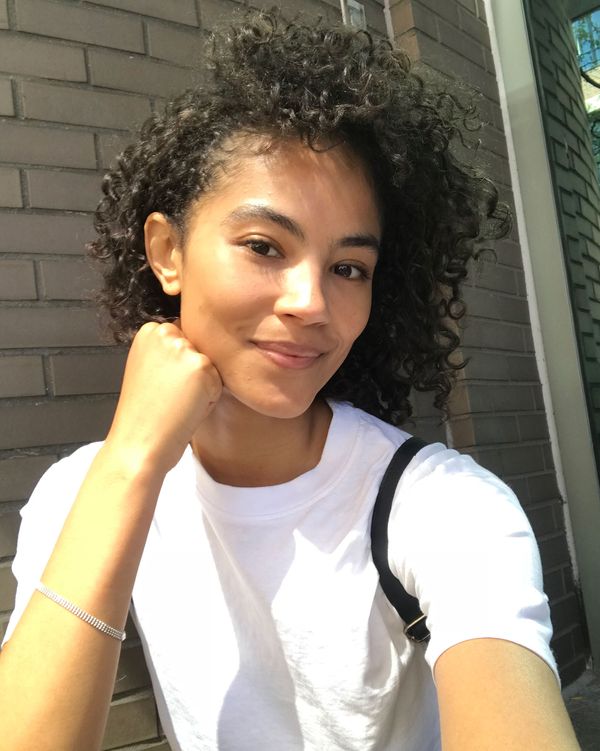 Photo: Courtesy of Sinead Bovell
Want more skin care? Join The Beauty Group.
"People think models naturally have perfect skin, but it's actually a constant uphill battle for us," says Sinead Bovell. "We have tons of makeup being caked onto our skin almost daily. We travel a lot — planes are terrible for your skin — and it can be hard for us to eat clean since we're always on the road."
Bovell speaks from experience. A model and entrepreneur (she's the founder of WAYE Talks, which aims to help young people build careers in technology), she was "struck" by cystic acne at the age of 26 after a facial gone wrong. To calm her skin, she embarked on what she describes as "an 18-month war," making major dietary changes, taking a combination of antibiotics, and foregoing all skin-care products for eight straight months.
She still avoids wearing makeup whenever she's not on a shoot, but nowadays, she's got an arsenal of skin-care products that she believes in. "Even though my schedule is crazy, building a start-up and modeling full time, I never compromise my skin-care routine," she says. "It can get a little pricey, but you only get one skin, so I think it's worth it."
Below, read all about her routine, which includes an alternative to toner, a lightweight but effective moisturizer, and a "one-stop shop" serum.
The First Cleanser
"Oil cleansers are a really important step in keeping your face clean. This one is great for clearing away impurities that are too small for your regular cleanser to pick up. It also helps protect against pollution. Plus, it smells like a mix between fresh flowers and mint. And the texture is so silky."
The Second Cleanser
"This is a great cleanser that washes your face entirely without stripping it dry. I use it morning and night. Double cleansing is so critical for clear skin. The first oil-based cleanser removes any excess makeup, oils, and dirt from the day or night before. The second cleanser actually addresses your skin-care goals (i.e., hydration, exfoliation, acne). I was lucky enough to come across this brand through my partner, Mark Anthony Green. He was on a trip to Japan and returned with my dream come true: a case of skin-care products. F Organics were by far my favorite, and I think will be a long-term staple for me."
The Exfoliator
"I use these chemical exfoliating pads twice a week, right after I cleanse, and then I carry on to the rest of my routine. I have been using them for about three months. They are fantastic!
The Face Mist
"I use this in place of a toner because it has willow bark, which helps to deeply clean your pores, and mint is very detoxing. The aloe vera infuses the skin with optimum hydration while the green-tea extract delivers antioxidants. This spray is my favorite when it comes to the smell. It smells like the most refreshing, purifying facial you could find in a bottle. I discovered the brand through my rigorous online skin-care research. This brand, and this product in particular, really checked all the boxes for what I was looking to find, in terms of a detoxing post-cleanser treatment that would help keep my skin clear all day. I apply about two to three spritzes to my face, and lightly pat in the product."
The Serum
"This is a lightweight but powerful serum that helps hydrate and plump the skin while also targeting fine lines. It's a great one-stop shop serum. Since using this serum in particular, I have noticed my skin is a lot more hydrated. Significantly more. And the hydration lasts all day. My skin used to be a lot more dull before this product."
The Other Serum
"Amberlight Beauty is officially launching in 2020, but it was founded by an incredible model turned cosmetic scientist, Dominyka G. Bernes. I met her through the model activist group Model Mafia. There are tons of models who swear by her skin care. The oil contains roses, which help to rejuvenate and heal your skin, argan oil, vitamin E, jojoba oil, and squalene, which is incredible for balancing oil production and keeping your skin clear. It is a skin-clearing, calming, rejuvenating facial in a bottle. I apply this after my face cream to seal everything in. It's currently available at select spas like FaceLove, and made to order. You can contact Dominyka directly, and she will send you the magic!"
The Moisturizer
"I love this moisturizer because it's very lightweight but filled with amino acids that help improve the tone and texture of skin. I use this in addition to the F Organics 'Lotion' because the F Organics product is actually a serum, but it's called a 'lotion' when they list it in English."
If you buy something through our links, New York may earn an affiliate commission.