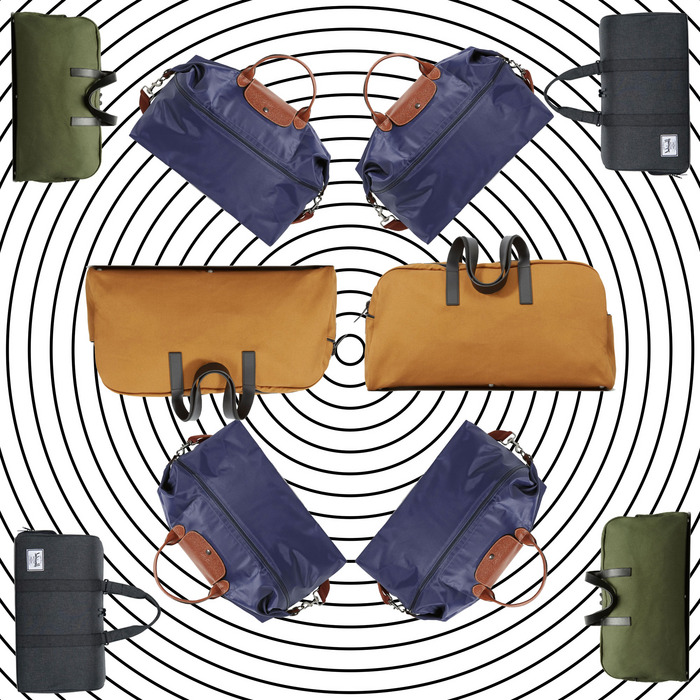 Photo: Courtesy of the Retailers
If you've ever found yourself trying to stuff three days' worth of belongings into a backpack, or lugging a half-empty rolling suitcase into an Airbnb that you're planning to vacate in 24 hours, then you understand the value of a weekender bag. A bag that holds exactly two or three days' worth of stuff might seem unnecessarily specific, but think how many vacations are really just extended weekends, especially in the summer. The best weekender bags are stylish but durable — this isn't the kind of purchase you want to replace every few years. We combed through thousands of reviews to find the 16 below.
The One Everyone Has
Everlane The Twill Weekender
You can't go wrong with this Everlane Twill Weekender — just ask the nearly 400 people who've reviewed it on the site. Customers like the bag's spacious interior and light weight, while noting that the leather straps soften to fit your shoulders over time. This water-resistant duffel comes in four colorways.
If You Love a Country Getaway
If You're Going on a Business Trip
If You Admire Mary Poppins
Longchamp Le Pliage Expandable Travel Duffel Nylon Weekender
Much like the famed supernanny's magical bag, this one carries a lot more than you'd expect. Specifically, it expands an extra 6.5 inches to hold all the gifts you're going to bring back from your trip. And it's durable, too. One reviewer writes, "I have had this bag for the past two and a half years and it has been with me through EVERYTHING!"
If You Want Something Classic
A Waterproof Work Bag
A Handsome Leather Option
Frye Logan Leather Overnight Bag
If you're looking to make more of an investment, check out this timeless bag from Frye. The Logan is made with hand-burnished leather and accented with antique brass hardware. The reviews for this rustic duffel consistently call it beautiful, and note that while it gets marked easily, it also gets better with age.
A Playful Floral Option
Sole Society Cassidy Faux Leather Duffle Bag
Reviewers say they get plenty of compliments on this faux-leather duffel from Sole Society, noting that it "looks more expensive than it is." This option is on the smaller side, with one review calling it, "Just between duffel and tote." If the florals aren't your speed, it also comes in light blue, green, and vibrant red.
For the Last-Minute Packer
BAGGU Weekend Bag
If your packing routine consists of throwing everything into your bag at the last possible moment, this bag is for you. Reviewers on Amazon commend it for its ability to hold just about everything — as one person wrote, it's "a bag that you can just drop a stack of clothes into. It holds a ton." As an added bonus, it's made from 100 percent recycled cotton.
A Solid Under-$100 Option
Herschel Supply Co. Novel
If you just want something simple and reliable, try this durable Herschel bag, which comes with a shoe compartment. One customer bought four, saying her father, husband, and two teenage sons use them for the "gym, sports, weekend trips, and whatever else requires them to lug belongings from place to place."
For a Weekend Outdoors
For the Budget Traveler
Newhey Oversized Travel Duffle Bag
If you like the look of leather but not the price, this one's for you. Made of waterproof canvas, it's accented with "genuine crazy horse leather" straps and bottom rivets. Customers frequently called it "stylish" and "sturdy." One reviewer claimed he felt "very stylish and important carrying this bag around." And who doesn't want to feel stylish and important?
The Bag With a Cult Following
A Preppy Option
The Best Bang for Your Buck
Canway 65L Travel Duffel Bag
It's no surprise this bag has five stars on Amazon. It costs under $30 and reviewers love it for its durability and compression abilities. You can squish it into a small square, pack it in a different carryall, and then break it out to bring home all the goodies you bought on vacation.
If You Want Something That Will Last Forever
If you buy something through our links, New York may earn an affiliate commission.