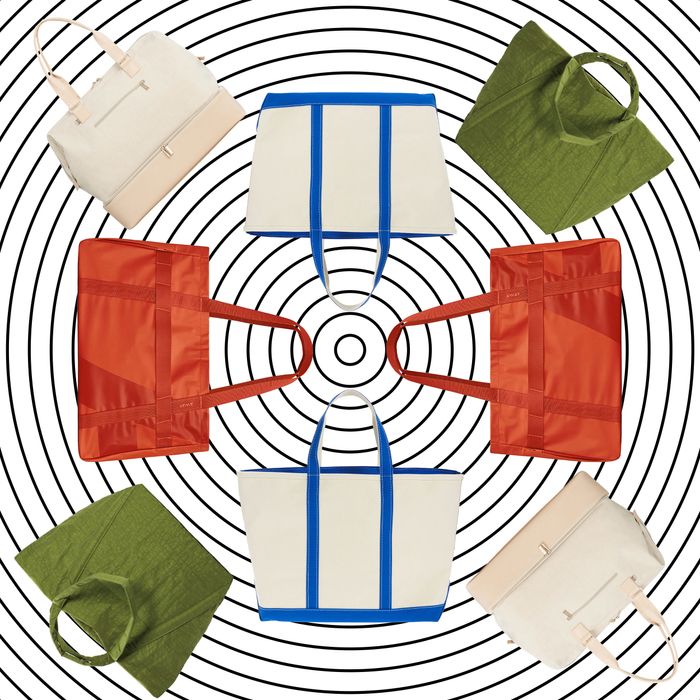 Photo-Illustration: The Cut; Photos: Retailers
For more of the Cut's favorite fashion, beauty, and home finds, sign up for the weekly Cut Shop Newsletter.
Summer traveling is upon us, and while you might be tempted to stuff over a week's worth of belongings into a backpack, please don't. It's time to discover the wonders of a weekender bag.
While a bag that holds just two or three days' worth of your life might seem unnecessarily specific, it's crucial to any weekend excursion (Memorial Day weekend, anybody?), especially if you're a chronic overpacker who refuses to check luggage unless it's free. (Guilty!)
What's the criteria for a good weekender bag?
The best weekender bags are stylish and durable — this isn't the kind of purchase you want to replace every few years. You want a bag that doesn't look like it was fished out of a clearance bin mere hours before your trip or appear as if it could be holding the contents of a gym locker.
To help you prepare for your upcoming travels, we've rounded up the sturdiest, roomiest, and non-ugly weekender bags that'll make you the best-dressed person while waiting for your train or going through airport security.
The Sporty One
It's a gym bag, it's a weekend bag, and, according to reviewers, it's the perfect everyday bag, too. The sporty padded puffer bag comes in two colors with compartments for all the essentials, including your phone and laptop.
The Pink One
With 11,026 ratings, the people of Amazon must love this bag because it works for both the gym and a weekend retreat in Arizona with the girls. It is thick and durable. One reviewer even wrote, "I have used it as a hospital bag when I gave birth as well as using it as a weekend bag or for hand luggage when I go abroad."
The One That'll Fit Anything
With more compartments and pockets than we can count, this is your best bet for an easy-to-use, organized weekender bag. Plus, it's designed by none other than Shay Mitchell.
The Under-$50 One
A simple option that's cheaper than anything you'll buy at the airport. It's sturdy and roomy with lots of pockets and five-star reviews on Amazon.
The One With Options
Not only can you get this chic bag in a multitude of colors, it's also available in sizes XS to XL. Sizes from medium up in this water-resistant, neoprene bag can fit your standard laptop and shoes. If you need more space, the XL is the perfect carry-on, and all bags are made from Repreve® recycled lining, featuring a shoe bag and dust bag to make packing even easier.
The Colorful One
Take the mystery out of spotting your luggage with this very bright tote from Away. It pairs perfectly with your suitcase, and the lightweight carryall has exterior and interior pockets to fit all of your valuables.
The One for Your Laptop
Everlane is known for its sleek basics, and boy did the company get this one right. The ReNew Transit Weekender has it all: a padded laptop sleeve, not one but two water-bottle holders, an exterior zip pocket, and a pocket to sit on the luggage handle.
The Leather One
For those of you whose airport attire does not include sweatpants and sneakers, opt for this roomy, luxe leather bag. Plus, it comes in sleek black leather too.
The Minimalist One
The design is simple, but the bag is anything but. With three separate compartments and lots of space, this weekender keeps things neat and organized for you meticulous packers, so it's worth joining the waitlist.
The Coastal-Grandma One
The TikTok Favorite
People love this bag. Reviewers claim it is the "go-to weekend travel bag" and a "TSA-approved personal item." What's best about this bag is it can be carried as a backpack, a cross-body bag, a shoulder bag, or even a handbag.
The Under-$30 One
It's no surprise this bag has five stars on Amazon. Reviewers love it for its durability and compression abilities. You can squish it into a small square, pack it in a different carryall, then break it out to bring home all the goodies you bought on vacation.
Another Pink One
If you really like to match, this bag is part of an entire set of pretty pink luggage. If not, you can still grab this handy weekender with lots of pockets and pouches at a deep discount.
The Gen-Z-Approved One
Your carry-on in a pinch, this cloud bag comes in a few color options and folds into a tiny square you can fit into any bag. Holding all of your stuff is just a bonus.
The Staycation One
The camo-print quilting on this nylon duffel from MZ Wallace makes it look more expensive than it is. It comes with removable pouches and a removable cross-body strap. Customers praise it for its lightweight material and spacious pockets.
The Duffle
Take the mystery out of spotting your luggage with this very bright duffle. Along with pairing perfectly with your suitcase, the lightweight carryall has nine pockets to fit your shoes, water bottle, and much more.
The One That'll Fit All Your Souvenirs
If you're the type of person who comes back from a trip with tons of knickknacks, this Longchamp expandable bag is the one for you. The zip inset expands and contracts as you need, and it features a water-resistant lining.
The City One
You get two bags in one with this duffel from Monos. It has a detachable outer component for all your personal goods, while the main compartment features plenty of pockets for your other belongings.
The Overnight One
COS knows how to make great travel-friendly bags. Senior shopping editor, Bianca Nieves swears by the leather accessories from the fashion brand. This soft leather option is ideal if your work trip was cut short but you still need a bag that will fit your laptop and personal items.
The Designer One
Live your Gucci Savoy world dreams à la Ryan Gosling with this medium duffle bag from the Italian brand. Made to embody Gucci archival belt, this potential weekender bag has a detachable (and adjustable) strap, lock with key holder, luggage tag, and interior zippers for all your accessories.
The Preppy One
If you thought boat totes were just back for their quirky messaging, you're mistaken. This bag comes in a large and extra-large size, which makes it perfect for weekend getaways. Plus, the zip-top option keeps all your belongings nice and secure.
The Lightweight One
At under $100, Eastpak's duffle is for the no-fuss traveler. Made from polyester, the weekender bag is lightweight but still big enough to carry all your essentials thanks to its multiple compartments.
The Classic One
The airport's your runway — look like you're weekending in the Hamptons even when you're just going on a work trip.