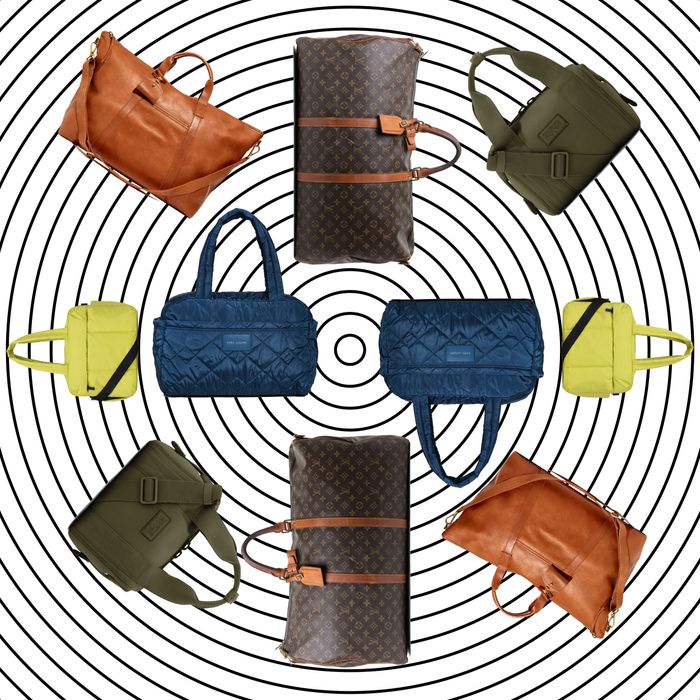 Photo-Illustration: by The Cut; Photos: Retailers
Finding the best weekender bag that fits your airport style and all your stuff is no easy feat.
If you've ever tried to stuff three days' worth of belongings into a backpack, then you understand the value of a weekender bag. A bag that holds just two or three days' worth of your life might seem unnecessarily specific, but it's crucial to any weekend excursion. The best weekender bags are stylish and durable — this isn't the kind of purchase you want to replace every few years. You want a bag that doesn't look like it was fished out of a clearance bin mere hours before your trip or that looks like it could be holding the contents of a gym locker.
While I'm not the most frequent weekender-bag user, when I do travel, I try to stuff as much as I can in mine. I don't check luggage unless it's free.
For those who are like me, I've rounded up the sturdiest and roomiest bags that are still sleek and very chic, with pockets and zippers that only add to the design. In short, you'll be the best-dressed person going through airport security. Read on to see my picks.
If you love a road trip
If recycled fabrics are a selling point for you, consider this puffy quilted weekender. Available in three shades, the roomy bag is perfect for long flights and uncomfortable seating — it makes for a cozy pillow in a pinch.
A handsome leather option
For those of you whose airport attire does not include sweatpants and sneakers, opt for this roomy, luxe leather bag.
A sporty option
It's a gym bag, it's a weekend bag, and, according to reviewers, it's the perfect bag. The sporty padded puffer bag comes in two colors with compartments for all the essentials, including your phone and laptop.
The one with options
Not only can you get this chic bag in a multitude of colors, it's also available in sizes XS to XL. Sizes from medium up in this water-resistant, neoprene bag can fit your standard laptop and shoes. If you need more space, the XL is the perfect carry-on.
A colorful option
Take the mystery out of spotting your luggage with this very bright duffle. Along with pairing perfectly with your suitcase, the lightweight carryall has nine pockets to fit your shoes, water bottle, and much more.
The classic option
The airport's your runway — look like you're weekending in the Hamptons even when you're just going on a work trip.
The cool option
This bag in a cool navy blue fits everything you need for a weekend without being bulky or boring.
The everything bag
With more compartments and pockets than we can count, this is your best bet for an easy-to-use, organized weekender bag.
The minimalist option
The design is simple, but the bag is anything but. With three separate compartments and lots of space, this weekender keeps things neat and organized for you meticulous packers.
A solid under-$100 option
Your carry-on in a pinch, this cloud bag comes in a few color options and folds into a tiny square you can fit into any bag. Holding all of your stuff is just a bonus.
A playful pink option
With 11,026 ratings, the people of Amazon must love this bag because it works for both the gym and a weekend retreat in Arizona with the girls. It is thick and durable. One reviewer even wrote, "I have used it as a hospital bag when I gave birth as well as using it as a weekend bag or for hand luggage when I go abroad."
Another pink option
If you really like to match, this bag is part of an entire set of pretty pink luggage. If not, you can still grab this handy weekender bag with lots of pockets and pouches at a deep discount.
A very luxe option
You travel in style and so should your belongings. Consider a very luxe carryall that won't be mistaken for your gym bag. I mean, it's Italian leather, after all.
For the last-minute packer
If your packing routine consists of throwing everything into your bag at the last possible moment, this bag is for you. It was crafted by furniture designer Jason Gregory from cotton duck canvas and leather. Thanks to the fold-over top and tons of pockets, you get a little extra space to throw in whatever you can.
[Editor note: The exact measurements aren't listed on the site.]
For the budget traveler
A simple option that's cheaper than anything you'll buy at the airport. It's sturdy and roomy with lots of pockets and five-star reviews on Amazon.
The bag popular on TikTok
People love this bag. Reviewers claim it is the "go-to weekend travel bag" and a "TSA-approved personal item." What's best about this bag is it can be carried as a backpack, a cross-body bag, a shoulder bag, or even a handbag.
The staycation bag
The camo-print quilting on this nylon duffel from MZ Wallace makes it look more expensive than it is. It comes with removable pouches and a removable cross-body strap. Customers praise it for its lightweight material and spacious pockets.
The best bang for your buck
It's no surprise this bag has five stars on Amazon. It costs $30, and reviewers love it for its durability and compression abilities. You can squish it into a small square, pack it in a different carryall, and then break it out to bring home all the goodies you bought on vacation.
This article was originally published on March 11, 2020. It has been updated throughout.