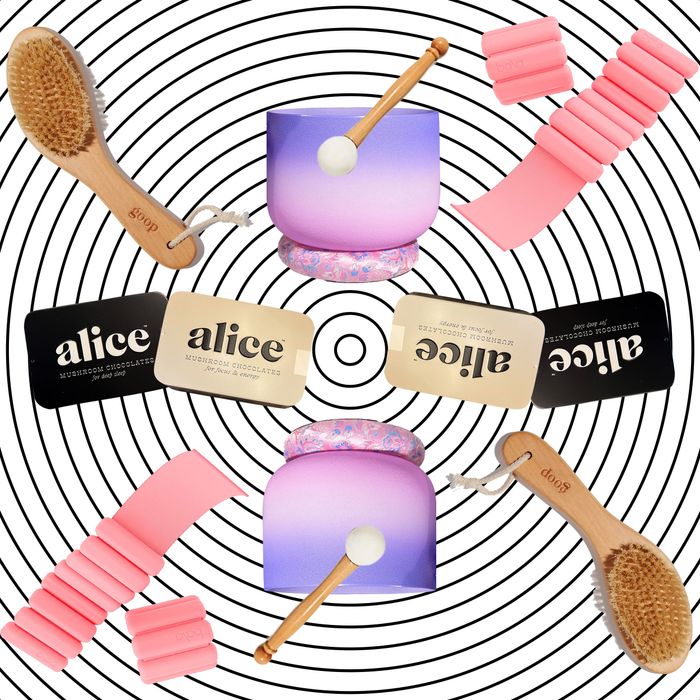 Photo-Illustration: by The Cut; Photos: Retailers
For more of the Cut's favorite fashion, beauty, and home finds, sign up for the weekly Cut Shop Newsletter.
We all have that friend who can't seem to stop talking about Erewhon hauls and sound baths (it's me, I'm that friend). But "wellness" these days can mean everything from hiking and Pilates classes to smearing on a face mask, lighting a candle, and calling it a day. Meditating, journaling, and even sleeping can be categorized under the W-word, too, because they're all ways to take care of yourself from the inside out.
Below, we've rounded the 44 best wellness gift ideas that your favorite health-conscious friend will appreciate, no matter what category they fall into. From nonalcoholic spirits and sleep gummies to workout gear and a weighted blanket, they'll get plenty of use out of the items below (and will be sure to tell you all about the benefits over a Chagaccino date).
The Best Under $25 Wellness Gift Ideas
Bella Hadid loves Kin Euphorics so much, she's now its co-founder, so I'm guessing your friend will love it too.
This electric whisk will whip it up in no time so you can put it over any kind of milk for a homemade matcha latte.
If they've always wanted to try dry brushing, make it happen by gifting them this Goop one that detoxes and lifts dead skin.
A bedside lamp that emits a soft, warm light can be a serious mood booster — and the mushroom shape is hard to resist.
This best-selling moving book, which came out in early 2022, is described as "part memoir, part guidebook" to navigate love, joy, loss, and grief. If your friend is all about an introspective read before bedtime, they'd love to have this one on their nightstand.
Lymphatic-drainage massages can get expensive, so this at-home tool is an affordable alternative between appointments.
Every wellness guru knows that Amina Mundi's herbal products are some of the best in the game — treat your friend to this herb powder that can help alleviate anxiety, boost their mood, support their heart, and reduce inflammation.
Trust me, this spiritual object works … almost a little too well. Whether they want to manifest money, success, healing, love, or something else, House of Intuition has a candle they'll appreciate.
The Best Under-$50 Wellness Gift Ideas
The vagus nerve helps regulate stress, so it's fitting that this luxe pillow spray is named after it. Breathe in the blend of essential oils on your linens for instant relaxation when you hit the hay.
Bet you didn't know weighted blankets for your eyes exist. Now you do.
Add two to four drops of this mushroom blend to any drink — tea, coffee, water, you name it — and you might feel more energy and less stress. As a bonus, the bottle is just plain pretty to look at.
This will be a must-have in their gym bag since it instantly soothes irritated skin and fights any redness.
If you're shopping for a pilates princess, these grip socks are probably on her wish list.
Presenting a top-rated glow oil packed with nutrients, vitamin C, squalane oil, and antioxidants.
One teaspoon of this matcha contains more caffeine than a shot of espresso, so if your friend is ditching coffee, consider a chic tin of matcha powder.
Hydration and muscle activation in one handy container.
Between the stunning packaging, the impressive taste, and its recent Shark Tank appearance, you better gift this to someone fast before inventory runs out.
Turn their shower into a full-blown spa experience with just one product.
Once you read the glowing reviews, you might want to gift this yummy nonalcoholic spirit with caffeine and antioxidants to yourself.
Once they use this trio of best-selling items from Nécessaire — a body wash, lotion, and serum — they won't want to go back.
A hemp-infused, zero-alcohol drink with notes of yuzu, rosemary, basil, cucumber, and dandelion sounds pretty delicious.
Brightland olive oil has more antioxidants than other brands; plus, the bottle does double duty as kitchen décor.
The Best Under-$100 Wellness Gift Ideas
For a more restful night's sleep, these natural sleep gummies made with melatonin and chamomile extract will put you to bed in no time.
A glass of wine typically has 11 percent ABV, but Libby contains about 8 percent ABV and boasts fewer calories.
Mushrooms are all the rage right now, and for good reason. Gift this set so the recipient can try two different elixirs — one will help maximize their daytime routine, while the other will help them get a deeper sleep.
The danger of fragrance chemicals found in air fresheners, laundry detergents, and other household items is a hot topic within the wellness world. Gift this clean formula as a safe yet indulgent alternative.
Wear this top-rated bag around your shoulders or as a fanny pack.
Stylish hiking shorts do exist — even ones with buckle belts.
Silk pillowcases are more gentle on skin and hair — and happen to look downright luxurious on any bed.
Candle scents are a personal thing. Gift them a trio so they can discover their favorite one.
A dried bouquet doesn't need repotting or watering, but it'll add some good vibes to their room just as much as a plant would.
A mix of essential oils will be evenly dispersed throughout their room with this stylish stone diffuser.
The Best Under-$150 Wellness Gift Ideas
This cute portable bedside lamp gradually dims at night to help wind down for sleep, and brightens back up in the mornings like a natural alarm you won't want to snooze.
Not even exaggerating, but the Tasman UGGs are having a major moment.
If Kaia Gerber is their athleisure style icon or if they just can't get enough of fleeces, this best-selling FP Movement style comes in so many colors. (Kaia owns the navy one, FYI.)
This popular outdoor blanket will hold up through any kind of camping trip.
This singing bowl is perfect for at-home sound baths, which can help with relaxation, reduce stress and anxiety, and increase mental and emotion clarity. Plus the ombré design makes it a cute piece of home décor.
The Best Under-$200 Wellness Gift Ideas
Their sore, tense muscles are no match for this small yet powerful percussive machine.
Your friend might already have multiple pairs of Hokas, but do they have these hiking ones? Didn't think so.
Chances are, your wellness-obsessed friend is dying to try out an LED mask (if they haven't already). This one by DMH Aesthetics is moderately priced and easy to use, so it's the perfect intro into the world of light-therapy skin care.
Jewelry that doubles as a powerful manifestation tool? Now that's something your wellness-obsessed friend will truly appreciate.
And here's a larger weighted blanket for your body. A 15-pound Bearaby velvet knit feels like a calming hug all night long.
Gift them a NuFACE, which is basically like the holy grail of microcurrent skin tools. They can take this mini-version with them everywhere.