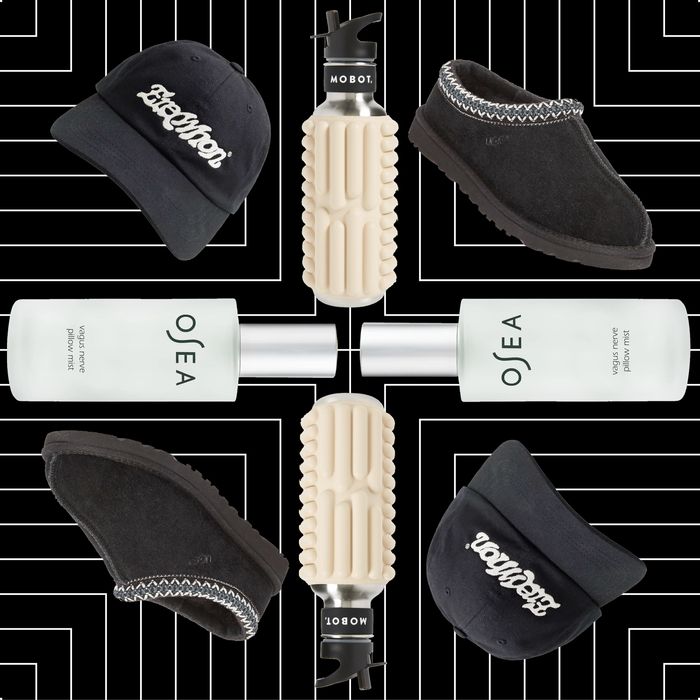 Photo-Illustration: by The Cut; Photos: Retailers
Good-bye, Halloween — we hardly knew ye. It's officially full steam ahead on the gift-giving season, and for the wellness-obsessed friends in your life, I have some ideas. I know, I know, "wellness" these days can mean everything from hiking and Pilates classes to smearing on a face mask, lighting a candle, and calling it a day. Meditating, journaling, and even sleeping can be categorized as the W-word, too, but they're all ways to take care of yourself from the inside out. Being earnest here: It actually sounds kind of nice!
Below, we've rounded the 38 best wellness-gift ideas, no matter what category your friend falls into. CLAY items — and will be sure to tell you all about the benefits over a Chagaccino date.
If they're a regular at the Pilates studio …
Don't talk to them unless they've taken their morning Pilates class. Headphones are in, UGGs are on, and leggings are their uniform even when they're not working out.
Their sore, tense muscles are no match for this small yet powerful percussive machine.
Available in sizes XXS to 3X, these comfy ribbed leggings also have side pockets and a stylish flare.
Hydration and muscle activation in one handy container.
This will be a must-have in their gym bag since it instantly soothes irritated skin and fights any redness.
Not even exaggerating, but the Tasman UGGs are having a major moment.
If their idea of hanging out is a hike …
Or some sort of trek, anyway. It could be a lap around Central Park or an upstate trip to the Appalachian Trail, but they never like to sit and chat. They're a walking-and-talking kind of person who likes to have the proper gear for the occasion.
Your friend might already have multiple pairs of Hokas, but do they have these hiking ones? Didn't think so.
Wear this top-rated bag around your shoulders or as a fanny pack.
Stylish hiking shorts do exist — even ones with buckle belts.
If Kaia Gerber is their athleisure style icon or if they just can't get enough of fleeces, this best-selling FP Movement style comes in so many colors. (Kaia owns the navy one, FYI.)
This popular outdoor blanket will hold up through any kind of camping trip.
If they value their beauty sleep above all else …
They can't function without ten hours of sleep at the very least, and bedtime is their sacred ritual that shall not be interrupted for any reason. The only thing they might love more than sleep is a sleep-related gift.
Bet you didn't know weighted blankets for your eyes exist. Now you do.
And here's a larger weighted blanket for your body. A 15-pound Bearaby velvet knit feels like a calming hug all night long.
The vagus nerve helps regulate stress, so it's fitting that this luxe pillow spray is named after it. Breathe in the blend of essential oils on your linens for instant relaxation when you hit the hay.
Silk pillowcases are more gentle on skin and hair — and happen to look downright luxurious on any bed.
This cute portable bedside lamp gradually dims at night to help wind down for sleep, and brightens back up in the mornings like a natural alarm you won't want to snooze.
For a more restful night's sleep, these natural sleep gummies made with melatonin and chamomile extract will put you to bed in no time.
If they're an Erewhon devotee …
They live in Los Angeles and drink their Hailey Bieber Strawberry Glaze Skin Smoothies, buy $20 glass jars of chicken noodle soup, and spend hours taking in the wonders of the supplement aisle. Or they probably would if they did live in L.A. (The L.A. favorite might be in NYC soon.) Either way, these gifts are for them.
Add two to four drops of this mushroom blend to any drink — tea, coffee, water, you name it — and you might feel more energy and less stress. As a bonus, the bottle is just plain pretty to look at.
One teaspoon of this matcha contains more caffeine than a shot of espresso, so if your friend is ditching coffee, consider a chic tin of matcha powder.
This electric whisk will whip it up in no time so you can put it over any kind of milk for a homemade matcha latte.
A "remedy drink" that supposedly gives a glowing boost to your skin? Your wellness-loving friend will be all about it (or at least be curious enough to give it a try).
Sometimes an on-the-nose gift is the best gift.
Brightland olive oil has more antioxidants than other brands; plus, the bottle does double duty as kitchen décor.
If they're skin-care obsessed …
There's not a facial or treatment they haven't tried, and they're a firm believer that self-care is just as important as any other wellness ritual. A fancy microcurrent tool or top-rated face oil is something that they would love to unwrap during the holidays.
Turn their shower into a full-blown spa experience with just one product.
Once they use this trio of best-selling items from Nécessaire — a body wash, lotion, and serum — they won't want to go back.
Presenting a top-rated glow oil packed with nutrients, vitamin C, squalane oil, and antioxidants.
If they've always wanted to try dry brushing, make it happen by gifting them this Goop one that detoxes and lifts dead skin.
Gift them a NuFACE, which is basically like the holy grail of microcurrent skin tools. They can take this mini-version with them everywhere.
If their bedroom is their sanctuary …
They need to have a calming energy in their room and burn sage and palo santo to cleanse it once a week. It's the place where they can focus on journaling, reading, meditating, or simply just resting away from any noisy roommates.
A bedside lamp that emits a soft, warm light can be a serious mood booster — and the mushroom shape is hard to resist.
A mix of essential oils will be evenly dispersed throughout their room with this stylish stone diffuser.
Candle scents are a personal thing. Gift them a trio so they can discover their favorite one.
This best-selling moving book, which came out in early 2022, is described as "part memoir, part guidebook" to navigate love, joy, loss, and grief. If your friend is all about an introspective read before bedtime, they'd love to have this one on their nightstand.
A dried bouquet doesn't need repotting or watering, but it'll add some good vibes to their room just as much as a plant would.
If they enjoy a low-ABV or alcohol-free drink …
Whether they're sober or simply want less alcohol to prevent hangovers the next morning, a fancy bottle with little to no ABV makes a great gift. They look like décor in any kitchen and don't compromise on flavor.
Bella Hadid loves Kin Euphorics so much, she's now its co-founder, so I'm guessing your friend will love it too.
Between the stunning packaging, the impressive taste, and its recent Shark Tank appearance, you better gift this to someone fast before inventory runs out.
A hemp-infused, zero-alcohol drink with notes of yuzu, rosemary, basil, cucumber, and dandelion sounds pretty delicious.
A glass of wine typically has 11 percent ABV, but Libby contains about 8 percent ABV and boasts fewer calories.
Once you read the glowing reviews, you might want to gift this yummy nonalcoholic spirit with caffeine and antioxidants to yourself.
For more from the Cut Shop team, follow us on Instagram and Twitter, where we share our best new finds, favorite styling tricks, and more.