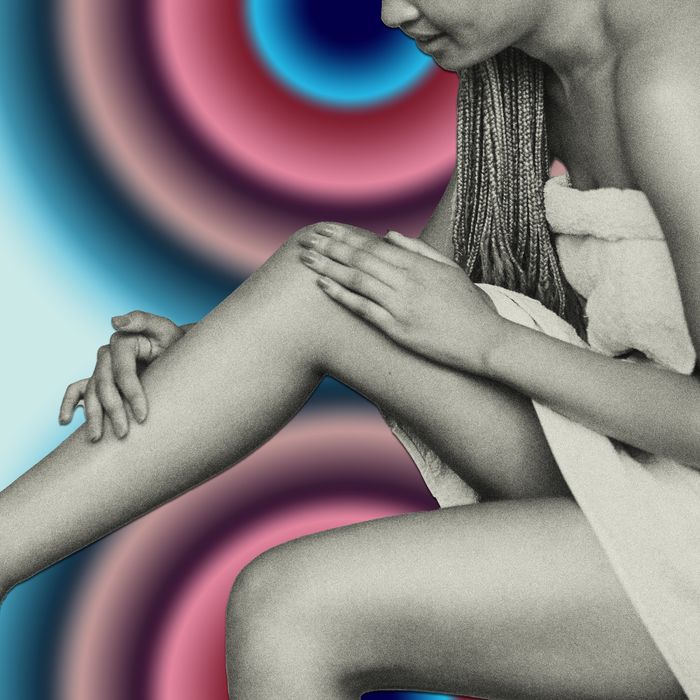 Photo-Illustration: by The Cut; Photo: Getty Images
As a proud body-oil girlie (I've tried at least 100 but have a dozen in current rotation), I love to trade recommendations with my fellow obsessives who gather on Reddit and post their favorites to the Facebook group for my podcast, Fat Mascara. We are the people who learned long ago that lotion may be great for dry skin and even smell good, too, but it still gets pumped and squeezed from plastic bottles and tubes — which means it will never, ever be sexy.
Body oil, however, is sensual. Apply a scented oil before your perfume to transform it into a bespoke concoction with a bigger sillage, or lay down a moisturizing base of unscented oil to make your favorite fragrance last longer. Use it liberally and it'll infuse your clothes and scarves, marking possessions you leave behind as accurately as an AirTag. And smooth it on right after the shower so your skin stays as soft as it is on a summer day with 70 percent humidity, even after the radiator clicks on this fall and your apartment becomes a giant air fryer.
As if all that weren't sexy enough, body oils tend to come in recyclable aluminum or glass bottles. And the base (carrier) oils often have natural origins and connections to communities that have been using them for centuries. (Cultural history: the O.G. algorithm! And way more accurate than bot-generated user reviews!)
Convinced? Then welcome to the club. It's the time of year for us to discuss what we'll be slathering on this fall and winter. I'll go first with a few of my favorites. But I expect you to reciprocate by dropping your recs in the comments.
Under-$10 Body Oil for Beginners
Let's start with the basics. Carrier oils are unscented or barely scented extracts from seeds and nuts that are rich with essential fatty acids to improve skin hydration. Newbies may find heavier oils like avocado and coconut a little greasy for their liking. Even perennial favorites jojoba, sesame, and sweet almond can be too rich for some. I usually like the heavy stuff, but if I don't have time to lounge around before I get dressed, I reach for this simple grape-seed oil; it absorbs so quickly it's almost like a "dry" oil. It would be even better if it came in a glass bottle and were cold-pressed — meaning the oil was extracted from the grape seeds manually, not with the aid of chemical solvents — but at this price, I'm not complaining.
Should Be More Expensive
If you want a floral scent that can stand up to fall, this recently launched jasmine-y body oil will do you right. The base is a nourishing mix of sunflower and avocado oils blended with a bunch of antioxidant-rich reparative oils (rose hip, borage, flaxseed), which are great for skin that summered a little too hard. Some jasmine scents can skew too animalistic and funky for me, but I like this one because it's not too heady. On top of all that, it comes in a glass bottle and contains a form of vegan collagen that has been shown to improve skin elasticity.
The Absolute Best Sillage
Technically, Uma makes oils, but the complexity of the scents rivals perfumes from those sans-serif fragrance houses that dominate the luxury-perfume discourse (Byredo, Le Labo, D.S. & Durga — you know what I'm talking about). Uma's newest body oil is a spicy, earthy mix of rose, geranium, and neroli anchored by a mellow but still musky oud that lasts and lasts. Apply it on damp skin and you need only about a dozen drops to cover your whole body; it's that potent and silky.
A Skin Musk for Perfume Haters


11 11 is one of those "you but better" fragrances I recommend to people who think they don't like perfume. Less powdery than Glossier You and not quite as woody as Escentric Molecule 01, it's a sheer, ozonic skin musk that's just so damn agreeable (think cool breezes and sun-dried laundry). If you like that vibe but just the thought of spraying on perfume makes you feel sneezy, try 11 11 in this (newly reformulated) oil version that absorbs quickly and is more subtle than the eau de parfum.
A Skin Musk for Perfume Lovers


This is my go-to scent personalizer when I want to make a perfume smell muskier for fall (in my opinion, it can be a bit intense in humid summer air). On its own, the fragrance is a warm, amber musk, but it can pull powdery, creamy, balsamic, or woody, depending on who's wearing it and what you combine it with. The base is a rich blend of sunflower, grape seed, avocado, and safflower oils that leaves your skin gleaming and hydrated for hours (i.e., it's not fast absorbing).
When You Need to Focus


Aromatherapists will tell you lavender is relaxing and peppermint is uplifting, but what if you don't don't want to choose? You want to be balanced and focused and ready to work. That's when I reach for Kindred Black's Simmer Down. The experience starts with the bottle: Holding the handblown glass orb and medicinal-looking stopper just makes you feel centered (a word that usually makes me roll my eyes but feels completely appropriate here). Then there's the vaguely astringent, herbaceous scent of lavender and peppermint essential oils delivered in a perfectly balanced (not too light or too heavy) base of argan and jojoba oils. This is the stuff to rub on your pulse points before you tackle your back-from-vacation email inbox.
Send your questions to AskABeautyEditor@nymag.com. (By emailing, you agree to the terms here.)