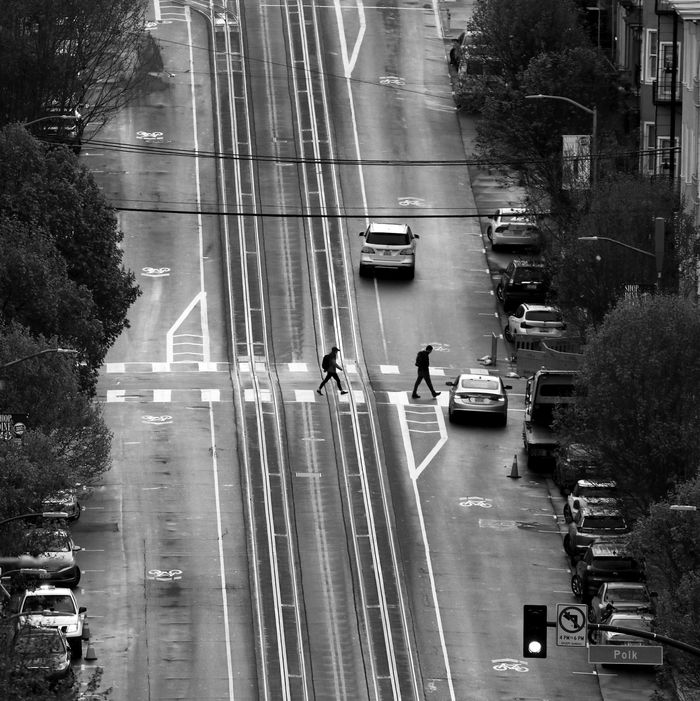 Photo: Justin Sullivan/Getty Images
Over the past few weeks, an increasing number of states have ordered residents to stay at home except for essential activities in order to slow the spread of the coronavirus. On March 19, California became the first state to do so; New York was quick to follow, with Governor Andrew Cuomo announcing an executive order that took effect a few days later, requiring residents to stay indoors except for essential trips and services. Now, as of April 20, 42 states, along with a number of cities and counties, have urged residents to stay in their homes as much as possible.
There are now more known cases of COVID-19 in the United States than any other country. As of April 20, at least 753,317 people across every state have tested positive, and 36,109 patients with the virus have died, though there are signs in some of the hardest-hit areas, including New York State, that the virus may have peaked.
The New York Times reports that at least 316 million Americans — about 95 percent of the country — have been told to stay home for at least the next few weeks, and likely longer. So what does a "stay at home" order mean, exactly? How is it different from "shelter in place"? And is there any indication as to when the restrictions will be eased? Here's what we know.
What do the new restrictions mean for people who live in affected states?
So far, the stay at home orders that have been announced in various states all look pretty similar, requiring residents to stay indoors except for certain essential activities, which include buying food and seeking medical treatment. Officials have emphasized that the orders do not completely bar people from leaving their homes; for example, residents are allowed take walks — provided they stay at least six feet away from anyone not in their household — and go to grocery stores.
In California, most retail stores and corporate offices in the state have been ordered shut. However, "essential" businesses like grocery stores, pharmacies, banks, and laundromats remain open, and municipal services like buses will continue to run. Residents are not supposed to leave home for work unless they work for an "essential" business, which includes health care.
The executive order announced in New York is similar. All nonessential businesses have been ordered to keep workers home, though this doesn't include grocery stores, pharmacies, restaurants and bars (which can offer takeout and delivery only), laundromats, health-care operations, child care, and other essential services. Public transportation will keep running to allow essential workers to commute, though New Yorkers should not use it unless absolutely necessary. Governor Andrew Cuomo also banned "all nonessential gatherings of individuals of any size for any reason."
How is a "stay at home" order different from "shelter in place"?
Most governors have referred to the restrictions announced in their states as "stay at home" orders. However, the terminology varies from place to place, with residents in some cities and states being told to "shelter in place," including Delaware, Georgia, and Mississippi.
On March 16, residents of the San Francisco Bay Area were ordered to shelter in place for at least the next few weeks. Days later, when Governor Cuomo announced his own order, he stressed that New Yorkers were not being ordered to "shelter in place," noting that the term evokes panic. That said, the restrictions announced in New York and other states look similar to those in the Bay Area, where residents were told to stay home except for essential activities, which include buying food and taking care of the health and safety of anyone in their household, including pets. Like other places with stay-at-home orders, restaurants in the Bay Area remain open for takeout and delivery, and people who provide essential services — including health care; delivering food, mail, or packages; picking up garbage; and maintaining electrical systems — should continue to go to work.
How will these orders be enforced?
According to American Progress, many of the stay-at-home orders say that noncompliance will be enforced through civil or criminal penalties, including fines, orders to suspend business operations, or imprisonment. So far, most jurisdictions have not been arresting people for violations, though the Times reports that police officers have been issuing citations. Announcing the orders in California, officials said that there would be intense social pressure on individuals to comply. In New York, Cuomo said there would be civil fines and mandatory closures for any businesses that did not comply. "These provisions will be enforced," Cuomo said. "These are not helpful hints."
Which states have stay at home orders?
As of April 22, officials in 42 states, including Alabama, Alaska, Arizona, California, Colorado, Connecticut, Delaware, Florida, Georgia, Hawaii, Idaho, Illinois, Indiana, Kansas, Kentucky, Louisiana, Maine, Maryland, Massachusetts, Michigan, Minnesota, Mississippi, Missouri, Montana, Nevada, New Hampshire, New Jersey, New Mexico, New York, North Carolina, Ohio, Oregon, Pennsylvania, Rhode Island, South Carolina, Tennessee, Texas, Vermont, Virginia, Washington, West Virginia, and Wisconsin, as well as Washington, D.C., and Puerto Rico have urged residents to stay at home.
Which states don't have stay-at-home orders?
Though Dr. Anthony Fauci, the nation's leading infectious-disease expert, has recommended that all states issue stay-at-home orders, governors in a handful of states have resisted, saying that they believe such orders are unnecessary and could be harmful. Currently, there are eight states that do not have stay-at-home orders: Utah, Wyoming, North Dakota, South Dakota, Nebraska, Iowa, Oklahoma, and Arkansas. The governors of these states, all of whom are Republican, have resisted calls from public-health officials to issue statewide orders for residents to stay home, though some cities and counties in Utah, Wyoming, and Oklahoma have issued local orders. In some cases, these states have closed nonessential businesses, banned large gatherings, and ordered vulnerable residents — including those who are over 65 or have existing health conditions — to stay home.
In general, these states have had lower numbers of confirmed cases and deaths from COVID-19 than harder-hit areas, though rates of testing still vary dramatically. The Daily Beast reported this week that in some areas of Nebraska where the virus is spreading rapidly, residents are frustrated with the governor's inaction.
When will the stay-at-home orders end?
Last week, President Trump issued a set of federal guidelines for states to begin slowly reopening their economies, saying governors could begin reopening businesses and restaurants by May 1 or earlier. (The guidelines recommend that states not do so until the number of coronavirus cases has steadily declined for at least 14 days.) However, the Times notes that the guidelines do not make provisions for the dramatic increase in testing that many public-health officials have said will be necessary to safely reopen the economy.
In the past few days, a growing number of governors have announced they will be opening businesses as early as this week. During a press conference on April 20, Georgia's Republican governor Brian Kemp announced that a specific list of businesses will be permitted to reopen on Friday, April 24: gyms, tattoo shops, barbershops, hair and nail salons, massage studios, and bowling alleys; on April 27, theaters and restaurants will be allowed to open. Oklahoma will allow "personal care businesses," including hair salons and pet-grooming services, to reopen this Friday. Just yesterday, South Carolina reopened its public beaches. Meanwhile, governors in more than a dozen states have announced that they will extend their stay-at-home orders at least until the beginning of May, if not later. Governor Cuomo announced last week week that he was extending New York's stay-at-home order until May 15.
Across the country, the stay-at-home orders have had serious economic consequences, and around 22 million Americans have filed for unemployment benefits over the past four weeks. In some areas, this has prompted backlash, often from conservatives; in Michigan, for instance, more than a thousand protesters in cars jammed the streets around the state capitol on Wednesday in response to Democratic Governor Gretchen Whitmer's decision to extend the state's stay-at-home order until the end of April. Still, medical experts emphasize that such orders are the best way to prevent excessive loss of life and contain the virus's spread. And according to a new study from Harvard's T.H. Chan School of Public Health, published on Tuesday, "intermittent distancing may be required into 2022 unless critical care capacity is increased substantially or a treatment or vaccine becomes available."
This post has been updated with new information.
We're committed to keeping our readers informed.
We've removed our paywall from essential coronavirus news stories. Become a subscriber to support our journalists. Subscribe now.