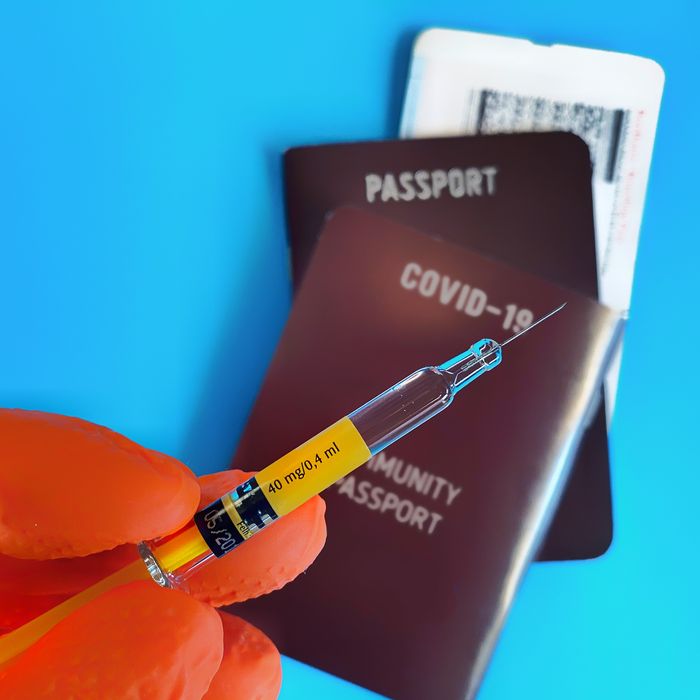 As vaccination rates climb steadily across the country — President Biden recently said all adults must be eligible by April 19 — public-health officials and citizens alike have begun wondering when, and how, we might be required to show proof of vaccination in order to access certain spaces; certain businesses, like the Norwegian Cruise Line, have explicitly stated they will require travelers to be vaccinated. The Washington Post recently reported that the Biden administration is working with private companies to establish a standardized process by which Americans can prove they've been vaccinated. The proposal has supporters and critics alike; Brian C. Castrucci, an epidemiologist and founder of the de Beaumont Foundation, a public-health group, told the Post, "If [vaccination] became a government mandate, it would go down a dark road very quickly … It could turn people off." Others have pointed out that we already have a number of vaccination requirements, both for travel and school.
While the subject remains an ongoing debate, here is what we know so far.
Where do I get a vaccine passport?
There is not yet an available, standardized way to prove you've been vaccinated; we can expect further guidance to come from the CDC and/or the Biden administration. Certain states and businesses have begun developing ways to prove vaccine credentials should they become necessary; New York has rolled out the "Excelsior Pass," which is available as an iPhone Wallet app, and Walmart is offering vaccination apps to people vaccinated in their stores. Many businesses, schools, and politicians around the country are currently working on ways to roll out similar programs, but it's complicated due to data-privacy issues, questions of accessibility, and bureaucratic hurdles.
Why do I need a vaccine passport?
There is not yet any federal requirement that you obtain proof of vaccination against COVID-19, but because vaccination is hugely important in the effort to end the COVID-19 pandemic, and businesses are likely to want to protect their employees as well as their customers, it seems probable that some form of proof will be needed in order to access certain spaces. If someone who has not been vaccinated against COVID-19 were to board a cruise ship, for instance, that increases the risk of an outbreak.
Do I need a vaccine passport to travel?
Not just yet. The CDC has stated that fully vaccinated people can resume domestic travel, and do not need to quarantine after travel. Airlines do not require proof of vaccination for domestic travel, though some have indicated they may do so for international travel.
Do I need a vaccine passport to enter businesses?
Not just yet. Rules regarding masks and capacity are still being determined by state leaders, and are locally enforced (or not); in places that require masks, you'll probably still need to wear a mask to enter just as you would have prior to vaccination, and in places that don't, you won't.
Why is the subject of vaccine passports so contentious?
For some, the objection to vaccine passports lies mainly in vaccine skepticism; some public-health experts worry that requiring vaccination (by way of vaccine passport) would only exacerbate politically motivated resistance to the vaccine. Others argue that requiring vaccination means simply that more people will get vaccinated, as was the case with smallpox in the late 19th and early 20th centuries.
Other critics worry that vaccine passports would exacerbate global inequities, as not everyone has equivalent access to COVID-19 vaccines. Many countries lack vaccine supply, and if vaccine passports are smartphone-based, they could exclude people without smartphones. Nicole Errett, a public-health expert at the University of Washington, told Advisory: "If vaccines become a passport to doing different things, we're going to see the communities that have been already hardest hit by COVID being left behind."
Still, vaccine passports are very likely legal. "On the face of things, requiring proof of vaccination seems a lot like, 'No shoes, no shirt, no service,'" Mark Tushnet, a law professor at Harvard, told the New York Times. Though logistical challenges remain, it's already standard practice for states to keep immunization records that are then shared with the CDC.