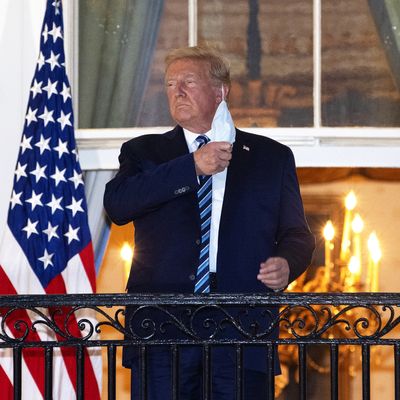 Photo: Win McNamee/Getty Images
A day after President Trump released a nearly five-minute video in which he claims an unapproved antibody treatment made by Regeneron — a brand name he repeats so often the video seemed like an ad — the company is seeking emergency FDA approval. Though Trump claimed that "hundreds of thousands" of doses would soon be available to the public for free, Regeneron has said they currently have only 50,000.
Regeneron's antibody cocktail is designed to boost the body's defense against COVID-19. The company has said a study of 275 subjects showed that the drug improved outcomes for people early in the course of the virus, and was particularly effective for people who had not yet developed antibodies. Regeneron has yet to release detailed data to support these claims, and clinical trials are still underway.
Regeneron's product was developed using cells derived from fetal tissue, a practice Trump has previously and strenuously denounced. In 2019, the administration restricted federal funding for most scientific research that involved fetal tissue, a move praised by those opposed to abortion rights.
Trump, who is acquainted with Regeneron's CEO Leonard Schleifer, has referred to Regeneron's drug as a cure for COVID-19, stating that since taking it, "I feel great — I feel, like, perfect." Dr. Peter Chin-Hong, an infectious-disease specialist at UCSF Health in San Francisco, told the Times that there is "one million percent no" chance that Regeneron could have "cured" Trump in such a short time frame.
Because Trump has been treated with a number of medications, including the powerful steroid dexamethasone, medical experts say there's no way to know what role, if any, Regeneron's product has played in improving his health — and many have warned he could still get worse.
Regeneron has received more than $500 million in government funding as part of Trump's Operation Warp Speed, the administration's program to develop a COVID-19 vaccine and other treatments. Public-health experts have repeatedly cautioned against rushing a vaccine.