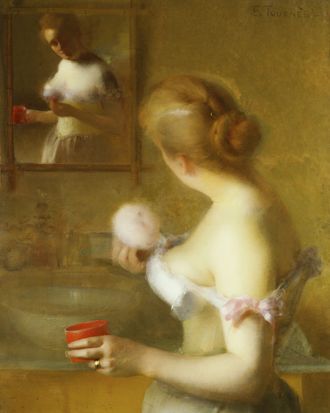 Photo: SuperStock/Getty Images
I'm 21, and I'm doing a job moving reels of old film from the NYU Library to a warehouse in Chelsea. I have to push a rickety cart stacked too high with reels down a narrow old hallway. If I don't stoop over to secure the stack of reels with my hand, they will bounce off. Every time I stand up to maneuver around a corner, my boobs fall out of my bra. I re-adjust, stoop back over, and push the cart to the next corner.
It's 2013, and I'm naked in the clothing-optional pool at Kalani on the Big Island of Hawaii. I can't stop staring at N's breasts. They are among the nicest I've ever seen, and they are on a grandmother. "I had them done a few years ago. Aren't they nice?" she says.
I'm in bed with a woman I'd just started dating, and she starts to peel off my tank top. "Can we take this off?" I had recently seen the episode of Transparent where Ali is hooking up with someone and realizing that she might be non-binary, and she says, "I never even thought about keeping my bra on during sex." And then she keeps her bra on. "I want to keep it on," I say. I think to myself: "I am definitely gender non-conforming, but I am not non-binary. Am I? I don't think so. I'm a woman. I'm a woman with unruly breasts, who, buoyed by the healing power of a great television show, feels entitled to keep her shirt on during sex."
I'm fooling around with a new date on my couch. She takes her shirt off and says, "Don't get too attached to them. I'm getting breast reduction next winter." I tell her, "That's cool. I've always wanted to do that." I think about a friend who, when she turned 50, bought herself a Vespa. "What are you waiting for?" she asked herself.
Last summer, I made an appointment with a plastic surgeon, intending to get myself a nicer pair of breasts. I had a few weeks off between Christmas and New Year's, and I could tack on a week or two of vacation time. Also, I had the $14,000 in my savings account, I don't have any kids to send to college, and I'm not buying a new car any time soon. "What am I saving for?" I asked myself.
It's September 2017, and I'm back at Kalani, having dinner with a friend. "I'm getting a breast reduction in December. I want to retire here eventually, and I want to start spending more time on the Big Island, and I don't want to be an old lady on the nude beach with saggy boobs."
I sit in the bathtub, trying to relax my racing mind. "People will think I am so frivolous. Will anyone help me recover from surgery? Won't people at work think it's weird that I never used to wear T-shirts and now I wear them every day? Won't they wonder why I look different? Won't they wonder where I was for four weeks?"
I'm waiting to see the nurse practitioner at the UCSF Breast Center. In preparation for my plastic surgery, I had a mammogram. Then I got called back for a diagnostic mammogram and a breast ultrasound. Then the intern called the resident in, and she ultrasounded me. Then the resident told me that I needed to come back tomorrow and see the nurse practitioner and get a fine needle aspiration, a procedure where they numb the breast, insert a series of hollow needles into the lump, draw out fluid and examine it to determine if it is cancerous. It was. I had stage 1A invasive breast cancer.
My phone rings as we wait for the nurse practitioner to come in. It's my plastic surgeon. "Hi, Emily, it's Dr. H. I saw your diagnostic mammogram and I wanted to give you the names of some surgical oncologists I work with. Maybe we can keep your original surgery date and we can both operate at the same time. We've done that before." I move the phone away from my face and waved over my friend. "It's my plastic surgeon. I need a pen. She is giving me the names of surgical oncologists." My friend hugs me and gives me a pen. "At least now that I have breast cancer I'll feel less ashamed about asking people for help with my recovery," I say. We crack up.
My friend comes with me to the surgical oncologist's. The doctor is explaining what she will do in the surgery. "I'll remove the lump and remove some lymph nodes and then Dr. H will do the reduction and reconstruction. Or, if you decide on a full mastectomy, of course, I'll do that without Dr. H." She starts to explain something else and I interrupt. "Wait — did you just say 'full mastectomy?'" She replies, "Yes. It's a more intricate surgery with more potential complications, but it is an option for you." "Whoa, whoa, whoa," I say. Turns out I am kind of attached to my breasts, after all.
I call my counsel of older women relatives. To a person, they all advise me to get a full mastectomy. "Get rid of them," they tell me. "You're not breastfeeding. Just get the full mastectomy." Everyone my age (46) or younger advised me to get the lumpectomy and reduction. If you've never known or can't remember what it's like to have great breasts, or if you've been through multiple catastrophic health traumas, or if you simply want to avoid future ones, it's easy enough to advise for the mastectomy, I guess.
I'm six months out from having the lumpectomy and reduction. My former unruly breasts are now tiny and cancer-free. Having a breast reduction is the best thing I have ever done for myself. "Sounds like this whole ordeal has been a net positive for you," my friend J said.
I was talking to a friend at work the other day, and he was telling me about a book he read about happiness. "In the book, it basically says that money doesn't buy happiness except when it comes to one thing. And the one thing, this book found, after interviewing and studying hundreds of people, is breasts." This sounds right to me. "Make 'em bigger, make 'em smaller, make 'em how you want 'em." I said.
I ran into a friend I hadn't seen in a few years after a doctor's appointment. "C told me what's going on. How are you doing?" "Doing good. Good prognosis. Getting through it," I said as my eyes kept going back to her chest. "Yeah. I had breast reduction a few years ago. I'm so happy." she said. I chatted with a friend from New York who I only ever knew as small-framed and petite. "I had it done in high school," she told me.
To the friend from the pool party last month and the friend I met for coffee the other day and the friend at work who confided in me and everyone else I have talked to about this ever since I made the appointment with the plastic surgeon last year: Get the breasts you want. If you can afford them, get them. It will make your life so much better. What are you waiting for?