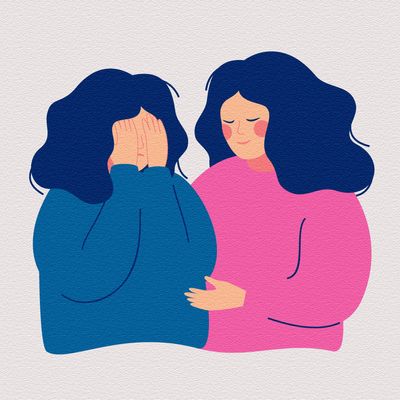 Photo: Ponomariova_Maria/Getty Images
When someone you know is grieving, it's natural to want to reach out and help. But often, it's difficult to know what to say when someone dies. Faced with the enormity of loss, words feel inadequate. It's not uncommon to feel paralyzed, terrified of saying the wrong thing.
There's no perfect combination of words that will take away a grieving person's pain. But there are ways for you to show them that you care, from sending a card, to bringing over a home cooked meal, or just showing up in person.
From what to write in a sympathy card to when it's appropriate to pick up the phone, we asked grief advocates, therapists, and other experts for their advice on how to support friends and loved ones when someone dies.
When in doubt, reach out
Calling, texting, or showing up face-to-face are the best gifts you can give someone who's grieving, says Dr. Kelsey Crowe, the co-author of There's No Good Card for This and founder of Help Each Other Out. "Sometimes it's just letting them know, 'I want you to know you're in my thoughts.'"
But before you pick up the phone, it's worth considering your relationship with the person. "If you aren't close, definitely don't call within days of a tragic event or difficult news," says Emily McDowell, co-author and illustrator of There's No Good Card for This. "Phone calls can feel intrusive and overwhelming at this time. A card, an email, or a text is better. However, if you are good friends or close family, call! The person can always choose to not pick up."
If you do call, let your friend or loved one know that you're there for them, and make sure they know that there's no pressure for them to call you back. If you're not sure what to say, something along the lines of, "I'm so sorry to hear about [the person who died]," or "I can't imagine what this must feel like for you" are good sentiments to fall back on.
Acknowledgement can go a long way, even if you don't know the person well. If you run into someone you know is grieving, don't avoid them or engage in small talk like everything is normal. Megan Devine, author of It's OK That You're Not OK: Meeting Grief and Loss in a Culture That Doesn't Understand says it's best to let the grieving person lead.
"I tend to make eye contact," Devine says. "And maybe a little nod of the head to say I see you, and I'm going to respect your space right now, but I want you to know that I see you."
Show up in person
The best way to show support for someone who's grieving is to let them know you're there for them — and then actually show up.
"When words are inadequate, it's your presence that makes a difference," says Dr. Alan Wolfelt, the director of the Center for Loss and Life Transition. If there's a funeral or memorial service, make an effort to attend. "You'll always remember the people that do, in fact, show up," Wolfelt says.
If you're unsure what to say to someone at a funeral, it's okay just to let them know that you're sorry for their loss. It lets the person know that you recognize their pain without making any assumptions about their grief.
Send a sympathy card
Even if you're not close to the person who's grieving, it's almost always a good idea to send a card. If you're unsure what to write in a sympathy card, it's okay to keep it short and sweet.
"All you really need to say is some variation of: "I'm sorry you're going through this. I'm here. I'm thinking about you, I love you," says McDowell, who also has a line of empathy cards. "Your job here is to let the person know you care, and making the effort of sending a card is a great way to do this. Don't be afraid to share a favorite story or memory about the person who has passed on."
Consider sending a gift
Gifts are another way to let someone know that you're thinking of them, especially if you can't be there in person. You can send something practical, like a book on grief or a voucher for a massage, or something sentimental. "I love to give flowers," Crowe says, who recommends giving something that's meaningful to you. "If you like music, make a playlist. If you're crafty, knit a coaster."
Anticipate their needs
When someone is grieving, one of the simplest ways to show support is to offer to help with chores and other practical tasks.
Don't wait for the person to ask for help. They might feel like they don't want to burden anyone, or they might not even realize they need help, says Crowe. Just go ahead and offer — but be specific. While people often say "let me know if you need anything," it's much easier for someone to take you up on a specific offer. For example, you could offer to pick up the kids from school or day care, bring over a home-cooked meal, or help tackle a stack of paperwork.
Whatever you offer, make sure it's something you can really follow through on. "It's important that the offer is something you actually like to do," says Crowe. "Don't offer to cook if cooking is stressful for you, for example."
Don't try to "fix" their grief
"Many times, people in their anxiety will say silly, inappropriate things," Wolfelt says. Often, people fall back on clichés and trite comments in an attempt to comfort people in grief, many of which diminish the loss, and cause unintended pain. Some phrases to avoid: everything happens for a reason; God wouldn't give you more than you can handle; what doesn't kill you makes you stronger; at least they lived a good life.
Another phrase to avoid: "I know how you feel." Even if you've experienced a similar loss, you shouldn't assume that someone else is feeling the same way you did. "Empathy gives you insight into some of the emotions your friend might be having, but saying 'I know how you feel' can sound dismissive of their unique experience, and cause them to feel alienated," says McDowell.
Don't avoid saying the deceased person's name
Often, after someone dies, whether consciously or unconsciously, people avoid saying the person's name. But Devine says you shouldn't be afraid: saying the person's name won't make someone that's grieving more upset; instead, it will let them know that you remember the person, and you're open to talking about them. "If you are uncomfortable or worried about upsetting somebody, and they're saying their person's name, and you cringe and walk away, you're erasing their person," Devine says. "You're basically saying, I don't see this, this is too hard."
Keep checking in
Even after everyone else goes back to their day-to-day lives, it can be helpful to keep checking in on the person in the weeks and months after their loss.
"Loss doesn't have an expiration date," McDowell says. "If something truly bad has happened, a person's life has changed forever, and just because time has passed, they probably haven't stopped thinking about their grief."
If you want to reach out but have no idea what to say, McDowell recommends starting with a simple question,  like "how are you today?" Adding "today," acknowledges the fact that they're going through something painful, while also giving the person an opening to share how they're feeling.
Don't worry about getting it 100 percent right
Reaching out to a friend who has just lost a loved one can be daunting, but it's better to try and risk making a mistake than not try at all. When people avoid addressing a tragedy out of fear of making things worse, the person grieving can end up feeling abandoned.
"If you don't know what to say, it's okay to say that," McDowell says. "Our friends don't expect us to respond perfectly and eloquently to every situation. They just want to know that we care enough to try."