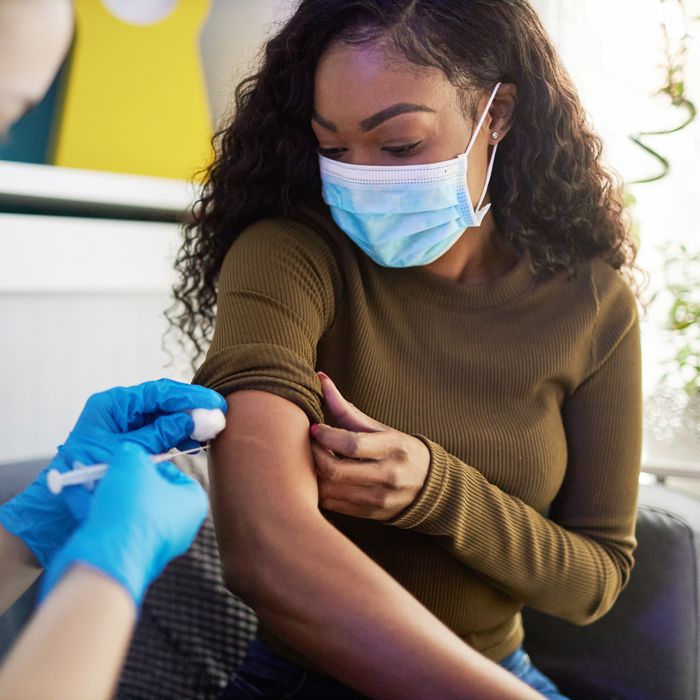 According to the CDC, fully vaccinated people can safely hang out together indoors.
Photo: vgajic/Getty Images
Now that more than 100 million people have received at least one dose of the coronavirus vaccine, the Centers for Disease Control and Prevention is expanding its guidance for post-vaccine life. Finally, travel is back on the table.
The CDC's first round of recommendations, issued on March 8, permitted people who have been fully vaccinated to gather indoors (without wearing masks or practicing social distancing) with other fully vaccinated people. The agency also said that vaccinated people can safely spend time indoors with unvaccinated people "from a single household who are at low risk for severe COVID-19" without masks or distancing. If they come in contact with someone who is positive for COVID-19, they don't need to get tested or quarantine as long as they do not experience symptoms. (Per the CDC, you are considered "fully vaccinated" about two weeks after receiving the second dose of the Moderna or Pfizer vaccine, or two weeks after receiving the single-dose Johnson & Johnson vaccine.)
On April 2, the CDC released two more updates on approved post-vax behaviors: The agency deemed domestic travel safe for the fully vaccinated, adding that this group doesn't need to worry about testing before or after travel or quarantining after travel. And the CDC says they can refrain from testing ahead of international travel — unless their destination requires it — and from quarantining upon their return.
"We know that people want to get vaccinated so they can get back to doing the things they enjoy with the people they love," CDC director Rochelle Walensky said during a White House COVID-19 press briefing announcing the guidelines last month. She stressed, however, that "the recommendations are just a first step" and that millions more people will need to be fully immunized before we can collectively take fewer public-health precautions. For example, the CDC is still recommending that fully vaccinated people wear masks, avoid medium-to-large gatherings, get tested if they experience COVID symptoms, and practice social distancing.
But as Dr. Richard Besser, former acting director of the CDC, told NBC News, "this is very welcome guidance." He continued, "This opens the door for grandparents to meet with their children and grandchildren without masks, indoors, for a nice group hug." Following a bungled start, the COVID-19 vaccine rollout is now progressing smoothly: As of April 5, more than 18 percent of the U.S. population is fully vaccinated, while nearly twice as many people have received one dose, according to the CDC. Last month, President Biden vowed that by the end of May, the federal government will have enough doses of assorted COVID-19 vaccines to inoculate all adult Americans.
This article has been updated.