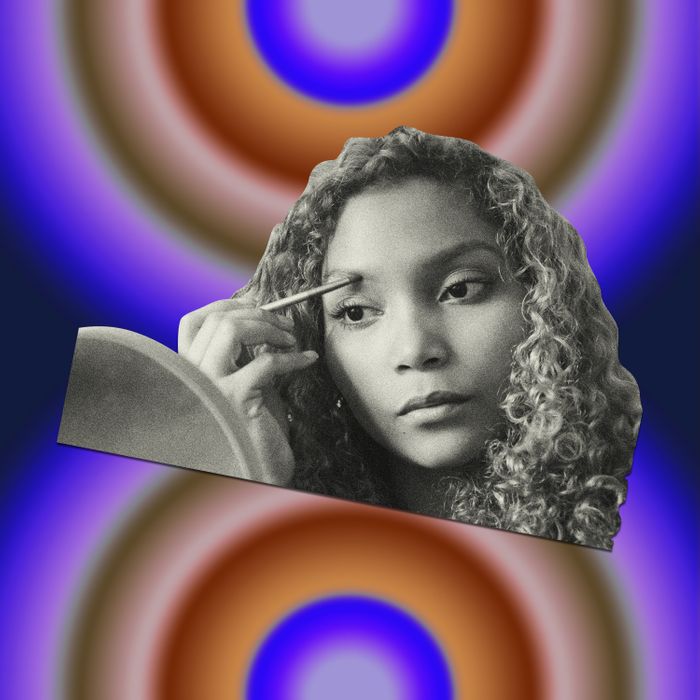 Photo-Illustration: by The Cut; Photo: Getty Images
Jenn, what are your thoughts on brow lamination and other brow-enhancing treatments? I'm looking for something low-maintenance and not scary-looking (microblading looks scary to me). —Anonymous
My definition of low-maintenance is any treatment that doesn't require a huge time commitment or investment, makes your everyday beauty routine easier, and won't need a lot of upkeep. Unfortunately, that's not brow lamination. Nor, as you hinted, is it microblading, which locks you into your chosen brow trend until the cosmetic tattoo fades. Instead, let me guide you to an option that doesn't get as much love as it deserves: brow tinting.
But, since you asked, I'll share my thoughts on brow lamination first. It's basically a mini-perm: During the process, a cosmetologist applies a solution that breaks the disulfide bonds of your brow hairs; coaxes them into a new shape; and then, after a few minutes, removes the solution and applies another that reforms the bonds. "Contrary to popular belief, it's a versatile treatment — you can rock multiple styles with it," says brow specialist Melanie Marris, who uses the technique on some of her celebrity clients. The lamination process can smooth curly hairs, sculpt unruly strands, or direct thin hairs upward and outward to make your brows look fluffier. And results last a few weeks, or possibly longer, depending on your hair texture and how fast your hair grows.
I think it's an okay option for a big event or, like, a long vacation where you don't want to style your brows every day. And it's beautiful in photos. But in person, it's not exactly natural-looking. And maintenance is annoying. As the hair grows, "your brows start to look pretty wild," says brow specialist Azi Sacks, who adds that the perming solution damages and dries out your hair over time. "People compensate for the unruly regrowth by applying heavy gels or waxes, which can dry the hair even more. Then they run back and go get it laminated again, which perpetuates the problem." Sacks prefers to work with her clients on a long-term basis, using a combination of strategic plucking, growth-encouraging serums, and fill-in powder.
She also loves brow tinting — something Marris and I (and pretty much every other brow expert I've ever interviewed) agree on. "Some brow hairs are coarser, some are baby fine, and they differ on the perimeters and the edges," says Sacks. "But the tint creates a more even density, because it catches all the hairs, giving you fullness with some depth and tone." The first time I had my brows tinted, I was blown away. The dye even grabbed on to peach-fuzzy hairs I didn't know I had, so my brows looked fuller and I no longer had to fill in the sparse areas every morning.
Thing is, there are multiple ways to go about tinting. Sacks suggests visiting a professional (she uses vegetable-based dyes in her custom treatments). Marris offers professional tinting services, too. But she's also the founder of Brow Code, a line that includes an at-home Brow Tint Kit. "I recommend using it between your professional appointments," says Marris. "It lasts up to a week on the skin and up to a month on the hair." (A professional dye job lasts about the same amount of time and typically costs $25–$40, although many experts offer it as a complementary add-on to their shaping services.)
I've tried the kit, and it's awesome. You mix the color and activator in a tiny bowl, paint it on with the included brush, wait one to ten minutes depending on your desired result, then wipe it off and wash your face. That said, my favorite thing about the kit is also my least favorite thing about it: The color dyes your hair and tints your skin, so you have to apply it precisely if you want your brow edges to be neat. Do it the right way, and you wake up every day for a week looking like your brows are fuller and perfectly penciled in. Mess it up, and you have dark clouds hovering above your eyes for a few days (washing your brows with an exfoliating cleanser fades any unwanted skin tint significantly). All in all, I highly recommend it.
Is dyeing your own brows every two weeks low-maintenance? I mean, compared to penciling and powdering, brushing, occasional trimming, and setting with wax, pomade, or gel … yeah. It may not have the TikTok wow factor or obvious oomph of brow lamination, but I think that's actually a good thing.
At-Home Brow Tints to Try
Jennifer Sullivan answers all your beauty-related questions with practical advice and zero judgment. Send your questions to AskABeautyEditor@nymag.com. (By emailing, you agree to the terms here.)