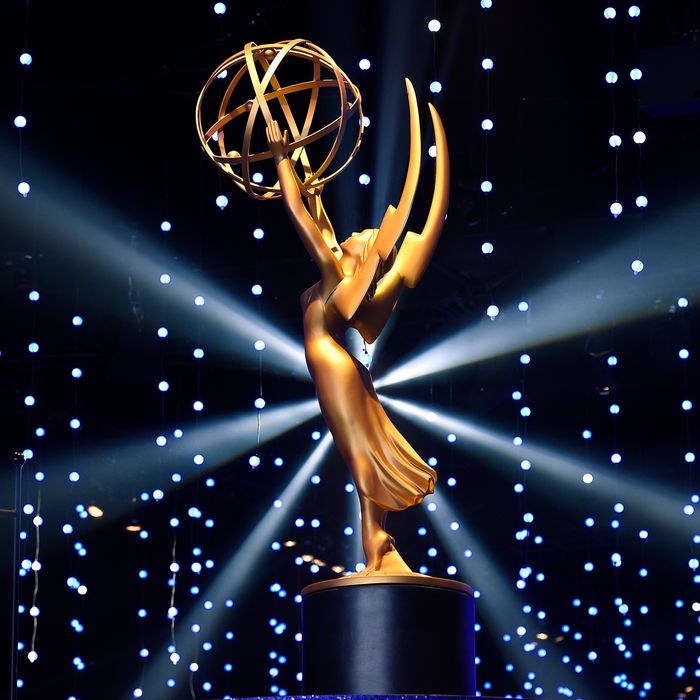 Photo: Kevork Djansezian/Getty Images
The Emmy Awards have been postponed for the first time since 2001. Two weeks after Variety reported that vendors were told there wouldn't be a show on September 18, Fox and the Television Academy have now announced via press release that the 75th edition of the awards show will air on January 15, 2024.
With writers and actors, who are part of the Writers Guild of America and SAG-AFTRA unions, still on strike as they demand fair pay and better working conditions, and with Hollywood studios refusing to return to the negotiating table anytime soon, the postponement comes as no surprise. While the WGA met with the Alliance of Motion Picture and Television Producers in early August to discuss resuming negotiation talks, resolution remains far off, and it's unclear as to whether or not actors and writers will participate in January's show. Per USA Today, the awards show will broadcast live on Fox and from the Peacock Theater at L.A. Live, and a host has not yet been announced — though perhaps the studios might be down for an AI robot host?
In addition to a belated Emmys, the ongoing strikes also mean we will all have a lot of time on our hands this fall without new TV shows and episodes to binge, so here are 20 things you can do during the strike that don't involve watching TV. Solidarity!