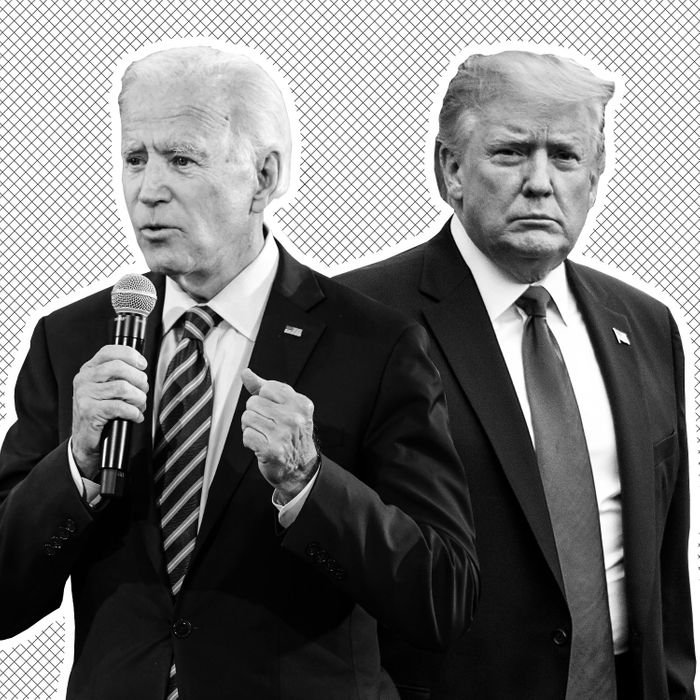 Ready to rumble?
Photo: Getty Images
With weeks to go before a pivotal presidential election, the spooky season is upon us once again: The specter of several presidential debates (and also a vice presidential one!) has risen from the dust to frighten and alarm anew. The 2020 debate cycle began on September 29, when Democratic candidate Joe Biden faced off against current president Donald Trump for the first time. It will end on Thursday, with a third and final presidential debate in Nashville.
With the nation inching ever closer to November 3 election, Trump churned up confusion as to whether or not we would see presidential debates at all. In June, the president claimed, during a Fox News town hall, that his then-presumptive opponent would be a no-show because of the coronavirus pandemic. At the time, Biden had already guaranteed the Commission on Presidential Debates, at length and in writing and before he had even been officially received the Democratic nomination, that he accepted its debate schedule and terms. Trump, meanwhile, seemed like he was laying the groundwork to bow out of the debates, fussing over the moderators — Trump really wanted Fox News anchors or conservative pundits, but was uniformly denied— and demanding a fourth matchup for no reason.
Nonetheless, the show went on, with a near-unwatchable first debate on September 29 in Cleveland, and a markedly more coherent vice-presidential debate on October 7 in Salt Lake City. The second presidential debate — a town hall-style event — was supposed to take place on October 15 in Miami, but Trump's coronavirus diagnosis, and his refusal to participate in any kind of format that didn't put him directly in the room with Biden, derailed the plan. Rather than holding a virtual debate, each candidate instead held his own televised town hall.
And now, we have arrived at the last stop on the train. Here's how, when, and where to watch the third presidential debate.
How do presidential debates even work with COVID-19?
According to the Washington Post, the commission winnowed the number of moderators down to one per night, in its first pandemic concession, and promised to stick to CDC health guidelines. Ahead of the first installment, Politico reported that the campaigns had agreed to some onstage parameters for debate number one: Trump and Biden did not shake hands before the debate, nor did they bump elbows, deeming that an "awkward" substitute for the traditional greeting. Neither the candidates nor the moderator wore masks, and the audience was capped at 75 to 80 attendees, all of whom were required to be tested beforehand. The president and some of the people traveling with him still came down with COVID-19, although Biden did not.
Effective coronavirus risk management was not the only challenge that arose during debate number one. How to keep the president from shouting over both Biden and the moderator, and from lying ad nauseam, remain open questions heading into the final round. In the aftermath of September's match-up, the commission promised it would implement "additional tools" and structural changes to "ensure a more orderly discussion of the issues." On October 19, the commission finally expanded on those plans, announcing that it would mute each candidate's microphone while his opponent answered the segment's opening question. During the open discussion portions, both candidates' mics will be on. The commission says it hopes the nominees "will be respectful of each other's time," and realizes "that neither campaign may be totally satisfied with the measures announced today."
"One may think they go too far, and one may think they do not go far enough," the commission said in a statement. "We are comfortable that these actions strike the right balance and that they are in the interest of the American people, for whom these debates are held."
When is the third presidential debate?
When: Thursday, October 22, from 9 to 10:30 p.m. EST.
Where: Belmont University in Nashville.
Moderated by: NBC News White House correspondent Kristen Welker.
How to watch: Debates will be available for streaming on C-SPAN, and most major news networks will air them as well.
Format: Six roughly 15-minute segments, same as the first debate. According to CNN, the topics up for discussion will be: "Fighting COVID-19," "American Families," "Race in America," "Climate Change," "National Security," and "Leadership." These are subject to change in light of breaking news developments. Each candidate will be given two minutes to respond to Welker's opening questions, and then she will moderate deeper discussion from there. During the first debate, moderator Chris Wallace did not fact-check the candidates in real time, effectively clearing a path for Trump to lie for 90 minutes straight. This time around, Trump's microphone will occasionally get switched off, although he has previously proved himself adept at yelling.
This article has been updated.