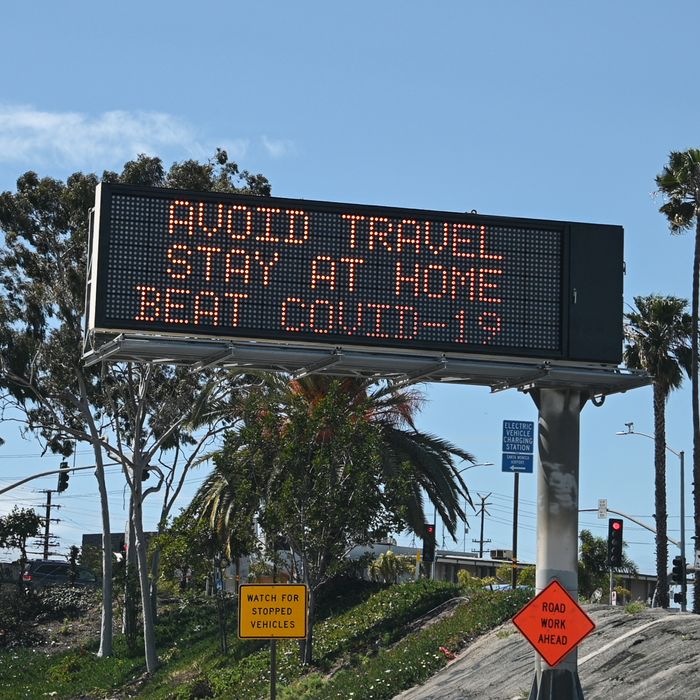 A stay-at-home message in Santa Monica, California.
Photo: Aydin Palabiyikoglu/Getty Images
Since the coronavirus outbreak began in the U.S., 316 million Americans in more than 40 states have been ordered to stay at home, except for essential activities, to help slow the spread of the virus. Although the restrictions have been extremely disruptive to daily life, public-health experts say they've been effective in reducing the rate of infection and ultimately saving lives. With that said, the stay-at-home orders have had serious economic consequences — as nonessential workers have been ordered to stay home, more than 36 million Americans have lost their jobs, and many are eager to know when the restrictions will be lifted.
While the rate of hospitalization has been steadily declining for a month in some of the hardest-hit areas like New York, the situation across the country remains dire. For the past month, the national death toll has been increasing by at least 1,000 a day, and even with widespread testing shortages, more than 20,000 new cases are being identified daily. The New York Times reports that even though the Trump administration has lifted federal social-distancing guidelines, privately, they're predicting that the worst is still to come: According to internal projections, the number of daily deaths could reach 3,000 by early June.
Meanwhile, the federal government has left it up to the states to decide when to reopen their economies, which has led to a patchwork approach. While some states have extended-stay-at-home orders into May, others reopened businesses as early as late April despite failing to meet the White House's guidelines for when a state can safely start reopening. Here's what we know about when the stay-at-home orders will end.
What are the federal guidelines?
Since the coronavirus outbreak began, President Trump's predictions for when the economy could reopen have been wildly inconsistent, with him initially saying that he wanted to reopen businesses by Easter. In mid April, he told governors that they could begin reopening businesses and other aspects of daily life in three gradual phases on May 1, if they were in "very good shape."
According to the White House's guidance, states can begin reopening businesses (phase one) after the number of coronavirus cases in the state has declined for 14 consecutive days. In this initial phase, people still would be cautioned against gathering in groups of more than ten people, but places like restaurants and churches could reopen if they adhere to strict social-distancing protocols. Assuming that cases continue to decline for two more weeks, states can then enter phase two, reopening schools and allowing people to gather in groups up to 50. If states can show they have no resurgence of cases, they can eventually enter the third phase, which would allow life to return to some semblance of normality. It's worth noting that these guidelines are nonbinding.
Which states are lifting their orders?
According to the New York Times, the following states have allowed their stay-at-home orders to expire: Alabama, Alaska, Colorado, Florida, Georgia, Idaho, Indiana, Kansas, Mississippi, Missouri, Montana, Nevada, Rhode Island, South Carolina, Tennessee, Texas, and West Virginia. Stay-at-home orders in Arizona, Louisiana, New Mexico and Vermont are set to expire on Friday, and those in Minnesota and Massachusetts will expire this weekend. (Additionally, several states, including Arkansas, Iowa, Nebraska, North Dakota, Oklahoma, South Dakota, Utah, and Wyoming, never had stay-at-home orders to begin with.) While Wisconsin's order wasn't set to expire until May 26, on Wednesday, the state Supreme Court struck down the order, calling it "unlawful, invalid, and unenforceable."
What comes next varies from state to state. Many states are easing restrictions by gradually permitting select businesses to reopen, often starting with retail stores and personal-care businesses, so long as they operate in accordance with social-distancing guidelines; some states, like South Carolina, are allowing restaurants to reopen, but for outdoor-dining only. On May 1, Texas allowed many businesses — including restaurants, movie theaters, and malls — to reopen with limited capacity. Meanwhile, some cities and counties, such as Austin, have extended local stay-at-home orders, even as governors lift the states'.
A few states allowed some businesses to reopen even earlier. On April 24, Georgia, a state with one of the lowest rates of testing, allowed gyms, tattoo shops, barbershops, hair and nail salons, massage studios, bowling alleys, restaurants, and theaters to open their doors; Oklahoma allowed hair salons and pet-grooming services to reopen; and Alaska allowed restaurants and retail stores to reopen.
Which states have extended their orders?
In the past few weeks, a number of states have extended their stay-at-home orders until mid-May or later. Connecticut and North Carolina have extended their orders through early next week. Michigan announced that its order will be extended until May 28; however, manufacturing workers were permitted to return to work on May 11. Delaware, Hawaii, Illinois, Maine, New Hampshire and Ohio have extended orders through the end of May. Pennsylvania's order has been extended until June 4; New Jersey's until June 5, and Washington D.C.'s until June 8.
On Thursday night, New York Governor Andrew Cuomo issued an executive order extending the state's stay-at-home order until May 28 for regions that do not meet reopening criteria, including New York City. However, five upstate regions will be allowed to begin reopening some nonessential businesses, including construction, manufacturing, and curbside retail, on Friday.
Meanwhile, some states have not set expiration dates on their social-distancing orders, including Kentucky, Maryland, Oregon, and Washington. While California governor Gavin Newsom hasn't set an expiration date on his order, the state allowed some businesses to reopen on May 8, including bookstores, florists, and clothing stores.
What do health officials say?
The growing number of states reopening has public-health officials worried, especially because, according to the Times, most of the states that are easing restrictions have more new cases or a higher rate of positive tests than they did two weeks ago. Politico reports that only two states, Kentucky and North Dakota, have met the White House's criteria for reopening. If states aren't gradual and cautious in their approach to reopening businesses, experts say, they're likely to experience a resurgence of cases.
On May 12, Dr. Anthony Fauci, the nation's leading infectious-disease expert, issued a grave warning about reopening prematurely during his testimony before the Senate. If states prioritize economic interests over public-health concerns, "there is a real risk that you will trigger an outbreak that you may not be able to control," he warned, which would result in "suffering and death that could be avoided." He continued, it "could even set you back on the road to trying to get economic recovery."
The science of reopening is fraught: Every state is essentially experimenting, which is why public-health officials have urged states to proceed with caution. Public-health experts have also said that far more comprehensive testing is necessary for the U.S. to safely reopen the economy. "To avoid a second wave of viral spread, you have to do what South Korea and other countries, including Germany, have done," Dr. Tom Moore, an infectious-disease specialist, told CNBC. "You have to have testing in place, and aggressive testing." However, the White House's guidelines for reopening don't address this.
This post has been updated.