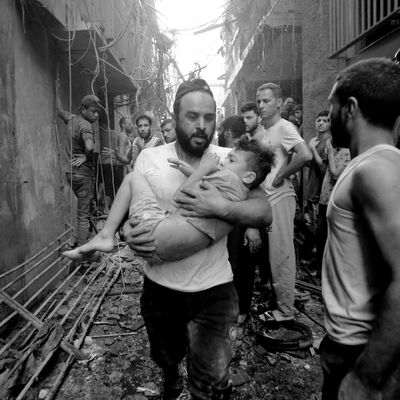 Photo: BASHAR TALEB/AFP via Getty Images
Since Hamas militants' surprise attacks targeted thousands of innocent Israeli civilians on October 7, and Israel responded with airstrikes and a total blockade of Gaza, the Israel-Hamas war has claimed thousands of lives and created a large-scale humanitarian crisis that is unlikely to end anytime soon.
Israel has said at least 1,400 people were killed, with many of the victims being women, children, and elderly people. At least 3,400 others were wounded in Hamas's attacks, the most devastating in the area in decades, while around 150 people are believed to be held hostage in Gaza. Israel's ensuing airstrikes have razed entire districts in the territory, killing more than 2,800 people, including more than 700 children, according to the Gaza Health Ministry, with another 10,800 wounded. That toll is certainly incomplete, and it will rise as Israel continues its offensive.
The conditions in Gaza are dire, and the need for resources especially severe. Aid groups say that Israel's escalating attacks and its total blockade of water, food, power, and other supplies has made it increasingly hard to get relief into the stretch of land (which had already been under siege since 2007). The territory is home to 2.3 million people, nearly 40 percent of whom are under the age of 15. Ahead of an expected ground invasion from the Israeli army, more than 1 million people have already fled their homes.
Gaza saw its last-remaining power plant run out of fuel on October 11, leaving hospitals to rely on barely-functioning generators as the number of wounded continues to surge. Medics have warned that they are dangerously low on fuel for backup generators, and medical supplies continue to dwindle.
Here's how you can help victims caught in the crossfire.
Doctors Without Borders provides emergency medical care during humanitarian crises such as armed conflicts and natural disasters. It operates in Gaza, and according to its representatives on the ground, the majority of the patients that its clinic has treated since Israel's counterattack began have been women and children. You can donate here.
The International Committee of the Red Cross supports victims of armed conflict and violence and has a presence in Israel and the occupied territories. It has dispatched medical supplies to hospitals in Gaza, assessed access to clean water, and is trying to locate missing people. You can donate here.
Alliance for Middle East Peace is a coalition of over 170 nongovernmental Palestinian and Israeli organizations dedicated to peace building. It is supporting member organizations that are providing emergency response on the ground across Israel and the occupied territories. You can donate here.
The United Nations Relief and Works Agency provides aid to Palestinian refugees and has set up emergency shelters in Gaza. The agency has said that, currently, some of those sites are overcrowded and have limited availability of food, clean water, and other basic needs. You can donate here.
Direct Relief provides humanitarian aid in more than 80 countries and is working with health-care partners in Israel to support victims of Hamas's attacks. You can make a donation here.
Medical Aid for Palestinians offers medical services in the West Bank, Gaza, and Lebanon. It is currently providing hospitals in Gaza with emergency medication and health-care supplies as they handle an influx of injured civilians. You can donate here.
The American Jewish Joint Distribution is working with partners to implement several programs in Israel, including emergency support for people with disabilities and expanding health care for children and at-risk youth. The organization is also helping nursing homes take in elderly Israelis fleeing the conflict zone. You can donate here.
Save the Children is offering medical assistance, especially mental-health support, to children affected by the attacks in the region. It has also called for an immediate ceasefire "to avoid any further escalation that puts children at risk." You can donate here.
Palestine Children's Relief Fund is offering emergency medical relief and humanitarian aid to children in Gaza. You can donate here.
The Middle East Children's Alliance is on the ground in Gaza offering medical aid, food, and clean water to children and their families. You can donate here.
The World Food Programme has been distributing fresh-baked bread, canned food, and ready-to-eat meals to victims in emergency shelters across Gaza. You can donate here.
Oxfam is preparing to deliver critical assistance — including access to water, sanitation, food, and cash for victims — in Gaza once it is safe to do so. You can donate here.