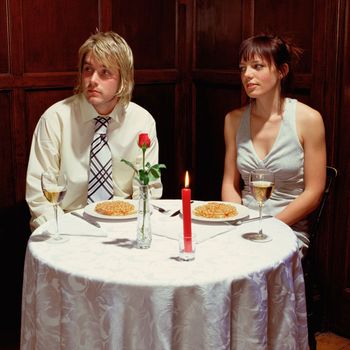 Photo: Alan Powdrill/Getty Images
As cuffing season approaches, you may be fretting about where to go on your next date. Should you do a museum? A walk in the park? A fancy cocktail bar?
Picking the right date spot can go a long way to ensure the success of your date. You don't want to drag someone who hates apple picking all the way to New Jersey, take a vegetarian to a steakhouse, or spend hours waiting in line to get into a scene-y wine bar. These are the kind of things that can ruin a date, especially if you're just getting to know someone.
That's not to say that the right bar will make or break your love life. You need to bring positive energy and an open mind, too. Assuming you've done all that, I've called on some prolific daters to share how they choose their date spots.
1. Go somewhere you know
The first rule to picking the right date spot is going somewhere that's familiar to you, but probably new to your date. There are endless advantages to this: If you know a place well, you know when to go, where to sit, and what to order. Also, if you go somewhere enough, you might get to know the staff, which has its perks, especially if you have a nice rapport with them; having a friendly bartender can relieve you of some conversational burden, and staff can inject new material into your discussion. I've found this dynamic can help add excitement to a boring date and keep a good one moving along in a fun way.
2. Stay in your neighborhood
Meeting in the middle is lame. It's like splitting the bill — technically fair, but not fun for anyone. Better to let one person skip the commute, and in exchange, act as host for the night. An added benefit of sticking to your stomping grounds is that you can effortlessly improvise as the night unfolds. If a date is going well, my favorite move is to take off running toward the local playground or my neighbor's rooftop. If my date doesn't follow me, I conclude they lack a sense of childlike wonder.
3. Avoid brightly lit places
Everyone knows that dim lighting is best for a date. It's more relaxing, and everyone looks hotter in the dark. Emma, a Bushwick local, says her favorite date spot "feels like a little cave." Just don't go somewhere that's so dark you can't see each other's faces.
4. Get a corner booth
Some people like to sit across from each other because you can more easily make eye contact. They are wrong. The best arrangement is a corner booth, where you sit at a 90-degree angle from one another. That way, you can look out at your kingdom together and make observations and occasionally turn to each other with knowing glances.
As my friend Daniel puts it, "It's hard to connect past the getting-to-know-you, networking, business type of conversation" when you're sitting directly across from someone for two hours straight.
5. Don't prioritize vibes over food
When certain friends recommend a bar to me, I have to ask: Are the drinks good, or do you just like the vibe? Nothing will ruin a date faster than a weak cocktail and a reheated empanada that's still cold in the middle. There is one exception to this rule, which is if there's some kitschy gimmick. There's a bar I like in Williamsburg whose tiki drinks are way too sugary, but it's worth going because of the ridiculous décor, which includes sand that covers the entire floor.
6. Make sure you can hear each other
Fina, a Bed-Stuy local, likes her favorite neighborhood bar because "the music is loud enough so other people can't hear you talking, but it's not so loud that you can't hear each other." This is the perfect volume! If it's too loud, you'll lose your voices shouting at each other — I once spent an hour like this and left knowing very little about my date. But you don't want it to be so quiet that other people can eavesdrop on your conversation.
7. Avoid a scene
A friend and I were recently having dinner at Dimes Square's newest wine bar when the server ducked next to our table and whispered, "That guy over there has been here with a new date every night this week." He was probably trying his best, but this guy chose the wrong spot — it was simply too scene-y.
It's tempting to go somewhere that's getting a ton of press, but you don't want to go to a place that's newly popular. The wait will be long, the patrons will be making TikToks, and it will be harder to focus on your date. Instead, you want to go somewhere that used to be a scene but has since cooled down.
8. Branch out a little
If, like me, you're not much of a bar person, you might suggest an alternative — like a spa date or a walk in the park. That doesn't mean the rules about lighting don't apply! If you're walking in the park, you should do it as the sun sets, and if you're going to a spa, pick the dark one with sensual energy, not the one with fluorescent lighting and grunting Eastern European grandfathers.