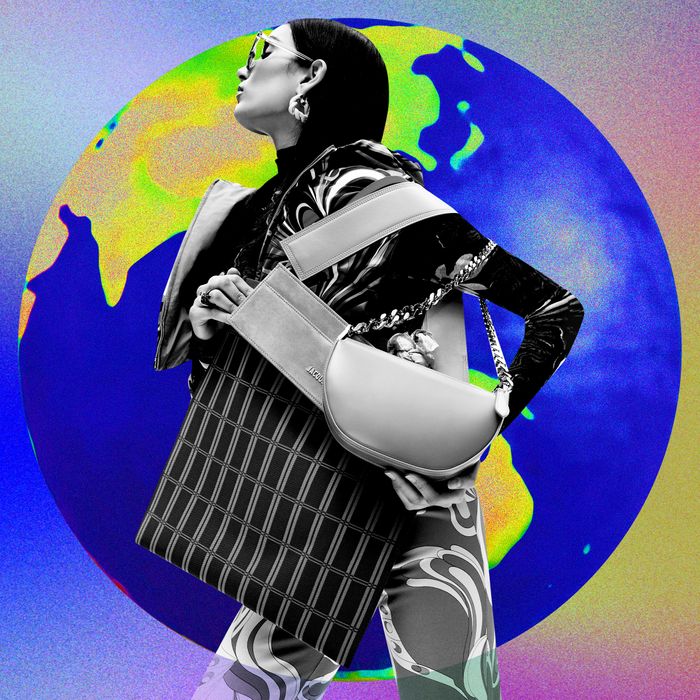 Photo-Illustration: by The Cut; Photo: Courtesy of Fwrd
Recently, a host of new online marketplaces has popped up to sell your old wares. While Depop has become the general go-to (even for the next era of fan merch), you want to consider what item you are selling and the best audience of customers for that item.
It can be confusing. So we made you a list.
If You're Selling Your Designer Handbag
Known by most as Revolve's chicer, older sister, Fwrd is the latest retailer to announce its venture into resale. The newly launched Fwrd Buyback program encourages customers to think more responsibly when it comes to bringing pieces into their wardrobe by exchanging past purchases of up to one year in for site credit, which equates to 50 percent of the item's retail price. Extending the life cycle of designer bags like Bottega Veneta, Loewe, Saint Laurent, The Row and more, this initiative is a great way to embrace current trends on a budget without committing long term.
If you're the type of person who likes to sport a new designer bag (or two) every season, Fashionphile is a name you should have on your radar. Its expansive secondhand and vintage offering aside, the e-tailer has a quite seamless selling process that allows you to trade in styles that no longer spark joy. The first and most popular route is to submit your item for a quote, online. All you have to do is take pictures of the bag from all angles, uploading them to the site and making note of any spots, scratches, stains etc. when prompted. From there, you can expect to receive a quote via email in two to three business days. Your second option is to set up a virtual appointment with one of Fashionphile's skilled procurement specialists. (And for those who live in Florida, if you prefer that their team come to you, just sit back and select their white glove pickup service at your convenience.)
Despite what its name suggests, Rebag's offers more than just handbags and purses. From clothing and shoes to jewelry and watches, the resale site has a good amount of product for shoppers to peruse. But on the opposite side of the coin, it's proven to be a great platform for sellers, too. The step-by-step process allows you to trade and sell your pieces by identifying items using their image-recognition technology or a guided search. Then you should mention any wear, tear and blemishes that could impact the quote. One of the things that sets the platform apart from the rest is their ability to provide you an estimate, instantly — which means you no longer have to wait to know how much your items are worth.
One thing about Farfetch, the company's going to give consumers everything they never knew they needed in a luxury fashion and beauty experience. Current season items may be the retailer's bread and butter, but they have a fully stacked pre-owned section and second-life handbag service, too. With this initiative the multi-label brand encourages shoppers to clear space in their closet by selling your designer purse for credit. All you have to do is snap a few pictures of your bag, upload them to the website, and wait to receive your quote. At that point, you'll be able to arrange an item pickup, letting Farfetch take care of the rest.
There's a good chance you're already familiar with resale website Vestiaire Collective for its luxury offering and well-curated shopping edits. But many notable names in fashion, like The Row collector Neelam Ahooja, cite the platform as a great way to sell your pieces, too – specifically your handbags. With more than 23 million users and counting, it's home to some of the best vintage items on the market, so they'll be in great company. But apart from that, sellers get to keep 100 percent of the sale, which might just be the best deal currently on the market.
If You Prefer Selling on an Online Marketplace
They say that if it's not broken don't fix it. Ebay is the ultimate marketplace for secondhand goods. Kim Kardashian was even selling pieces from her own wardrobe on the website back in the mid-2000s. Today it remains one of the most popular ways to list items you no longer want. However, to be fair if you're not already a part of the platform's fashion community or you don't know where to start, it can seem a bit overwhelming. From the time you arrive on the homepage, you're inundated with information, but if you follow all of their prompts when selling, the process is relatively straightforward. (Pro tip: Just be sure to get seller protection to cover all your bases.)
I didn't quite understand the appeal of Poshmark until talking to one of my best friends, who swears by the site. With more than a thousand followers and growing, she has been using the platform for years, creating a consistent cycle in her wardrobe. I've seen her so candidly state she's done with an item and decide to post it, within minutes. When about why she's stayed so loyal to the platform when there's a myriad of other suitable options on the market, her response was two-fold: Seller support and low percentages, when it came time for Poshmark to take its cut. For sales that are under $15, the company charges a flat fee of $2.95. And for anything over $15, you get to keep 80 percent of the commission, while they take only 20 percent.
With the grid-like appearance of both the app and desktop interfaces, Depop is the Instagram of online marketplaces. To get started, just create a profile like you would for any other social-media site and start uploading images of items, along with any description, details, flaws, etc. Then once you've posted the piece, you simply wait. Like with Ebay and Poshmark, patience is key, but if you let an item sit long enough, someone's bound to come by and scoop it up.
ThredUp is far from your average online marketplace for reselling items. Doing its part to make progress in circular shopping, the site itself is designed with community in mind. With the company's "Clean Out" service, you can request a kit, where you'll receive a labeled bag to fill with the pieces you want to get rid of, and then send it back to ThredUp. At which point shoppers and sellers have the choice to cash out or receive site credit. In recent years the company has started supporting a slew of brands venturing into the secondhand shopping arena with designer-specific options, like Cuyana, COS, Tommy Hilfiger, Oak + Fort, and more.
Grailed is the place to go if you're looking to rid your closet of trendier pieces. When scrolling through pages and pages of product, you're bound to come across some of the most coveted collabs and releases of the last few seasons. Shoppers on this particular platform know exactly what they're looking for, so the key to successfully selling your pieces is ensuring they're described as accurately as possible. It's also worth noting that the Grailed market is also quite competitive, so if you want to ensure you're getting the best ROI of a cult purchase, this may be your best bet with commission fees as low as 9 percent. (Check out their very helpful how-to guide on selling for a step-by-step breakdown of the process.)
Of all the online marketplaces on this list, Thrilling is the one that you most likely know the least about and it's time to change that. Founded by Shilla Kim-Parker, the Black-owned company is designed with bringing the vintage community together in mind. It offers sellers a flat 10 percent commission fee, as well as access to millions of dedicated shoppers with similar interests. One of the biggest differences between Thrilling and its counterparts is the option to sell and rent to television and film productions! Not only are you cleaning out your closet but it's being given a second life in a very creative way. Truly a win for all involved.
Those that have been thrifting and buying their streetwear secondhand know that Round Two is the holy grail. If you're looking for a place to sell your "beat heat" or worn sneakers and vintage graphic tees, this is the place to go. What started as a shop in Richmond Virginia, run by Sean Wotherspoon and the team, turned into a highly-coveted shoe drop and a way for their community to come together and swap finds. They now have locations in NYC, Los Angeles, and Chicago, which allows shoppers to not only peruse the offering but to bring in their own pieces to trade or sell for cash.
You may recognize the name Nuuly because of its highly rated rental services. However, the company also gives users the option to sell clothing via Nuuly Thrift. If you're hoping to use the site to get rid of some of the pieces you're no longer wearing, all you have to do is post your items to the app, where you can manage your account, chat with potential buyers, and even peruse the items others have listed. Once you make your Nuuly Cash (which is worth 10 percent more at Nuuly Thrift) you can also spend it both in stores and online at Urban Outfitters, Anthropologie, Free People, and more.
If you're not looking to completely get rid of your clothes but aren't opposed to the idea of renting them out, consider By Rotation. The app was founded in the U.K. by Eshita Kabra-Davies and they're taking the concept of the "sisterhood of the traveling pants" to new heights. Thriving on community, the platform is designed to allow users (which have been thoroughly vetted) to post the items in their closet and rent them to their mutuals on the app. Earning passive income on your clothing without parting with it? Truly the best of both worlds.
If You're Selling Specific Brands
If you are hoping to swap out any Levi's denim currently in your possession, it's time to take advantage of their trade-in program. With the intent of keeping their products out of landfills and in your wardrobes, the brand has given shoppers the opportunity to switch out their old Levi's jeans, jackets, and shorts with something new and exciting. Simply make a "trade in" appointment, where you can bring in up to five items at a time for review. And if everything is in pristine condition, then you'll receive a gift card with the balance of your items. But don't worry, if you're still hoping to safely get rid of items that aren't up to par, you have the option to donate them.
Staying true to its cool-girl roots, Ganni is putting their own unique spin on circular fashion. The Danish brand introduced its new Repeat marketplace to consumers in 2019 as a way for fans of the brand to enjoy as many pieces from their collections as they'd like. Upon signing up for the program, you'll have access to the closet of the style-set and have the ability to rent out, sell, or trade in your Ganni items. Gift cards with site credit will be handed out to go towards your next purchase.
At its core, Coach is a luxury leather-goods brand. The brand has fluctuated in and out of popularity but the ones that know, know that when it comes to quality and longevity their pieces are unmatched. The proof is in the success of its Re-Loved program. Although they went viral last year on TikTok for burning and destroying old bags, the company has since changed its tune and is leaning into an initiative meant to bring outdated styles back to life. Once you're finished enjoying your bag, just bring it to one of the stores and receive anywhere between $10 and $200 in store credit. You can then take comfort in knowing that it's being upcycled and transformed into something really great — i.e., any of the items in its Re-Loved collection, which is available for purchase online.
In early August, Badgley Mischka announced it would be the latest brand getting a piece of the proverbial secondhand and vintage pie. "The Archive" will be a new way for shoppers to both sell their pieces and shop from past collections. Once you create an account you can sell past purchases already in the system or fill out a form, for items not listed. The team will then recommend a quote for your listing, though you have the freedom to price it at your discretion with no commission fees from the brand. And similar to other brands, you will receive site credit for your items.
With the firm belief that making clothes is a lifetime commitment, contemporary brand Eileen Fisher designs clothes that are meant to last. They drive that point home with its Renew program, which gives their shoppers the chance to give their unwanted pieces back to be recycled and given a new home. You have the option to return an item to any one of their stores, regardless of what condition it's in and receive $5, per piece.The team will assess it, wash it (just to be safe), and repost it on their site alongside other recycled finds.
Heritage outerwear brand the North Face launched its global Clothes the Loop program as a way to encourage shoppers to be more intentional about the lifecycle of their clothes and help prevent them from ending up in landfills. You have the option of bringing gently worn clothing and shoes into any in-season (and outlet) store. In return, you'll get $10 reward to be used on your next purchase of $100 or more.
For more from the Cut Shop team, follow us on Instagram and Twitter, where we share our best new finds, favorite styling tricks, and more.