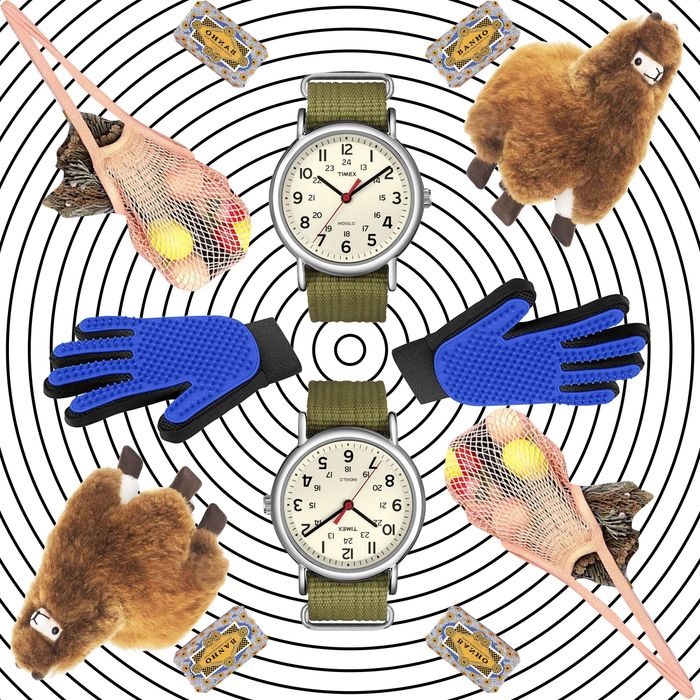 Photo: Courtesy of the Retailers
Forgot you had that White Elephant gift exchange coming up at work/book club/your full moon astrology circle? Or maybe you didn't forget, you just confidently planned to re-gift the foam roller your well-meaning mom got you over the summer, only to remember you Marie Kondo'd it in a fit of reorganizing fervor. The good news is, it's going to be fine — we rounded up a slew of the best weird, wonderful, and crowd-pleasing gifts under $40 on Amazon. Each one of these might end up becoming the most coveted thing being passed around the room. Oh, and so, so many of them are available for Prime shipping. Happy wrapping!
The Luxe Eye Mask
All the sudden everyone's Holly Golightly and can't sleep without a luxurious light-blocking mask. This under-$10 version is an affordable way to help someone develop a fancy sleep routine, and it's still made from 100 percent silk, available in a rainbow of shades.
A Life-Changing Cable
An extra-long iPhone charger is an super convenient item that almost no one will actually buy for themselves. No more crouching by the outlet to check email ever again!
Desert Chic Coasters
The most annoying thing about coasters is the wobbly stack they make when it's not margarita hour in your apartment. This cute felt set transforms into a faux succulent (no watering required!) when not in use.
A Charmingly Ginormous Bag
A sustainable classic that never goes out of style, Baggu's nylon shoppers in playful prints — like the nautical stripe pictured here — always make a great gift. This extra-large version can even double as a gym bag.
Minimalist Catchall
Junk mail never had it so good. This lightweight, powder-coated steel basket is a major upgrade from the shoebox/Tupperware/milk crate that currently holds knickknacks in most of our homes.
A Fuzzy Friend
Adorable and silky soft, this teeny model of an alpaca isn't just for kids — it'd make a great desk accessory for a pet-obsessed pal to grab as soothing, cheerful pick-me-up even on a crappy work day. Bonus: it's a great conversation starter.
The Gateway Smart Speaker
The cutest smart speaker in the land, this palm-sized Echo Dot is voice operated, includes Alexa, and can also be connected to other smart home features like lights and thermostats.
Make Your Own Matcha Set
A perfect gift for anyone looking to make their own matcha at home instead of paying $8 for one at the coffee shop. This three-piece set includes a layered whisk for additional froth.
The Bizarrely Satisfying Skin-Care Device
You might have experienced one of these during a fancy facial — if not, it's a very science-fiction–looking device that's meant to smooth skin texture and zap acne with a pleasant buzzing sensation, channeled through a glass wand. It's a fun, low stakes tool to turn your skin-care routine into a bit more of a pampering production, and a guaranteed way to freak out anyone who walks in on you doing it. This set even comes with a comb attachment for scalp health.
An Ingenious Mug Warmer
Ideal for anyone who only gets through half a cup of coffee before having to head to the microwave. This desktop warmer keeps a mug of tea, coffee, you name it at the ideal sipping temperature for as long as you need.
Luxury Cherries (Yes, That's a Thing)
Tart, dark, and soaked in rich syrup, these sophisticated cherries are perfect for a Manhattan or an adult ice-cream sundae, and the striking jar looks excellent on the shelf.
The Status Key Ring
You know how frustrating it is to force keys onto normal key rings? This stylish option means you'll never have to do that again.
A Set That'll Make Sweeping Fun
A very Scandinvian nesting set that's great for sweeping up toast crumbs, face powder, and bookshelf dust. Hang it on an exposed hook to make your home look like a shelter magazine.
DIY Kitchen Garden Kit
Like a chia pet for grown-ups, this from-seed herb kit is an 18-piece set with everything you need to raise cilantro, parsley, chives, and basil from scratch. Plus, plucking leaves from your own kitchen garden is the ultimate dinner party flex.
The Selfie Enabler
Unless you're a professional basketball player, odds are the current generation of phones are a little too large for you to hold comfortably in one hand. This collapsible pop socket makes them easier to hang onto, and doubles as a prop for selfies or standing up you phone to read a recipe. This marbleized one is chic, but still crowd-pleasing.
Games That Don't Require a Download
A lo-fi way to entertain squirmy kids, road-trip passengers, and the happy hour crew alike, this set includes five pads of easy-to-play paper games, from tic-tac-toe to hex (don't worry, there's instructions included).
A Seriously Substantial Soap
This hefty bar of Portugeuese soap comes wrapped in chic Art Deco paper and smells like fresh cut grass, verbena, and a squeeze of lemon.
Farmer's Market M.V.P.
An Industrial-Chic Watch
A true classic, wearing this timeless (ha) military-style timekeeper is a great way to stop looking at your phone. Stop getting sucked into TikTok every time you go to double check that yes, it is really dark out at only 4 p.m.
The Fancy Cheese Slicer
An upgrade from the dull butter knife most of use to divvy up our Gruyeres and smoked Goudas, this fancy-looking slicer uses a combination of a wire and a rolling stainless steel cylinder to get smooth, even slabs every time.
Delightful De-Shedding Gloves
This is the kind of thing you might imagine is a good idea while brushing your pet the regular way, and then completely forget about. Well, someone went ahead and made them, and by all accounts, they're a great way to de-fluff any kind of animal, while also doubling down on the actual petting. Plus, seeing the hair collected on them afterward is weirdly satisfying. Everybody wins!
A Woodsy Modern Candle
We couldn't make this list without a candle on it. This woodsy-rosy scent in minimalist glass packaging has a wooden wick that burns cleaner than cotton. It also apparently makes a charming crackling sound that might dovetail perfectly with that video loop of a burning fireplace.
A Spa-Worthy Robe
Waffle knit towels have been trendy recently, and for good reason — they're super absorbent, dry quickly, and look good a little bit crumpled. This cotton-blend robe brings all those perks to a spa-style wrap cut with deep pockets, and the price makes it a steal.
A Dedicated Grilled Cheese Maker
This extremely specific gift is almost shockingly well-designed for the price — it includes two handled toasting baskets, a specifically designated "melt zone" setting, and a tiny, adorable drawer for collecting crumbs. Panini maker who?
Aesthetically Pleasing Paper Clips
A cool, minimal desk piece to help them nail those 2020 organizational goals.
Clouds You Can Walk On
Like a pillow top mattress cover for the inside of your shoes, these thick, plush shearling insoles will insulate your feet from the cold seeping in from the ground — which is actually the main cause of ice cold toes.
Hanging Planter Trio
This generous set of three hanging planters can hold succulents, herbs, pothos plants, and whatever else those green thumbs are obsessing over these days.
A Sculptural, Glowing Moon
Is it just us, or is the moon having a moment? This textured, USB-powered orb glows just enough for some ambient reading light, and the minimalist wood stand lends it a sculptural vibe that definitely looks more expensive than it is.
Over-the-Top Slippers
Like a modern version of a Lana Turner–style marabou slipper, these crisscross faux-fur beauties combine super-soft fluff with a sole that's so sturdy, you can wear them to the coffee shop.
A Next-Level Morning Routine Accessory
Maybe all they want for Christmas is to sing along to Mariah Carey while doing a deep conditioning mask in the tub. This petite, waterproof Bluetooth number comes in a few different colors, and has a loop for easy hanging on a bathroom hook.
A Perfect Waffle Maker
The ideal iron for making the platonic ideal of a waffle — round, medium-deep, and crispy golden brown all over. Just like Eggos, but better! Plus, the slim size makes it easy to stash in apartment kitchens, and light enough to haul on a weekday morning.
Choose Your Own Adventure Mask Set
A favorite line of dewy skin obsessives everywhere, Dr. Jart is especially well known for problem-solving sheet masks. This set of six will help with everything from brightening to restoring skin's moisture barrier — and also makes a great snowed-in activity.
If you buy something through our links, New York may earn an affiliate commission.