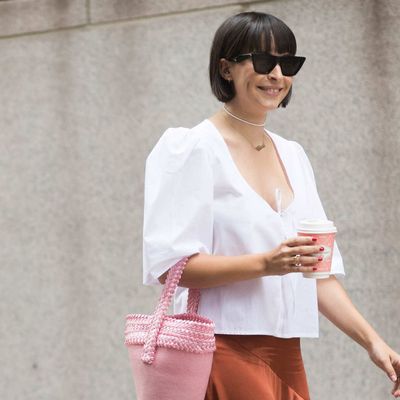 Getting dressed for work shouldn't be a bore. Welcome to Business Casual — here to make your weekdays easier.
What's in your closet right now? Chances are, you have a section devoted to white button-downs. Also likely: most of them are dingy from wear and tear. If that sounds familiar, it's time to spring-clean your wardrobe and get a few new tops to throw into the work-week rotation.
You could, of course, buy yet another practical white blouse, but why not take the opportunity to try something more interesting? Try a shirt with details that are creative but still professional, like a portrait-collar neckline, slightly puffed sleeves, or delicate pleats. Scroll on to shop some of our favorite non-boring, work-friendly white shirts.
If You Like Off-the-Shoulder Tops
This shirt isn't as revealing as a true off-the-shoulder top, but it still feels fresh for warm weather.
The poufy sleeves and covered buttons remind us of Jacquemus's designs.
If You Like Meghan Markle's Style
The Classic With a Surprise
Don't be fooled by the plain front — the delicate pleated back flares out to give your work outfit a bit of drama.
The tie at the waist creates the illusion of being nipped in without making you feel restricted.
The Best for High-Waisted Pants
The cropped silhouette is also good for skirts that hit above your belly button.
This tunic skims the bottom of your butt and looks especially cool with wide-legged trousers.
If You Want Something Simple
Ruching has a bad reputation, but here it gives the shirt some visual interest.
With its high neck and delicate embroidery, this blouse touches on the prairie-girl moment happening on Instagram.
Each product featured is independently selected, but may include paid promotion or additional compensation from our partners.