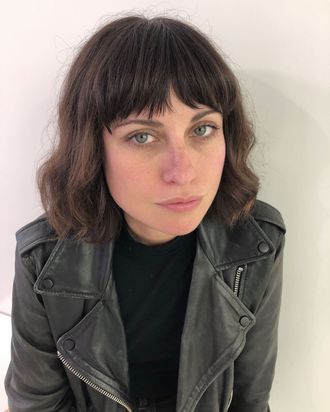 Photo: Courtesy of Elisabeth Lovell
Want more skin care? Join our Facebook Group, The Beauty of It All.
Elisabeth Leary, the founder and creative director behind salon and beauty shop WHITEROOM Brooklyn, used to "attack her skin." "I started a rigorous and ill-informed skin-care routine in my teens," she remembers. "I started getting acne and [used] every harsh chemical under the sun. I was left with not only acne but raw, flaky, dried-out skin."
Then she tried a more gentle and holistic approach. Though she explains, "I won't claim to use a purely all-natural regimen. We all need a little science to help us out, especially when anti-aging is involved." Leary tries to avoid unknown ingredients like fillers, parabens, and overwhelming fragrances.
She's also learned to incorporate the counterintuitive into her routine. With combination skin — dry and oily — she was afraid of adding more oils into her rotation. To her surprise, oils and serums are what ultimately changed her skin for the better. She says of one in particular, "Nothing has ever made my skin look so nourished and luminous." Read on for the holy grail product — and why it's worth its $185 price tag.
The Cleansers
"I like to double cleanse at night to thoroughly remove the makeup and grime from the day. An oil cleanser on its own doesn't feel like it gets my skin totally clean, but I start with one to break up what is on my skin. I like the Grown Alchemist as an oil cleanser in particular because it is a lighter formula that slightly foams up and rinses off pretty clean."
"This is is a gentle exfoliant. It has a light gel consistency and I think it is most effective when left on for three to five minutes. If left to sit, you will start to feel a slight tingle, but nothing too abrasive. It contains 2 percent salicylic acid, which gently exfoliates, detoxifies, and removes dead skin cells. It also contains coconut oil which hydrates and nourishes the skin."
The Toner
"I apply this after cleansing to rebalance my skin. It brings the skin back to its natural pH after cleansing and prepares the skin to properly absorb moisturizer. Rose and chamomile also calm the skin and reduce redness after cleansing. After applying, I definitely feel like my skin absorbs my serums and moisturizers better, and overall looks softer and brighter. When I don't tone, it takes a bit longer for everything to absorb and my skin doesn't feel as soft to the touch."
The Serum
"I learned about Vintner's Daughter through all the amazing press they were getting when the product first came out. When they reached out to me about carrying them at WHITEROOM, I was excited to try the product. I immediately placed an order after seeing how good my skin looked after using it for only a couple of days. The holy grail of facial serums, this oil contains 22 whole plant, cold-pressed botanical ingredients. Nothing has ever made my skin look so nourished and luminous.  I am for sure a believer."
The Face Roller
"Rolling reduces puffiness and increases circulation. I roll in an upward motion and around my eyes to help de-puff. I'm not sure I actually notice a huge difference, but it feels good, and I do think my skin feels softer after doing it."
The Eye Cream
"Joanna Vargas is a well-known facialist who has a studio in New York, along with her own line of skin-care products. I learned about her line through friends who had gotten facials there and loved the products. I often avoid eye creams because they don't feel like they fully absorb, are heavy, and make my makeup run. I like this one because it is lightweight. I never look in a mirror half way through the day and find myself looking like a raccoon. This eye serum also allegedly reduces puffiness and improves elasticity."
The Lip Serum
"Sleeping in this treatment keeps my lips hydrated and even a little plumper when I wake up."
The Moisturizer
"I wear this moisturizer day and night because it is super-moisturizing but not too heavy or greasy. All of the ingredients in this line are naturally derived. This moisturizer contains galactoarabinan, which is a plant collagen derived from the larch tree that allegedly promotes cell turnover."
The Face Masks
"Once a week, I will use the Joanna Vargas exfoliating mask (below) and follow it up with a Verso sheet mask. It is the most hydrating, softening mask I have ever used. I make sure I have one or two with me when I travel. It brings everything back to life after a long flight.
This sheet mask contains something called Artificial Moisture Factor, which allegedly supports the skins ability to retain moisture. The effects can reportedly last up to 120 hours, and your skin will be noticeably softer and more hydrated. I have noticed that when I use the Verso mask my skin does look more dewy and plumper for at least two days. The hydration it offers I think lasts for closer to three or four days even after the other effects have worn off."
"This mask is a super-grainy clay mask that has volcanic ash to draw out impurities. I apply it to clean skin, let it dry fully, and then rehydrate with water and use the grainy texture to scrub and exfoliate further. I only use this once a week."