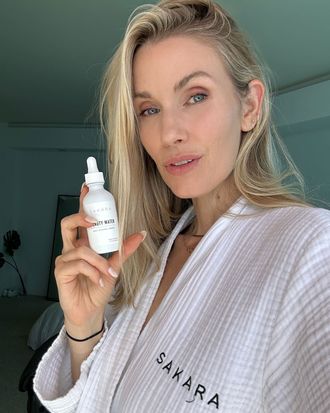 Whitney Tingle founded the lifestyle and healthy-meal-delivery brand Sakara with her childhood friend Danielle DuBoise in 2012 when they were dealing with health issues including eating and gut disorders and hormonal cystic acne. They had tried dozens of fad diets that didn't work but then discovered that, for them, "the solution was nourishing with the right combination of foods to give our bodies what they need to function at their best," Tingle says.
It's only natural that they wanted to share their journey and what had worked for them with those facing similar struggles. This philosophy to help others heal, supported by Tingle's certifications in nutrition and yoga teaching, has led the duo to work with the likes of Lily Aldridge, Drew Barrymore, and many more on their paths to wellness.
Supporting others on their journeys requires giving back to the self, too. In addition to using food as a healing method, Tingle ensures that she makes time for walks, ultrahydrating body oils, and wellness podcasts. "Self-care reminds me how vital it is to truly nourish myself no matter how busy each day gets," she says. "Ending the day with small rituals, whether beauty-focused or otherwise, makes a huge difference in how I show up in the world."
.

Here, Tingle's a.m. routine:
7 a.m.: I start with 20 ounces of water and add Sakara Beauty Water Drops. I leave it at my bedside the night before so it's ready to go first thing. That's also when I take my Sakara Complete Probiotic Formula to support skin health and ease bloat.
7:30 a.m.: A quick walk outside to fully wake up my system and start my day with a deep breath.
7:45 a.m.: My son and I love to share a Sakara breakfast and homemade fresh juice with cucumber, celery, and lemon. When I have time, I also love to make him homemade superfood pancakes with hidden ingredients like spinach mixed in and whatever else we have on hand.
8 a.m.: After I take a quick shower, the Osea Malibu Undaria Algae Body Oil is a must for me because it's so hydrating.
8:05 a.m.: I typically spray my face with the Serotoner from CAP Beauty and follow with the Le Prunier Plumscreen, which is skin care and SPF in one.
8:15 a.m.: I always reach for Act+Acre Plant-Based Dry Shampoo to freshen up my hair quickly.
8:30 a.m.: On a day that I don't have shoots or big events, I try not to use much in terms of foundation on my skin. So I'll do a cheek tint and highlighter from Westman Atelier and a swipe of ILIA mascara. My goal is to create skin that is healthy and doesn't need to be covered with a lot of makeup.
8:35 a.m.: Last but not least, a swipe of my favorite deodorant from Agent Nateur, holi(Rose) N4, which is a collaboration with my friend Shiva Rose.
.

Tingle's p.m. routine:
8 p.m.: I'll slip on my Cellreturn LED mask while catching up on podcasts that keep me up to speed on the latest research in health and wellness. The Peter Attia Drive and The Mindbodygreen Podcast are two favorites.
8:20 p.m.: I use my Sonicare toothbrush and Revitin toothpaste (in the morning, too!). Your mouth is a mucus membrane; it soaks up what you put into it. Don't put anything into it that you wouldn't eat. Revitin is made by my dentist, Dr. Gerry Curatola, and it contains clean ingredients plus prebiotics and vitamins for a healthy mouth and oral microbiome. He says it's so clean you could put it on a cracker and eat it!
8:25 p.m.: I love to moisturize before bed with MUTHA Body Butter. I started using this when I was pregnant and still use it two years later. It makes my skin so soft and hydrated.
.

On finding confidence:
My journey to confidence was not an easy one. For a decade starting in my late teens, I struggled with terrible cystic acne — big, red, painful bumps covering my face. It affected everything from my self-confidence to my career to my love life. I saw all the fancy dermatologists I read about in the magazines, and they all gave me the same solution: another megaround of antibiotics or a prescription for Accutane. Again. I had taken all the pills. I had tried all the creams, the lights, the lasers, and everything in between. I had seen acupuncturists, shamans, healers, and even a rabbi. I eliminated dairy and chocolate and became a vegan. But none of it seemed to work. It wasn't until I discovered that I didn't have a skin problem, I had a gut problem, that my skin finally changed. These discoveries transformed the health and look of my skin, which is now completely clear of acne, and fueled my mission to create Sakara, a food and nutrition company that gives you the tools to transform your own health and life.
.

On the beauty-marketing ploy that makes her cringe:
Using unregulated words like natural and clean to promote products and make people think they are making a better choice. I love to shop at Credo knowing it upholds high standards for the products it carries and will do the diligence for you.
.

On the beauty industry as a whole:
Before we started Sakara over ten years ago, I would ask my dermatologist if my acne was related to my diet or if I needed to change the way I ate, and the answer was always no. Now we know that skin health has everything to do with food and nutrition. I hope in the future that fact will be more widely known. The industry still very much looks for quick fixes and cover-ups versus focusing on how to create really healthy skin using the right ingredients and products that support beauty from the inside out.
.

On beauty and TikTok:
One beauty trend I've seen on TikTok and can't stand is slugging with Vaseline. The thought of covering one's face in petrochemicals and letting them soak in overnight in the name of beauty truly makes me cringe. One trend I love is using an ice bath for your face. You get a bunch of the benefits as you would with doing a full-body cold plunge but by just doing your face. It calms the nervous system and gives great beauty benefits like de-puffing and increased circulation.
.

On overhyped ingredients:
I have two: benzoyl peroxide and salicylic acid. These ingredients are highly used in anti-acne treatments, but they disrupt the skin's natural microbiome, rather than working to heal imbalances or treat the root cause of acne, which starts in the gut. Heavy artificial fragrances are also a huge turnoff for me, and I will not use products that contain them. Many are known endocrine disruptors and just aren't worth the beautiful scents they may offer. I'm always looking for great, totally natural perfumes, if you have any suggestions!
.

On the ingredients she loves:
I love oils. I've seen amazing results with oil cleansing. I also love to use oil for hair treatments and as a body moisturizer. Again, it is important to buy from brands that are using high-quality natural ingredients, not synthetics, when choosing an oil product.
.

On deciding what's worth trying:
I try to be careful about how many products I accept. I know that trying too many different formulas at once can wreak havoc on my skin. I'll check the brand's website or ask for an ingredient list prior to testing. Usually, a good reference point is if it's sold or will be carried by Credo. If not, dropping the ingredients list into EWG's Skin Deep lets you build your own report that gives you a rating on the safety of each ingredient. I appreciate trying new launches from brands I know and trust, just as I love learning about new ingredients and keeping up with the latest innovations in skin care, hair care, and beauty.
.

On the hero product in her routine:
I absolutely love Living Libations Best Skin Ever Sea Buckthorn Oil and have used it for years now. The trick is to use it as an oil cleanser and remove it with a washcloth — a true game changer for hydration and improved texture. Danielle and I are both big fans of Nadine Artemis, the founder of Living Libations, and we had her on the first season of The Sakara Life Podcast.
.

On the recent beauty discovery she now can't live without:
I love my newest microcurrent device, PureLift Face. It stimulates the muscles underneath the skin for a face-lift effect using a triple-wave electrical frequency, like EMS, so it's a little stronger than some of the other devices out there. I love doing this in the morning or for event prep. I discovered this via Piret Aava, a.k.a. the Eyebrow Doctor.