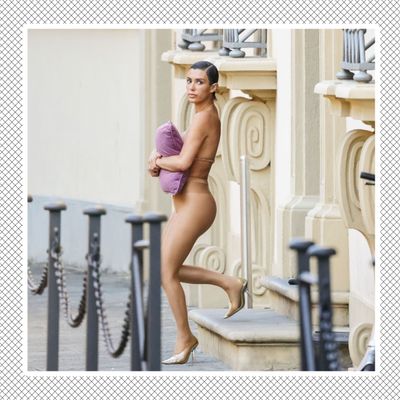 Photo-Illustration: by The Cut; Photo: COBRA TEAM/BACKGRID
The tabloids refer to her as Kanye West's "wife" in scare quotes. She is photographed by the paparazzi constantly, often while wearing pantyhose in new and inventive ways. She might be banned from one particular Venice water-taxi company. So who is she? I think it's finally time we all figured it out. To start: Her name is Bianca Censori, and she is an international woman of mystery who has quickly become one of the tabloids' favorite new characters. Here are the crucial facts you need to know about her.
Kanye West's "wife"
Censori first came to the fore in January of this year, when TMZ identified her as the "mystery blonde" West had been hanging out with at the Waldorf Astoria hotel in Beverly Hills. Shortly thereafter, the gossip outlet reported that West had actually married her in a small private ceremony in Los Angeles. But it appears the marriage was not and is not yet legal: West and Censori never filed for a marriage license. That's why the tabloids consistently refer to Censori as West's "wife."
Also: Just before getting married, he released a track called "Censori Overload" in which he raps that the Bible says to wait to have sex until marriage. So there's that.
Whatever their arrangement, it seems West and Censori met in a fairly traditional way: at work. Before she spiritually married the controversial 46-year-old rapper, Censori was reportedly an employee at West's embattled Yeezy brand. She is from Melbourne, Australia, originally, but according to her LinkedIn page, she has been working as an architectural designer at Yeezy in Los Angeles since 2020. She is either 27 or 28 years old.
What exactly does a Yeezy architect do? That is a mystery unto itself. West's company has seemingly only completed one architectural project in the last five years: a small collection of prefab dome houses inspired by the Star Wars planet Tatooine that were reportedly designed as low-income housing and built on a dry plot of land near West's Calabasas home. Unfortunately, county officials ordered that the homes be demolished in 2019 after West failed to secure necessary building permits.
Censori is listed as the "Head of Architecture" at Yeezy on her LinkedIn page.
A budding fashionista
While it's unclear if Censori is still working at Yeezy in any official capacity, over the last several months, she has clearly served as West's fashion muse. As countless tabloid headlines will tell you, she is often seen accompanying him to events in increasingly daring outfits, most of which involve sheer pantyhose. In June, she wore a dresslike object to church services with West that included sheer black pantyhose pulled down tightly over her head. Later that month, she was photographed walking into a KFC with West wearing only sheer black pantyhose on her lower half and no shoes.
Censori debuted several similar looks on a trip to Italy with West over August and September. She was photographed leaving the couple's hotel in Florence wearing head-to-toe nude pantyhose and carrying a purple pillow to cover her chest. For another day of sightseeing, she wore nude pantyhose on the bottom and another pair of nude pantyhose cut into the shape of a bralette on the top. Then last week, the couple headed to Germany, where Censori was photographed wearing one long piece of nude pantyhose to pick up kebabs to eat in a park. It is not known where West and Censori are getting all these pairs of pantyhose from; perhaps they have a regular wholesale order.
An unwelcome tourist?
At the end of last month, Italian paparazzi caught West and Censori in a compromising position while they were riding in a Venetian water taxi with an unnamed friend. Neither West nor Censori has said anything publicly about the incident, but a representative for the water-taxi company, Venezia Turismo Motoscafi, told the Daily Mail that the couple is now banned from hiring its boats. For what it's worth, the spokesperson said the driver didn't witness "these obscenities" because he was too busy operating the boat.
An individual who has no time for jealous friends
Because Censori doesn't speak directly to the public — she reportedly deactivated her Instagram account when she "married" West — we can only guess what she is thinking. The tabloids, naturally, can only guess as well. The Daily Mail, however, has taken to interviewing supposed friends of Censori who are worried that she has become isolated from her previous social scene by West.
"Bianca is stuck, and her friends are trying to save her, but no one can because of the blockades Kanye has put up [around her]," a source told the tabloid. But another source said Censori wants nothing to do with these friends, actually.
"She's shut everyone out and told one of her former friends to 'fuck off' when they tried to ask if she was okay," the source revealed. "She is saying that her friends are just jealous of her stardom."
And according to "Page Six," she's not talking to West's ex-wife Kim Kardashian, either. "Kim is actually a firm believer in letting people be on their own journey and figure out life," a source told the tabloid of Kim's (minimal) involvement in West and Censori's relationship.
We can agree, definitely, that Censori is on her own journey and figuring out her life, one pair of pantyhose at a time.