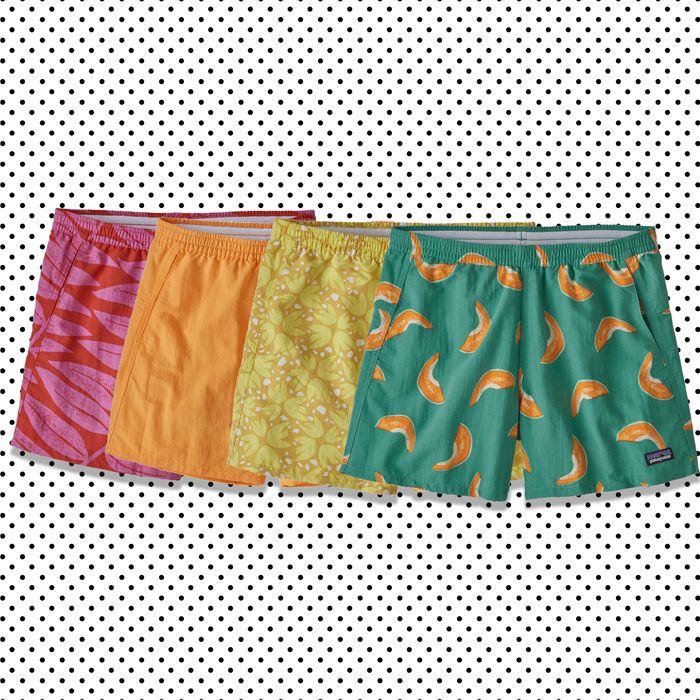 Before the pandemic, most office workers only wore shorts on the weekends thanks to uptight corporate dress codes. But all that's changed now. Those Zooming from home have found they can wear shorts seven days a week if they want, and without freezing office air conditioning, they're probably in need of a few more pairs. My co-workers have been asking: What are the best shorts to buy?
For me, one solid answers is Baggies. But when I said that, many of my colleagues had no idea what I was talking about. What is … Baggies? they asked. Good question.
Baggies are a style of short from Patagonia. They cost $55 and are made of 100 percent recycled nylon, meaning they're water repellent and can be worn as swim shorts. For women, they come in two lengths: five-inch or 2.5-inch, also known as "Barely There," and for men, five-inch or seven-inch. Patagonia founder Yvon Chouinard first designed them in 1982 because he wanted a pair of shorts with mesh pockets that were big enough to fit two tennis balls. (This might explain the name "Baggies," because in reality, they're not baggy at all, at least for women.) They also had to be no-fuss, quick-drying, and durable enough for outdoor activities such as climbing, hiking, and whatever else people do outside.
In short, they're shorts designed for people who do stuff. As a Patagonia spokeswoman told me: "If it's been done, it's been done in Baggies." But they're also great for sitting inside all day and doing nothing. Personally, I've been wearing my five-inch Baggies to work from home. Their nylon fabric is so light that I feel naked, plus it's spill-proof for when I inevitably drop sandwich juice in my lap. They also transition nicely "from day to night" in our current situation, meaning they won't get ruined if you sit in the grass with some take-out, and — if you really must be active — they'll keep you cool while walking or biking long distances.
Baggies have been quietly popular with outdoor types for decades, but they've gained fashion cachet in recent years as gorpcore, or the REI version of normcore, became trendy, particularly in menswear. I only bought mine a few seasons ago because the majority of my gorp-y guy friends owned a pair and I wanted to see what the fuss was all about. (The Strategist has also recommended them many, many, many times.) But I've come to appreciate their design on my own.
What differentiates Baggies from other shorts is their silhouette. The nylon fabric gives them a sort of stiffness, meaning they flare outward and float elegantly around your leg, instead of rubbing up against it — almost like a hoop skirt. The hem slopes downward toward your crotch, as opposed to cutting straight across, which helps give someone like me the illusion of thigh muscles. And their five-inch inseam is the perfect length: short but not too short. ("Barely There" is not my thing.) All in all, I find them flattering, which is not something you can say about a lot of hiking shorts.
Really, though, Baggies are not that complex or interesting, which is I think is part of their appeal. A male friend of mine compared them to an Air Force 1 sneaker or a Bic lighter in that they're a "super iconic, lasting piece of design" that hasn't changed much in 38 years. You'd be hard pressed to find a casual outfit that they don't fit seamlessly into. I usually throw my black pair on with a T-shirt and sneakers and don't think much more about it.
But it's this precise alchemy of form and function that has design nerds and people who care about the cut of their clothing still ga-ga over them. (Get Baggies in the MoMA!) Lawrence Schlossman, a brand consultant, podcast host, and self-described "non-outdoors person," is one of the biggest Baggies enthusiasts I know of. "No one can convince me that there is, pound for pound, a better pair of shorts," he told me one day this summer.
Schlossman collects them with the turbo passion of a hypebeast and the geeky obsessiveness of a forager. He owns about 12 to 15 pairs himself in a variety of colors ranging from sea-foam to salmon, and while "preparing" for our call, he put orange-colored ones in his cart. He's a fan of Patagonia as an ethical brand, and finds the shorter, five-inch Baggies to be "quite sexy" on a man. (The seven-inch, however, are "a joke.") As we spoke, he wore a navy-blue pair with a Western-style shirt, and said he planned to leave the house that day in some form of loafers — maybe even Gucci! — proving that it's possible to elevate the shorts to a more fashionable sphere (although Schlossman warns that his styling choices should be repeated with caution, as he has "delusional levels of self-confidence.")
Of course, not everyone loves Baggies — and few as much as Schlossman. A female friend of mine says she doesn't think they flatter her butt, for example, and wears the Patagonia Stand Up shorts instead. Another male friend complained about being irritated by the mesh lining in the men's style, and prefers a similar, lighter, and more expensive pair from Snow Peak. Others find the nylon fabric too stiff for lounging around the couch, or just too out of place. And if you don't want a pair of shorts that everyone else has, then Baggies aren't for you.
Once you become aware of Baggies, though, it's hard to unsee them. In fact, Schlossman refers to this moment in the calendar year not as "summer," but rather, "Baggies season." It starts as soon as it hits around 68 degrees, and can go into fall, depending on the weather. "It's a special time," he said fondly. He almost sounded like an outdoorsman.
Shop the story
Various colors available in sizes XS - XL.
If you buy something through our links, New York may earn an affiliate commission.