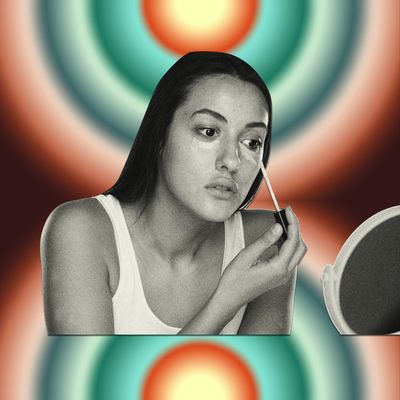 Photo-Illustration: by The Cut; Photo: Getty Images
Dear Beauty Editor,
All right, I seriously need under-eye-concealer-creasing help. I feel like I've tried it all but still have this issue where my concealer creases within minutes of application. Currently, I'm prepping with Origins GinZing Eye Cream, then I use either the NYX [Bare With Me] Concealer Serum or the Winky Lux [Peeper Perfect] Concealer that went viral on TikTok. I've also tried Maybelline Age Rewind [Eraser Multi-Use Concealer]. Help, please!
Sincerely,
Casey
Casey, I had a hunch about what was to blame for your creasing problem, and then I spoke to a couple of makeup artists, who supported my hypothesis: We think makeup videos have led you astray! And you're not alone. "A lot of people are getting their application information from Youtube University, which is dicey because applying for quick visual effects is a different conversation than applying for long-lasting results," says makeup artist Nicky Posley.
In the years since makeup tutorials first started appearing online, their visual style has changed significantly. As the respective algorithms of YouTube, Instagram, and TikTok have prioritized grabbier content, shorter videos with tighter editing and more dramatic visual impact have become the norm. Consequently, you see more creators applying large amounts of product quickly (you hardly ever see extended cuts of all the blending required) to larger areas of their faces. "Under the eyes, it's always, like, one big swoop of aggressive concealer," says makeup artist Deanna Melluso. It happens with skin care, too — juicy dollops and dripping drizzles just look better on camera. As a result, "I think a lot of people are overproducting," says Melluso.
Obviously, I can't say for sure if this is your issue, but I often watch people apply their makeup on the subway and in Sephora, and I've noticed a general trend toward overapplication, so I thought it was worth pointing out.
With that said, let's move on to some action items, shall we? Prepping with eye cream is a great idea, but it needs to sink in completely before you put on your concealer. "If you apply a concealer with some slip right after an eye cream with some slip, they're going to start moving immediately and you'll get creasing," says Melluso. If you have dry skin, Posley says you might consider applying a rich eye cream (he likes B3 Balm Nourishing Eye Cream) at night so you wake up to skin that's more hydrated to begin with. Then, in the morning, you can use a lighter (read: faster absorbing) eye cream that helps with de-puffing, brightening, and those types of a.m. issues. Melluso likes Chanel Hydra Beauty Micro Creme Yeux and MAC Fast Response Eye Cream, while Posley's quick-absorbing pick is Youth To The People Superfood Hydrate + Firm Eye Cream. Use your ring finger to tap a minimal amount ("like two dots," says Melluso) onto your orbital area, staying away from your lash lines. Then wait for the eye cream to absorb completely before you apply concealer (it can take a few minutes, says Posley).
Next, it's time to choose your concealer. "Let's dispel the myth that there is a magic concealer formula that won't crease," says Posely. "They all eventually crease, because the skin is expanding and contracting underneath." But, in general, you'll minimize that problem if you use a tiny amount of a full-coverage concealer in a cream or solid formula, rather than a generous sipe of a sheer or "hydrating" concealer that's the consistency of a lotion or serum. (Although the three concealers you mentioned have a decent amount of coverage, they all have fluid formulas with a good amount of hydration and slip.) Melluso swears by the solid formula of Laura Mercier's classic Secret Camouflage Concealer ("It's my go-to, cannot live without it,") and also likes the creamy Dior Forever Skin Correct Full-Coverage Concealer. "They both have some tack, so they stay put," she says. Posley's favorite concealers are also highly pigmented (a.k.a. full-coverage) with creamy, sweat-resistant formulas: Danessa Myricks Vision Cream Cover and Estée Lauder Double Wear Concealer.
There are a thousand ways to apply concealer, but the consensus of professional makeup artists is that using less product (and layering) is more effective than globbing on a ton at once. Start with a miniscule amount and tap, tap, tap (with finger, brush, or sponge) to blend it in. The other general rule: Don't begin by applying the concealer directly to your under-eye hollows. Start farther away (below the hollows, at the orbital bone, or below the inner and outer corners) and then work your way toward the hollows, without ever getting too close to the lash lines. Once you've blended, step back and see if you need more coverage; if you do, repeat the process.
If you use the right type of concealer and apply it sparingly (only layering on more if you need it), you'll notice your makeup is less likely to crease. But, for added insurance, you can set the area with a very light dusting of loose translucent powder. Posley suggests waiting a few minutes for the concealer to settle, then tapping it with a dry wedge sponge for a final blending before applying your loose powder (he suggests Danessa Myricks Evolution Loose Powder or One/Size Ultimate Blurring Setting Powder). Melusso also likes to wait a minute or two and do a final blending (she uses a fluffy brush), but she says she'll only set the area with powder if someone has oily skin (her pick is Laura Mercier Secret Brightening Powder For Under Eyes).
Give the strategies (and maybe some of the products) above a try. And if you like the results, do us all a favor and make your own video to share online — we need to spread the word that less is definitely more.
Eye Creams
Concelear
Loose Powders
Send your questions to AskABeautyEditor@nymag.com. (By emailing, you agree to the terms here.)