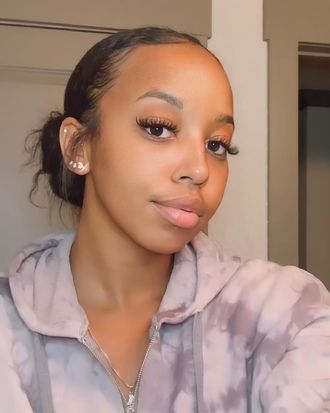 Photo: Courtesy of Lexie Brown
When Glossier partnered with the women of the WNBA to celebrate their Body Hero collection in the fall, Lexie Brown knew it was about time. "I actually found it shocking that we hadn't had any beauty partners yet," said the Minnesota Lynx player. "Female athletes are great spokeswomen for these types of products." After all, who better to talk about caring for your skin than women spending hours sweating on the court?
Admittedly, Brown feels "blessed" not to have any major skin problems, save for the occasional hormonal breakout that pops up around the time of her period. But depending on the time of year — off-season, preseason, or in-season — the basketball player will work out anywhere from two to six hours a day and take as many as three daily showers. In short, her skin goes through a lot. "I've definitely always paid super-close attention to my skin-care routine," she says. "Because of the vigorous activity I do every day, I have different routines for different parts of my day."
It's a complete 180 from previous years, when she'd focus on makeup instead of skin care. "I used to think that I needed to wear a ton of makeup all the time, but I think everybody had that stage when they were younger," she remembers. "As I've gotten older, I have learned to embrace my natural skin a lot more." Getting there involved some ill-advised experimentation with Proactiv ("I saw the commercials everywhere, and I started to believe that I [needed it], but using it only made my breakouts worse!") and spending time learning about skin care on YouTube. "Over the last five years, we've seen so many more women of color that are beauty influencers, like Jackie Aina and Teaira Walker, and I'm really happy to see that the beauty standards are changing," she says.
Below, a look at her routine in the shower and after the shower. Read on for the body butter that's helped heal her bruises and scars, the drugstore serum she's been using for two years, and the glowy, but never sticky, oil mist she loves.
In the Shower
The Cleanser
"I love using the Cetaphil face wash. It's a super-gentle cleanser that I use in the mornings, after workouts, and wearing a full face of makeup — it really is an all-in-one face cleanser. It has a milky texture WITH NO SMELL. That's my favorite part — I really can't stand having a scent on my face, and that sometimes irritates my skin as well.
My dad actually used Cetaphil before I started using it, and I decided to give it a try because he has a very similar active lifestyle. Now, I have been using it for over five years. I have seen mixed reviews about it, but everyone's skin is so unique, and I have learned throughout the years that my skin thrives when it has simple products on it."
The Oil Wash
"I thank Glossier every day for introducing me to their products. This body wash has been AMAZING. It smells so good and pairs perfectly with their oil mist. I love how it comes out like a gel, but once you mix it with water, it turns into a foam. As a person who sweats a lot daily and is super-active, it's important to have products that deeply clean my whole body without drying it out. I take two to three showers daily, so this has been a lifesaver."
The Exfoliating Wash
Photo: Retailer
"I randomly discovered this body wash at the store because I was in a rush. I chose it because it smelled so good — it smells like dessert, like a brown-sugar and sweet scent; it's super-strong and lingers in the shower and on your skin — but I continued to use it because of the exfoliating effects. I never realized how important exfoliating was until I started getting wax treatments. I kept getting ingrown hairs and dark spots and never knew why. After some research, I discovered that I should implement exfoliation into my routine, and it has helped so much — now, I exfoliate four to five times a week."
After the Shower
The Body Lotion
Photo: Retailer
"My skin can get super-dry, especially right after showering. I have used cocoa butter on my skin since I was a little girl. I love the smell so much but also the texture. I have used other brands where the lotion has been lighter and milkier, but I love this brand because it is thicker. Once again, it is another really inexpensive product.
It is also amazing for any scars or bruises that I get from playing basketball — the combination of cocoa butter and vitamin E reduce the appearance of any marks, wrinkles, or scars on your skin."
The Body Oil
Photo: Retailer
"I like to use this oil mist when I'm going out somewhere because I love how it makes my skin glow. I don't really need my skin to glow while I'm in the house, but if my skin needs it, I will absolutely use it. It has the same scent as the daily oil wash, so I usually use them together. It's amazing at keeping the moisture in after using lotion. When you see oil, that might be a turn-off, but it absorbs right into your skin and is dry to the touch."
The Toner
Photo: Retailer
"Witch hazel has changed my LIFE! I get the most random bumps on my forehead and chin, usually around the time of my period. I used to just let them run their course, but witch hazel has helped me prevent them from even happening.
I only use it at nighttime, after my night skin routine. It is definitely the most aggressive skin-care product I use on my face, but it is very necessary. I use a cotton round to make sure I apply it evenly all over my face and neck, but if I want to take care of just one spot, I use witch hazel with a Q-tip or toothpaste overnight — I don't know who taught me to put toothpaste on pimples, but it's worked for me for years!"
The Serum
Photo: Retailer
"My favorite skin care is No7. I started using it two years ago, and it has become a staple in my routine. I use this daily, both in the morning and evening, and it makes my skin look so glowy. It's another super-lightweight product that absorbs right into your skin — I'm huge on using lightweight products because I hate feeling like my skin is being weighed down or my pores are being clogged up; that's probably why I don't like to use makeup. It's a super-brightening product as well, which I love, because in the fall and winter I get dark circles under my eyes."
The Moisturizer
Photo: Retailer
"I can't talk enough about how amazing the No7 products have been for my skin. As a woman of color, there isn't enough discussion about how important it is to protect your skin from the sun, especially your face and neck, and I love that this day cream has sun protection. It's the perfect lightweight moisturizer that will get you through the entire day."
The Face Mask
Photo: Retailer
"When I feel like my skin has been going through a lot — stress, makeup, etc. — I usually have a self-care evening and that includes a face mask. I am a very simple person, and I think the most expensive product I own is this treatment. I actually received a few of these as a gift, but I fell in love! They feel super-refreshing, and your face will feel renewed."
The Lip Gloss
"99.9 percent of the time, you will find me fresh-faced. Eyelash extensions have really been a game changer for me, so these days my most purchased beauty product is lip gloss. From the texture to the scent to the wear-time, Fenty lip glosses are absolutely my favorite. I especially like the colors Fenty Glow and Diamond Milk."