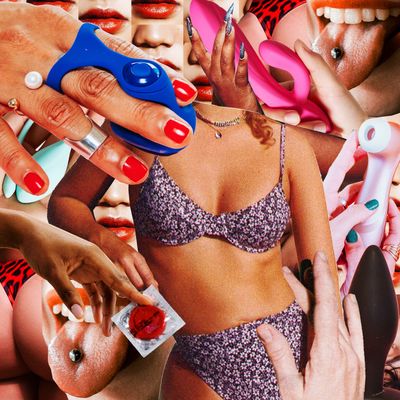 Illustration: Marylu E. Herrera
This week, a woman delights in her kinky side after a vanilla relationship: 29, single, Brooklyn.
DAY ONE
8 a.m. Good morning! My dog gets me up bright and early, which I appreciate. She's also afraid of everything, so our trips outside are short and sweet.
8:15 a.m. Back inside, back in bed. Peruse Feeld for a bit before starting work. I'm a creative director at a marketing firm in the entertainment world and every day is a busy day, though luckily I am mostly remote.
11 a.m. Matched with a guy, Jared, on Feeld. We chat for a bit and he invites me out tonight for drinks and a play party — which is like a sex party, but a little more casual. I agree, but I'm a little nervous. I haven't been to one of these in ages because of the pandemic. I was also in a very vanilla relationship up until about a year ago. I met him on Feeld and we dated for seven months, but he wasn't interested in exploring sex outside of our relationship. After we split, things got a little dark for me, mentally. After a lot of therapy and self-care, I'm finally feeling back to myself.
2 p.m. Walk the dog again and think about my first play party, back in 2018. I had sex with four guys that night and have loved play parties and the kink community ever since.
7 p.m. Shower and make myself a drink to calm my nerves before my night with Jared.
8 p.m. We meet at a bar in Bushwick around the corner from the party. I'm nervous and fiddle with my phone while I wait for him to arrive. We both order vodka sodas and move to the back of the bar to chat. We discuss our lives and experiences on Feeld. He's quiet and I can't really get a vibe, but he's tall and hot, and he pays for my ticket to the party. We pop into a liquor store and grab a bottle of Prosecco before heading over.
9 p.m. The party's at a brownstone in Bushwick. When we get there, we're met with the sounds of spanking and music. There are a lot of people here. Jared and I make our way outside to the bar and start chatting with a few people he knows. After a while, we start making out, and then he leads me to one of the play rooms — private rooms for whoever you want to play with, be it one person or ten. He's definitely dominant, and I'm a fan.
9:30 p.m. We fool around and have sex for a little bit, but he's having a hard time keeping it up. We decide to go back out and mingle for a while.
11 p.m. Back out by the bar and sufficiently tipsy. I start chatting with a group of guys and mention that I'm a bratty sub, which piques the interest of a cutie — Kyle — who looks to be about 40. Jared, Kyle, and I decide to go up to a play room and pretty soon, I'm naked with two cocks in my hands. Kyle flips me over and starts fucking me from behind while I blow Jared. We rotate a few times and notice another guy watching us from the doorway. We invite him to join, and I swear he has the biggest dick I've EVER seen. My hand can only get three-quarters of the way around it. He starts fucking me from behind while I continue to blow Jared. We flip around again and Kyle stands over me to finish all over my stomach. Pure ecstasy.
12 a.m. After a bit more playing, we clean up and head to the living room. I exchange numbers with Kyle while Jared goes off to play with another girl. I'm starting to get weird vibes from Jared. He asked to fuck me in the ass without a condom in the other room. I obviously said no. I take my sexual health and safety super-seriously, and it showed me that he doesn't. I won't be seeing him again after tonight.
1 a.m. On my way to House of Yes with Jared and a few other people from the party. At one point, there are seven of us in a bathroom and I'm peeing while everyone is doing coke. I don't partake but don't judge those who do.
3 a.m. Finally on my way home. What a night! I'm sore and satisfied and want more.
DAY TWO
9 a.m. Awake and hung-over. Reveling in the wild night I had. I get a text from Kyle — yay! He asks what I'm doing later. I'm hosting a birthday party for my dog (lol), but tell him I'll be in touch. He's married with kids and in an open relationship. He lives in Jersey but will be in Brooklyn tonight for a birthday party.
2 p.m. Finally feeling back to life after a breakfast sandwich and a shower.
8 p.m. Party is in full swing. Everyone is dressed in pink and looks incredible. The mood is high, and we're playing drinking games and blasting the Barbie soundtrack.
11 p.m. Get a text from Kyle saying he can head over around midnight. People have started to leave, so I send him my address.
12 a.m. Welp, a few people are still here when Kyle arrives. He's a little older than I remember, but super-cute and confident. We hang with the group for a bit and head to my room when the karaoke machine comes out. He immediately pulls my dress off and fingers me until I squirt everywhere. I'm on top of him when he pushes me off to cum all over my face.
1 a.m. We're sweaty, giggling and satisfied. I start to get dressed, but Kyle stops me, saying he's not done with me yet. We rinse and repeat, but this time with spanking. He's a biter — I like it. He fucks me again and cums all over my stomach.
3 a.m. Kyle is finally heading home. He's so fun and open, and I love that he left me covered in marks. To sleep I go.
DAY THREE
9 a.m. Awake too early, but at least not hung-over today.
11 a.m. Make breakfast, walk the dog, and have a lazy day on the couch swiping on Feeld and chatting with some guys. I feel really energized after the last few nights. The kink community was a big part of my life for a while, and it's really nice to be back around sex-positive people who view sex as fun, sensual play.
6 p.m. Start to get ready for a show tonight at Barclays. I'm bringing my roommate. We end up having a few (too many) drinks at our apartment, and I spill the tea about the last few nights. She's truly the best and loves to hear about it, and teases me about being able to hear all the spanking from last night. Oops!
10 p.m. Tipsy at the show and text George, a British guy I've slept with a handful of times. He's an interesting one — super-fun and cute, but has a tendency to call and text me at 4 a.m. when he's coked up. He invites me over to his place after the show.
11:30 p.m. Arrive at George's place in the East Village. He hands me a beer and we're catching up and listening to Taylor Swift on his couch. Pretty soon we're making out. Eventually we move to his room, and he demands that I take my clothes off.
12 a.m. This is probably the best sex we've ever had together. He's biting me all over, spanking me, and I'm going down on him like crazy. I love hearing his little British moans.
12:15 p.m. He flips me over and starts eating my ass out. Then we're spooning and he slides his cock into my ass. We're both super into ass play, but I'm shocked that we didn't need any lube.
1 a.m. I'm blowing him again and start to finger his ass a bit. He's so turned on and pretty quickly cums all over my face. And then passes out immediately. This is one of his problems — he always falls asleep IMMEDIATELY.
1:15 a.m. I clean myself up, get dressed, and then blow out the candle that he would have inevitably left burning all night. I head home.
DAY FOUR
9 a.m. Up too early and hung-over. Whoops. I swear I'm not usually out like this all the time! Wake up to a text from George saying, "You didn't let me know you got home!" Well, my guy, you were passed out! We sext for a bit.
1 p.m. Having the laziest day. I throw a movie on and nap on the couch.
1:30 p.m. I open up my laptop to knock out a little bit of work — reviewing pitch decks, sending emails to freelancers. I lock in a favorite of mine for a big project. Score!
6 p.m. Order ramen with my roommate and watch Harry Potter. I'm starting to feel a little sick and run-down, which is not surprising after a week of debauchery.
8:30 p.m. Bedtime for me!
DAY FIVE
7 a.m. Wake up still feeling sick and make a doctor's appointment for tomorrow. Take an at-home COVID test. Luckily, it's negative.
12 p.m. Work. It's a busy morning with lots of client calls and emails. Everyone seems to be in a bad mood this morning, but I try to ignore it.
1 p.m. Message some guys on Feeld, but I don't have enough energy to keep any conversations going for long.
6 p.m. There's a Feeld mixer tonight, but I think I'm going to sit it out. The group chat that they started for it is meh, and I don't feel like conversing much tonight. Next time.
10 p.m. Lights out!
DAY SIX
8 a.m. Up and at it with the dog. Start to prep for a bachelorette trip I'm going on this weekend. I love this group of friends, but half of them are married and don't necessarily take me seriously when it comes to my nontraditional dating life.
12 p.m. Laundry is in, and I head over to a walk-in clinic to get a routine STD test. While I'm waiting, Sam, another guy from Feeld, messages me about a meetup. He lives in Florida but is in New York often. We haven't actually met yet, but he's a total cutie and seems eager to please and try new things, including double penetration — two guys fucking me at once. It's shockingly hard to find anyone game for it!
1 p.m. Doctor appointment. It's a sinus infection. Fun. A round of antibiotics it is.
3 p.m. Run over to the tailor to get a bridesmaid's dress hemmed. My sister is getting married next month, and while I'm happy for her, I'm ready for the wedding madness to be over. $86 to take two inches off the bottom?! Ugh.
5 p.m. Lying in bed, watching Below Deck, and eating ice cream.
9 p.m. Take a bath, do my skin care, and go to bed.
DAY SEVEN
7 a.m. Up early today to be in the office. I only go in once or twice a week, and I dread it. Everyone is nice and all, but they aren't people I'd really be friends with.
9 a.m. My shoes are on, and I get a text from my boss telling us to stay home! She's sick and doesn't care. Wow. Especially great news since I want to rest up before this weekend.
12 p.m. Break after a few hours of working on a presentation. All of the work I do is client-facing, so I like to make sure everything is perfect.
6 p.m. One of my friends comes over and brings tacos! Bless her. She's in a new relationship with a woman and recently came out to her mom, who took it well. After a rough few years in the dating space, I'm so happy for her.
10 p.m. We head up to our roof to look at the moon and stars tonight. Pretty! Then we head back downstairs, walk the dog, and go to bed. What a week!
The Sex Diaries column, which began in 2007, is the basis of a new docuseries on HBO.
Want to submit a sex diary? Email sexdiaries@nymag.com and tell us a little about yourself (and read our submission terms here.)