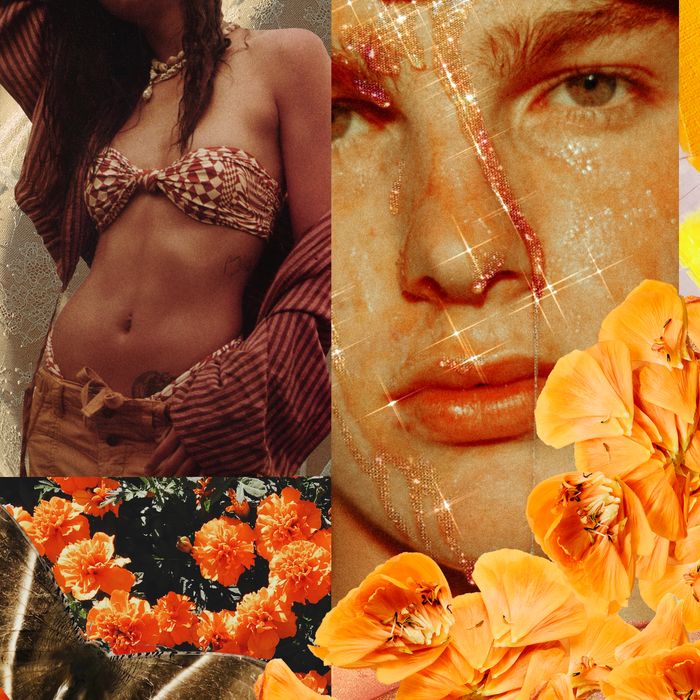 Photo-Illustration: by Marylu Herrera
This week, a publicist leaves all of her Tinder dates feeling sexually unfulfilled: 42, single, Philadelphia.
DAY ONE
6:30 a.m. Wake up in my family's beach house. I spent the weekend here so I could go to my favorite beach yoga class in the mornings.
7:30 a.m. Yoga. I've been into yoga ever since I had weight-loss surgery a few years ago. I'm strong and flexible, so it feels good to get through the class.
10 a.m. Head home, take a shower, and change into a white cropped tank and pair of cutoff denim shorts. I'm healing 42 years of bad body image one crop top at a time.
12 p.m. Mom and I drive to another beach town for brunch. My father died last year, so as an only child, it falls to me to look after her.
2 p.m. Open Tinder and start blasting out my standard Sunday afternoon message: "Hi [name] [wave emoji]. What did you get up to this weekend?" Copy, paste, change name, down the line of decent-looking matches. A few guys reply right away — anyone whose response is "fine" or "not much, u?" gets ignored.
4 p.m. Diego, a guy from California in town for the week, asks me if I want to chat on the phone or meet up and "explore our desires." He asks if I'm submissive, and I say I take direction well. Diego asks if I want to meet up and I suggest Tuesday night.
7 p.m. Back at my place — I live outside of Philadelphia. Hungry for the first time since breakfast (thanks, Ozempic). I make chicken salad with blue cheese, dates, and toasted pecans.
11 p.m. I have a terrible habit of falling asleep on the couch instead of going to bed like a normal person, and tonight is no different.
DAY TWO
8 a.m. Make the "commute" from my bedroom to my desk — I work from home, doing PR for a big industrial company. I don't like my job that much.
4:30 p.m. Duck out of work a little early to take a hot-yoga class at the bougie gym up the street from my apartment. There are two hot, tall guys (one tattooed, one not) in today's class. The tattooed one takes a spot a few mats away from me, and the not-tattooed one takes the spot immediately behind me. I'm self-conscious about my ass in his face during downward dog and spend most of the class thinking about what it would be like to have a threesome with them.
6:30 p.m. Get home from yoga drenched. After showering I put on a bathrobe and eat chicken salad on Ritz crackers on the couch while watching TV.
11:30 p.m. Wake up on the couch. I can't fall back asleep, so I scroll through my favorite free porn site until I find a clip I like: two performers who've never worked together before on a blind date. I fast forward through the chit-chat until they start fucking and I masturbate until I orgasm.
DAY THREE
5 a.m. Up early for a barre class.
10 a.m. Text Diego to ask if we're still on for tonight, and he asks to postpone until tomorrow.  He's apologetic and suggests a restaurant and a time right away, so I don't feel too disappointed.
4 p.m. I crank out emails and sit in meetings all day. Between work I text my friend Anna about our boy problems. We recently decided to add "nudes are overrated, send me a video of you reading out loud so I know you're not stupid" to our Tinder profiles. No one has taken us up on it yet.
9 p.m. Swipe some more on Tinder and match with a few guys. One guy, Gunner, has awful photos. He messages first with a lazy "Hi." I don't reply, but he's 6-foot-3 so I make a mental note to reassess later.
11:30 p.m. In bed, thinking about Andrew, my last Tinder hookup. I thought he was kind of weird for the first two minutes of our first date, then we started talking and didn't stop for three hours. Then we made out in my car for a half hour. Then we went back to my apartment, and he put his hand up my dress while we were cuddling on my couch, and made me come the first of four times. We snuggled and had sex for hours, but the next day, his texts started to get less and less frequent. Eventually, they just stopped coming at all.
12 a.m. I roll over, wrap my arms around myself, and go to bed sad.
DAY FOUR
6 a.m. Another barre class.
10:30 a.m. Weekly check-in with my boss. I'm distracted thinking about my date tonight with Diego.
2 p.m. I text Anna to ask what I should wear, and she suggests a blue floral dress with a low-cut neckline that shows a lot of boob. I reluctantly agree — I wore that dress on my date with Andrew.
3 p.m. Crank out a bit more work and start getting ready for my date.
7 p.m. I get to the restaurant where I'm supposed to meet Diego, and he's nowhere to be found. I text him that I'm there and he replies, "be right there."
7:10 p.m. Diego shows up and I'm a little surprised. He's shorter and older looking than his photos. I can tell he has hair, but he's wearing a baseball cap. He asks for a mocktail and orders crabcakes. I'm not very hungry but since he ordered something expensive, I get a citrusy gin cocktail and a crab cake sandwich.
7:30 p.m. Making conversation with Diego is excruciating. His only responses are "Oh word?" and "Oh wow." He's giving me nothing to work with.
7:45 p.m. We get the check and go for a short walk. I'm still doing all the talking, and when we get back to my car, he asks, "Do you want to go mess around?" This is unexpected, but I say okay.
7:48 p.m. We're parked in his car a few blocks away (since I never did it as a teenager, I find hooking up in a car to be fun and hot and sleazy). He mentioned he was a dom, and it immediately shows: He tells me to open my legs and suck his dick. His dick is proportional to the rest of him — short. He says something incredibly dirty that makes me wet, but then he finishes in my mouth. I swallow, and he immediately starts getting dressed again.
7:50 p.m. I'm a little taken aback. I say, "Okay, how about me now?" And he goes, "I'm good, I don't feel like doing anything else. I was pretty clear. Are you mad?" I tell him I think it's pretty fucked up how he went from practically mute to "open your legs and let me fuck your face."
He frowns, then says, quite sincerely, "Thank you for coming all this way. I really enjoyed the company and the conversation … I think that was my favorite part."
8:01 p.m. In the car on the way home. I call Anna and recap the date. She is also disgusted.
9 p.m. I take the blue flowered dress off and throw it in the hamper — it obviously needs to be cleansed of its bad date juju.
DAY FIVE
6 a.m. Barre again.
8 a.m. Work again.
1 p.m. Spend most of the day texting about dating nightmares with friends.
8:15 p.m. On the couch. Get a text from V, a big, sturdy tattoo artist from South Philly I matched with a couple months ago. We've never met, but we like to sext. He tells me he's lying in bed, and I ask if he's looking for company. He says yes, and I ask what he's going to do for me if I come over. "Go down on you until you beg me to stop." Sold.
9 p.m. V gives me his address, and I tell him I'll text when I'm nearby. He tells me, "My room is messy, don't judge lol."
10 p.m. Takes me a while to find parking, but finally, I get to his place. Messy is an understatement: Piles of clothes, clutter, and crap everywhere. It smells like cigarettes. But he's a good kisser and lays me down on his bed, where he practically tears my jeans off. He was not kidding when he said would go down on me until I begged him to stop.
10:15 p.m. I come super-hard, then he gets between my legs. I think he has a bit of performance anxiety because he can't quite stay hard. We take a break for a little bit and while we're chatting, I start to give him a hand job, which turns into a blow job. He then fucks me on all fours until he comes all over my ass.
11:15 p.m. Home again. I rinse off in the shower, put on pajamas, and eat the last of my chicken salad.
DAY SIX
8 a.m. Sleep in today. I work a four-day week, so I'm off every Friday.
9:15 a.m. Brazilian appointment. I really like my waxer, but I have to remind her every time that I like the top of my butt crack done too.
10 a.m. In the car on the way to see Oppenheimer with a cold brew and a bagel in my bag. The theater is almost an hour away from my apartment.
1:45 p.m. I stagger out of Oppenheimer, depressed but inspired to do a Barbenheimer costume for Halloween.
2:15 p.m. Head back to my apartment. When I'm home I look through my Tinder matches and decide to message Gunner, the tall guy with the terrible photos. He responds right away and asks what I'm up to tonight. I tell him I'm going to a goth-themed party, and he asks what I'm planning to wear. I tell him I'm not sure, but leather shorts are involved. His response: "Yeah, show off that big butt!" Ew.
3 p.m. Against my better judgment I send Gunner a link to the party and tell him to meet me there. Then I go to the mall and look for a shirt to go with my leather shorts. I find a black crop top covered in black sequins.
5 p.m. Take a nap to prep for the party.
9 p.m. Wake up from my disco nap and head to goth night. Gunner still hasn't replied.
12:30 a.m. Goth night is fine. I head home.
DAY SEVEN
8:30 a.m. Barre again.
11 a.m. Swipe Tinder and take a nap.
4:30 p.m. Get text from Gunner: "So how was the goth party?" I tell him it was fine and ask how his day was. He said he went to the beach and his ass got burnt. I tell him, "I keep aloe in my fridge for sunburns. You have to pass my place on your way home." He says he'll come over if I rub it on for him. I send him directions to my place.
4:45 p.m. I shave my legs and pits and change into a black crop top and a little pleated tennis skirt. Then I tidy up my apartment — hide some clutter, sweep the floors, neatly make my bed.
5:30 p.m. I see Gunner walking up to my apartment, and he's as tall as advertised and better looking. I let him in and the first thing he says is, "What, no hug?" We kiss against my front door, and I can already feel he's hard.
6:00 p.m. We head to the bedroom. He gets naked, and his dick is pretty big. He lays face down on my bed and says, "Okay, aloe me." I squeeze a dollop of cold aloe on his back and start rubbing it in. Afterward, he puts his arms around me and says, "You are very beautiful, and you do have a great ass."
6:10 p.m. We kiss, then he turns me around, pushes me onto the bed, yanks my skirt down, and buries his face in my ass. I am in heaven as he alternates between spanking me and eating my ass. He throws himself onto the bed, and I start blowing him. He comes pretty quickly — he must not have come in a few days because it's a lot, so much that I scurry off to the bathroom to spit.
6:50 p.m. We're lying next to each other chatting, and he gets a phone call that ends: "Yeah, I'll be there soon. Love you." He says, "That was my mother. It's her birthday today. I have to go see her tonight."
7:00 p.m. I ask, "Got anymore in you before you leave?" He says, "Nah, I'm good. I really didn't expect to have sex today. I was just thinking I was going to come hang out."
I can't believe this is happening to me AGAIN.
7:30 p.m. I rehash Gunner's visit with Anna — I send her screenshots of our texts and ask her what I did wrong. She says Gunner has a screw loose.
8:30 p.m. Looking through Tinder and my chat with Gunner is missing. I text Anna and ask her to tell me if she can see his profile — she can. That sonofabitch unmatched me.
The Sex Diaries column, which began in 2007, is the basis of a new docuseries on HBO.
Want to submit a sex diary? Email sexdiaries@nymag.com and tell us a little about yourself (and read our submission terms here.)