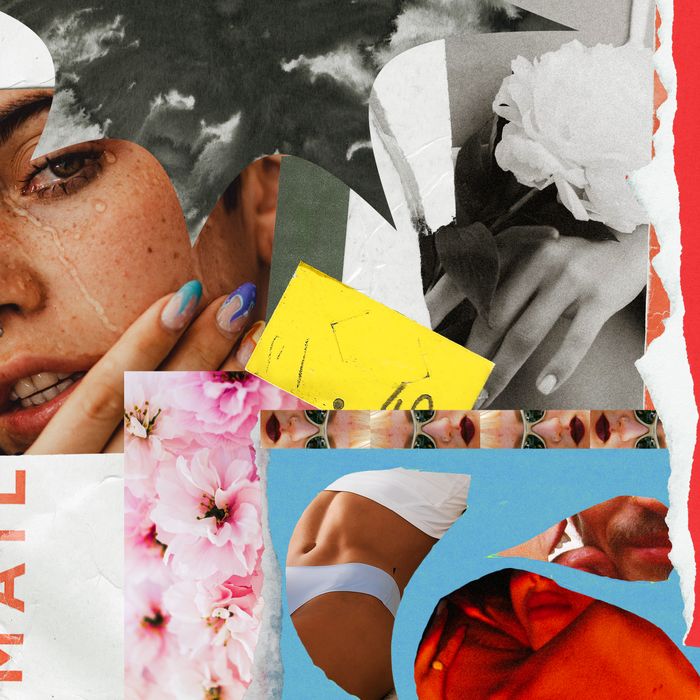 Photo-Illustration: by Marylu Herrera
This week, a techie gets fed homemade ice cream by a date: 34, single, San Francisco.
DAY ONE
7 a.m. I wake up naked and horny in my hotel room in L.A. I work in marketing at a tech company and have been here for a couple days for work. I grab my phone and take a sexy pic for A, someone I met in New York last month on another work trip.
9:30 a.m. Finally out of bed, showered, and ready to check out of the hotel. I head down to the lobby for a mediocre breakfast and walk past the courtyard where a yoga class is happening. Nice view.
Noon Go see Bottoms with a friend, which is hilarious and so gay. These types of movies make me love being a lesbian but resent not having a queer experience in high school. I was very closeted and insecure back then.
4 p.m. Text a woman I met on Lex last week, N. After a tea date (I don't drink), we went to my place for a very hot hookup. She's a little awkward, absolutely stunning, not great at texting, and really fucking cool … Basically I'm smitten. I decide to be forward and tell her I haven't stopped thinking about her. We make plans to see each other later this week.
6 p.m. Hop on the plane at LAX with my dreams and my cardigan. Back to San Francisco.
DAY TWO 
8 a.m. Up and at 'em. I go to the farmers' market to pick up some peaches, nectarines, and tomatoes. I'm moving to Texas this fall just to change things up (I'm fully remote), so I'm trying to soak up all of this California produce. Late summer, early fall is the best time of year here.
11:30 a.m. Pick up bagels and meet a friend in the park to catch up. We both went through breakups around the same time and haven't had a chance to check in. My ex and I broke up a few months ago — we were together for five years and it was an amicable and mature separation. We both just fell out of love with each other and tried to fix things, but it didn't work out. My friend is doing great, and it's really nice to see her.
2:30 p.m. I head into the city to see R, another woman I met last week on Lex. We meet at a café across the street from her apartment. I get a green tea and we share a slice of pumpkin bread. She's cute, but I get a major ick from watching her eat: She grabs handfuls of bread to stuff into her mouth, there are crumbs everywhere, food is in her teeth. We take a walk and I try to shake my disgust.
3:30 p.m. We are back at her place making out. She's sticking her tongue in my mouth and I can't stop thinking about the pumpkin bread. We have sex using my strap on and she comes hard, but I don't think this is happening again.
8 p.m. I check in with N. We chat about her weekend and our Sunday scaries. I'm already catching feelings.
9 p.m. Text with this woman, L, who I met on Tinder last week. She's really funny — I'm lying on the couch giggling like a schoolgirl. She's also cute and gets all my stupid pop-culture references. We plan to meet up later this week.
DAY THREE 
7 a.m. It's Monday and I feel dead inside. I know it's not going to be a productive day. I get up to make coffee, shower, and walk the dog.
10 a.m. I send N a song I'm really digging lately. She sends me a few recommendations. Good Lord, she's so cool and hot as fuck. I can't wait to see her again.
6 p.m. A, from New York, sends me a nude and an audio recording of them moaning and coming. Well, I guess it's time for a little break from work …
8 p.m. Well, that was a day. Smiling through back-to-back meetings is exhausting. After I log off, I make myself some pantry pasta with anchovies, garlic, and cherry tomatoes and settle in for a couple episodes of The Bear. N and I are texting about her family and I'm really enjoying learning about her.
DAY FOUR
7 a.m. Roll out of bed.
3 p.m. I reach out to S, who I met in Austin on a work trip. She was really communicative, respectful, and fun. I let her know I'll be in town in a few weeks and would love to kiss her again.
7 p.m. My downstairs neighbors come over for dinner. We're all leaving for various trips, so we do a fridge cleanup sort of dinner: There's homemade pizza with random toppings, salad, and roasted veggies. I'm really going to miss this.
9 p.m. N and I are texting about our date plans. I'm really excited and kind of nervous.
10 p.m. R texts to tell me I left marks on her the other day. She sends me a picture of her tits. I'm proud of my work, but the image of her eating that pumpkin bread crosses my mind again and I shiver.
DAY FIVE
7 a.m. Wake up to a reply from S, the Austin woman. She says she's traveling and generally not really available for dates these days but wants to be friends and to grab dinner next time I'm in town. I'm a little bummed but really respect and appreciate her clearly communicating what she needs. Friends it is!
8 a.m. I make a half-pot of coffee and drink all of it before noon. It's that kind of day.
1 p.m. I take a break from work to make lunch, and watch some U.S. Open.
7:30 p.m. Meeting L, the Tinder girl, for drinks. There's really loud live music at the bar. She's also dog-sitting for a friend, so she brings two pups to the date. It's a very interesting and funny time getting settled in.
8 p.m. She's super-outgoing and really pretty. We stay for dinner and talk about her job, life, and current dating situation. She asks if I want to come over.
9:30 p.m. We're on her couch, and she brings me homemade ice cream! It's delicious. The conversation is great: She's into great TV and reading, so I overwhelm her with recommendations. At a pause in the conversation, I take an opportunity to lean in to kiss her. Her lips are so soft.
9:35 p.m. L has straddled me and we're aggressively making out. I'm touching her all over, grasping her hips, her ass, her tits. We go to her bed and our clothes come off. I get on top of her, kiss her, then lick and suck her clit until she comes loudly. Then she goes down on me and makes me come twice.
10 p.m. We lay in bed and chat a while and agree we need to do this again soon. Then she walks me to my Uber. On the way out, she picks me a few tomatoes from her garden to take with me. God, I love women.
DAY SIX
7 a.m. I wake up feeling excited and nervous about my date with N tonight. She's going on a road trip in a few days, so I'm planning to buy her some fun snacks. Pathetic, I know. How does this woman have me so worked up?
9 a.m. I text L that I had a great time last night and would love to see her again. We chat about seeing each other after I'm back from my next trip.
10 a.m. It's performance-review season at work, so I spend the day writing 1,000 peer reviews because I can't say no to people and I want everyone to like me.
4 p.m. I log off and get ready to see N. Pick up some Thai food and road-trip snacks along the way.
6 p.m. I take some deep breaths before walking up to her apartment. She opens the door and looks so damn good. I want to kiss her, but her roommate is there too, so we just hug.
7 p.m. We eat dinner and have a delicious mocktail. The conversation is wonderful, and I love hearing her talk about her life and her passions. She gives me a tour of her apartment, which ends in her bedroom. We settle into her bed and she asks if she can kiss me.
She kisses me with a sense of urgency. My hands are in her hair, and she starts to feel all over my body. I kiss her neck and bite her earlobes while she moans. I make my way down to her tits, sucking and biting. I go down on her, and she's writhing with pleasure. She comes hard, and it's beautiful. Then she gets on top of me, fingering and sucking my nipples until I come, my nails digging into her back.
7:30 p.m. We lay in bed a while, chatting quietly. Then she walks me to my car and we make out under the streetlight. I can't stop smiling on the drive home.
DAY SEVEN 
7 a.m. I wake up riding the high of seeing N. Last night was dreamy. I text her and tell her how much fun I had last night and that I can't wait to see her again. This is going to be a disaster!
10 a.m. It's Friday. Everyone at work is totally checked out. I have no meetings today, so I take the opportunity to finish up some work I've been putting off and finish the book I'm reading.
6 p.m. I head over to my friends' apartment for Chinese takeout and game night. We play some Catan and catch up on life. I fill them in on my week. They really get a kick out of my hot girl summer.
8 p.m. I leave at the ass crack of dawn for another trip, so I start packing.
The Sex Diaries column, which began in 2007, is the basis of a new docuseries on HBO.
Want to submit a sex diary? Email sexdiaries@nymag.com and tell us a little about yourself (and read our submission terms here.)