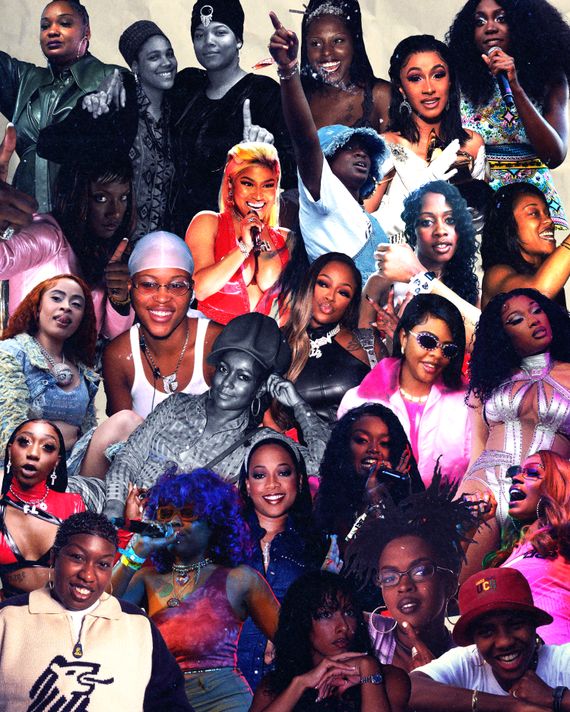 Photo-Illustration: The Cut; Photos: Getty
This article was featured in One Great Story, New York's reading recommendation newsletter. Sign up here to get it nightly.
Since hip-hop's inception, as a subculture and as an art form, there have been "women in hip hop." B-Girls, DJs, graffiti artists, and emcees have helped shape history right alongside the men who are credited as the genre's forefathers. The first hip-hop group to perform on national television, the Funky 4 + 1, had MC Sha Rock as their First Lady in residence. Hip-hop's first major commercial record — Sugarhill Gang's "Rappers Delight" — was coordinated by none other than record-label executive Sylvia Robinson. Even the acknowledged "birth" of hip-hop on August 11, 1973 — the date that Clive "DJ Kool Herc" Campbell DJ-ed a "Back to School Jam" at famed 1520 Sedgwick Avenue — was coordinated and promoted by his Clive's sister, Cindy Campbell, a B-Girl and graffiti artist herself.
And yet as hip-hop enters its sixth decade, the impact of women as both creators and consumers remains easily minimized, their relevance speculated on and treated as disposable. When Lil Wayne was recently asked by Billboard why it took so long for women in rap to develop their current momentum, he answered, "I don't think they looked at or viewed it as something that they wanted to do and actually make a living from it." A formulaic list will rarely capture the impact of New Orleans bounce queen, Magnolia Shorty, despite her classics being sampled by the likes of Drake and Chris Brown; or Shawnna, the first female artist signed to Def Jam South, one of the few to have a No. 1 record alongside Ludacris with "Stand Up," and whose record "Gettin' Some" and appearance on Ludacris's "What's Your Fantasy" (especially the all-woman remix) are unrepentant, raunchy triumphs. And when women are celebrated, it's too often for overdue milestones that are nonetheless few and far between. This year, Missy Elliot became the first woman in rap to be inducted into the Rock & Roll Hall of Fame. The first female solo artist to win Best Rap Album at the Grammys was Cardi B for her 2019 debut record, Invasion of Privacy; in 2021, Megan Thee Stallion was the first female hip-hop artist since Lauryn Hill in 1999 to win Best New Artist. Nicki Minaj broke another longstanding Lauryn Hill record with her 2022 single "Super Freaky Girl," the first solo record by a woman in rap to debut at the top of the "Billboard Hot 100" since 1998's "Doo Wop (That Thing)".
While none of this is exactly surprising, that the genre is so often framed as an inherently masculine performance is still both frustrating and ahistorical. Not that hip-hop is more misogynist than any other piece of popular culture — we live in a patriarchal society, and the dominant modes of entertainment are bound to reflect its norms — but without a critically needed corrective, women's stories can easily be lost and men crowned as the torchbearers. "In the recording of the history, women are looked as these exceptions that made it through this male space as opposed to the people that make the culture," says Joan Morgan, the journalist, author and program director for the Center for Black Visual Culture at NYU in the newish Netflix docuseries Ladies First: A Story of Women in Hip-Hop. But hip-hop cannot tell the story of its journey from subculture to monoculture without reckoning with its fraught relationship with gender — having capitalized on misogyny while being propelled forward by the innovations of women.
There are entire canons built off women's legacy in rap. Lil Kim's legendary squat for her Hardcore album cover — on which she was both figuratively and literally sex-forward — has been imitated, duplicated, and honored ad infinitum. MC Lyte's classic "10% Dis" — in which the Brooklyn native opens with a disgusted "Hot damn, hot damn, hot damn, hot damn, Hot damn, hot damn, hot damn, hot damn, Hot damn, ho, here we go again" — found new life in Kim's searing guest verse on Mobb Deep's "Quiet Storm (Remix)": "hot damn ho, here we go again/lyte as a rock, bitch, hard as a cock, bitch." MC Sha-Rock introduced the echo-chamber effect, a stacking tool that cascaded words as if they reverberated through a room; it would eventually be adopted by Darryl "DMC" McDaniels of Run-DMC. While Rocawear and Sean John were in full swing, it was women who catapulted hip-hop into high fashion, storming the red carpets with Gucci, Marc Jacobs, Versace, and Chanel before name-dropping luxury brands became standard issue in rap verses.
That we're even having this conversation in the year 2023, perhaps the most exciting time to be a fan of women in rap, speaks to how resistant the industry seems to be to rhapsodizing about the genre in terms of more than feats of masculinity. A fan of lyrically dense and cerebral wordplay? Explore the extensive discographies of Rapsody, Chika, and Noname. Maybe theatrical explorations of musical performance are more your thing? Tierra Whack, Leikeli47, Monaleo, Rico Nasty, and cupcakKe are right up your alley. Pussy Rap is available in spades, too: City Girls, Megan Thee Stallion, Latto, Cardi B, KenTheMan, and many others have records upon records upon records of sex-forward, sex-positive thrilling songwriting. The girls who keep it southern and ghetto are wide-ranging, from BbyMutha to SexyyRed to GloRilla. Maliibu Miitch and Lola Brooke harness sonics from New York's '90s superstars, while the Bronx's Ice Spice has made a name for herself injecting a delicate cadence to the more contemporary drill sound. Flo Milli has trademarked a uniquely bratty approach to her delivery. Nicki Minaj regularly drops feature after feature showcasing her near-unparalleled versatility as the resident legend.
"It's a lot of fire female rappers," J. Cole admitted in a recent interview with Kevin Hart. "Commercially, they're doing some of the most exciting — they're giving us a lot of fire moments, you know what I mean? And I feel like that's something that wasn't around when we was growing up."
While, yes, it's indisputable that women's contributions and presence in hip-hop culture are more visible now than ever before, any hip-hop historian could tell you that women have been impacting the industry since before J. Cole was a kid. Rarely will you see an artist offer a top-five list that isn't populated with all men, with Lil' Wayne's recent praise of Missy Elliott serving as a notable exception. It's a bitter double bind: The lack of recognition itself is a marked erasure, while the belated embrace by peers, industry tastemakers, and executives highlights the depth of the structural oversight. New Orleans Rapper Mia X — who famously opened her verse on the No Limit classic "Bout It, Bout It" by declaring that she was "comin' from the Crescent, testin' nuts/and ready to bust some of those who doubt it" — recently affirmed this thought online. "I often hear that I'm underrated and don't get my props," she tweeted. "I'm often asked why didn't they include you? I don't have the answers to those questions."
"There has been a tendency throughout history to celebrate the few," journalist Clover Hope says, "because people look at hip-hop as this man sport." In researching her 2021 book, The Motherlode: 100+ Women Who Made Hip-Hop, which excavated the legacies of women in the genre beyond the marquee names we have come to know and love, Hope found that many women felt pressure to adhere to predefined conventions of feminine performance. You had three choices: the sexpot (Kim, Foxy, Trina), the guy's girl (Eve, Remy Ma, MC Lyte), or the conscious bohemian (Lauryn Hill, Queen Latifah) — all archetypes that were both reductive and deeply limiting. And for every success story, there were many more women who burned out under those conditions, having been forced to follow a rigid template early in their careers and satisfy the subsequent expectations of feminine performance, often under the guidance of a man whose co-sign functioned as a prerequisite for a woman to make it in the mainstream. Without that clearly defined marketability, neglect felt inevitable, with artists' music left abandoned and unattended on the shelves until their deals ran out. It's no wonder that so many female artists end up leaving hip-hop to pursue other passions. "A lot of them felt like they couldn't do it anymore," Hope points out, bringing up the rapper Solé. "She didn't feel like she necessarily fit so squarely into any one thing. It's almost like you're pigeonholed — and a lot of them express that kind of pressure to choose." Rapper Amil, who faded from the limelight after her prominence in the late '90s as a Jay-Z protégé during the Roc-A-Fella era, has spoken up about her own travails in more recent interviews. "I rebelled against the industry because it's not what I wanted," she said in a conversation with Billboard. "I didn't put my all into it. I didn't give 100% of myself. I felt like it just wasn't for me."
These confines can also become traps for the few that manage to break through the glass ceiling and find notable success within the form. Critiques of today's "pussy rap," for example, lambaste it as hypersexual, artless, demeaning, and derogatory — words no different from the derisive rejoinders that plagued the likes of Lil' Kim, Foxy Brown, Trina, and Khia in their heyday. "We have people like Too Short, Luke Skyywalker [of 2 Live Crew], Biggie [Smalls], Elvis Presley, Prince, who are very, very, very sexual, and they don't get trashed because they like to do it," noted Lil' Kim in a 1997 interview with bell hooks. "But all of a sudden, we have a female who happens to be a rapper, like me, and my doin' it is wrong. And 'cause I like doin' it, it's even more wrong because we've fought for years as women to do the same things that men are doing." The more contemporary moral panic instigated by bawdy singles such as "WAP" and "Poundtown" — even as BRS Kash's fellatious ballad "Throat Baby" climbed to No. 24 on the "Billboard Hot 100" — are new iterations of that same discourse.
"There has been — just in general in hip-hop — more of an acceptance that there's a costume being worn," Hope says, pointing out Jay-Z's hustler persona and Rick Ross's infamous correctional officer past. "People don't allow for maybe multiplicity in women in the same way." The hypersexual stage persona for women has often been received, by industry critics, as a license to be demeaned and disrespected, while artists like MC Lyte and Lauryn Hill are praised for their "respectable" and elevated rhyming. While both legendary in their own right, the implication here is that they refrained from debasing themselves by wading into the erotic — even though Lyte's verse on "Wanna Be Down (Remix)" is pointedly explicit and sexual: "I flip a sideshow if you come my way/Up, down, and around, even sideways." Similarly, most praise of Missy Elliot's oeuvre glaringly omits the bold sensuality in her music, even though her embrace of desire as a fat dark-skinned woman is as paradigm-shifting as any of her video concepts.
These few examples (and there are many) shine light on the informal but bright line between women who embraced their sexuality as performers and those who didn't, and their cis male counterparts fought to enforce that artificial binary by performing respectability at the expense of solidarity with the emerging class of women in the genre. In her feminist-theory classic When Chickenheads Come Home To Roost, Joan Morgan notes how artists who were defined as conscious, such as Queen Latifah, defied these most often male efforts to sow division among women in the genre and embraced the work of Kim as a harnessing of erotic power. "Somebody is finally saying it in plain English: If you cum then I'm gonna cum. If he's gonna get what he wants then I'm gonna get what I want," Latifah expressed. "And these are not unlike things I say myself." In fact, in the lyrical triumph that is Latifah's "Ladies First," collaborator Monie Love suggests just as much, proclaiming "when it's time for loving it's the woman that gets some."
Another tried-and-true tactic for invalidating a woman's mainstream accomplishments is to interrogate their writing capabilities. Despite the act of ghostwriting and co-writing being a part of hip-hop since Grandmaster Caz helped pen "Rapper's Delight," women have been particularly plagued by accusations that they were helped, as if to imply that their presence on a record is one of convenience and easily replaceable. But Big Daddy Kane allegedly ghostwriting for Roxanne Shanté doesn't erase the fact that some of her most recognized moments were documented freestyles; Biggie Smalls helping craft "Queen Bitch" doesn't overshadow the silver-tongued verses that Lil' Kim composed after her mentor died in 1997. "Anybody who has written with me in the studio knows I get busy," Kim said in a 2014 interview with HelloBeautiful. "After Biggie died, I had hit after hit after hit. So, I guess that answers the question." Such ghostwriting allegations have never been about talent — they were about spreading a narrative that women lacked autonomy and were merely puppets for a male overseer's ventriloquist act.
But of course women's role in hip-hop has never been that of the spectator — something that fans have understood for far longer and more deeply than the powerbrokers of a subculture that long ago went corporate. Social media in particular has allowed for the emergence of powerful counternarratives to women's historically dismissed impact on the genre. Just look at the bevy of archival fan accounts that embrace the storied prowess of women in the industry, past and present. Or how the digital streets mobilized when Memphis icon Gangsta Boo failed to be recognized during the 2023 Grammys after her untimely death in January. And where Dee Barnes, Russell Simmons' alleged survivors, and Kim Osorio were left to flounder in the press by the industry after speaking out about the harms they experienced, Megan Thee Stallion's Hotties stood tall against a three-year campaign of misinformation after the artists was shot by Tory Lanez, giving her space to address her mental health as the State of California rendered a guilty verdict; she recently thanked them during her appearance at Outside Lands Festival. Because it's the fans — who, as the cost of concert tickets skyrockets, still clamor to see these women deliver performances that are indisputably above and beyond those of their male counterparts — who know best how they have set trends and established precedents that have irrevocably changed and evolved the genre. "We gotta spend way more bread, put way more energy into our performance, hire dancers, just put a lot more into everything than [men] do," Flo Milli said in a New York Times interview. Noname concurred, tweeting that "most women rapping are technically just as skilled as their male contemporaries, if not better. and i would argue all of them are better entertainers."
Just as Lil Wayne can declare himself the best rapper alive without equivocation, so too should artists like Missy, MC Lyte, Trina, and the dozens of other innovators who have participated in pushing the envelope. And so, on the heels of the genre's 50th birthday, we must embrace all that has been accomplished while also reckoning with the ways that hip-hop's porous gender politics have led to innumerable women falling through the cracks in the hope that these slights are never repeated with such systemic disregard. In an ideal world, when hip-hop's women step up to claim their piece of history, they'll be supported not only by fans and the generations of young women they've influenced, but by the men they have long collaborated with, as well as the ones who stood in their way. The industry's acknowledgement of these oversights won't kick the doors wide open, nor will it eliminate the structural problems that women face, but would certainly be a step forward for the next 50 years.