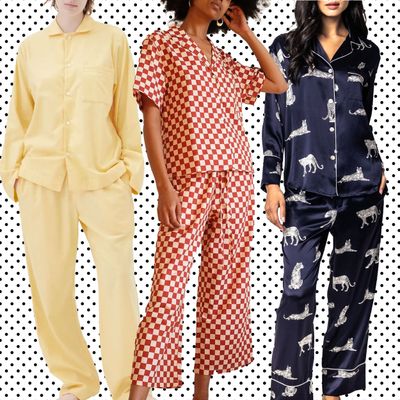 Photo-Illustration: Courtesy of vendor.
For more of the Cut's favorite fashion, beauty, and home finds, sign up for the weekly Cut Shop Newsletter.
There is nothing more chic than a nice set of pajamas. It really says "I've got my life together." Plus: Pajamas make great gifts. They are something you might not splurge on for yourself, but being gifted a pair is a different story. Depending on your sleeping habits, that could mean a silky-smooth chemise, oversize sleep shorts, a breathable linen set, or even pajamas that are cute enough to be worn out and about.
Whatever your preference when it comes to sleepwear, know that you absolutely do not have to sacrifice style for comfort or functionality. In fact, we found plenty of options that check all three boxes.
Read on for Cut Shop's list of the 22 best women's pajamas of 2023 from brands like Skims, Lunya, and Hill House Home.
If you like options
This best seller features five pieces instead of your usual two. The satin set includes two tops — a cami for summer sleeping and a long-sleeved shirt for the winter — to pair with shorts or pants. You can store or gift it all in a matching bag.
Available in sizes S–XL.
The best-seller PJ set
According to reviews, these are "the perfect" pajama pants because of the luxurious ribbing, incredibly soft material, and their ability to hold up so well after a wash.
Available in sizes XS–4X.
The crowd-pleaser
This classic would be a great gift for your mom, sister, best friend, or yourself.
Available in sizes XS–XL.
If you like to stick to the basics
Oversize hoodies not your thing? Nothing wrong with that! Get no-frills comfort and ease in hard-to-find sizes with this lightweight set. The blend of cotton and modal gives it a stretchy fit, and it comes in a few colors.
Available in sizes XS–6X.
The one you can't go wrong in
An under-$50 pajama set that's perfect for lounging around.
Available in sizes XS–XL.
If you wish you could sleep in men's undergarments
Well, you can. Say "Thank you, J.Crew!"
Available in size 2XS–3X.
If you really like patterns
From pretty florals to embroidered fruits, this set comes in over ten colors and patterns. Handmade from 100 percent cotton poplin, it's light enough for hot sleepers.
Available in sizes 2XS–6X.
If you enjoy the details
We found what you need for that next dinner party you're hosting.
Available in sizes XS–XL.
The "summer-girl style" set
This linen set will pair nicely with all your "summer-girl style" essentials — beaded necklaces, crocheted accessories, and flip-flops.
Available in sizes XS-XL.
Your new go-to pair
This Lunya silk set is a personal Cut favorite. The low-back slit keeps you cool and comfy through the night.
Available in sizes XS–2X.
The silk sleep set
Silk isn't just luxurious when it comes to your hair. It's equally special when you wrap your whole body in it for a good night's sleep.
Available in sizes XS–XL.
If you love your beauty sleep
The only thing cozier than a pair of silky satin pajamas is a sleep mask, and this set from Mommesilk comes with a matching one.
Available in sizes XS–2X.
A soft, versatile slip
Reviewers love the feel of the fabric and praise the fit, with many saying this also makes for a great layering piece under dresses.
Available in sizes 16–26.
A solid under-$25 option
This pajama set from Target is here to prove that comfortable pajamas don't have to be expensive.
Available in sizes XS–4X.
For new moms
This three-piece set includes a breastfeeding top and tie-front cardigan that's perfect for nursing.
Available in sizes S–2XL.
The luxurious sleep set
These flannel pajamas are another personal favorite for lounging around the house when company is over. The loose fit paired with the soft fabric and pockets gives these pajamas sweatsuit energy, which we love.

Available in sizes XXS–XL.
If you love to lounge
Checked prints are still in. If you're over them, though, this set comes in a multitude of patterns to suit your style.
Available in sizes 2XS–6X.
Because everyone loves a onesie
Onesies are the easiest way to get dressed. Will you be naked if you go to the bathroom during the wee hours of the morning? Yes. Will you be comfortable? Also yes.
Available in sizes XS–2X.
If you wish you could sleep in menswear
Much more practical than borrowing a man's shirt to sleep in.
Available in sizes XS–XL.
A sleeper hit thanks to Hamptons moms
Pun intended. The coveted nap dress is made to be worn in public during the day but is soft and comfortable enough to sleep in, too.
Available in sizes 2XS–2X.
The fashion-girl pajama set
If an "It" girl were to step out in pajamas, it would be these silky floral ones from Gucci, no doubt about it.
Available in sizes XXS-S.
The bridesmaid-approved one
This scalloped pajama set is all about the details. Its pastel color options, heart buttons, and soft feel make it the perfect bridesmaid gift.
Available in sizes XS-XL.