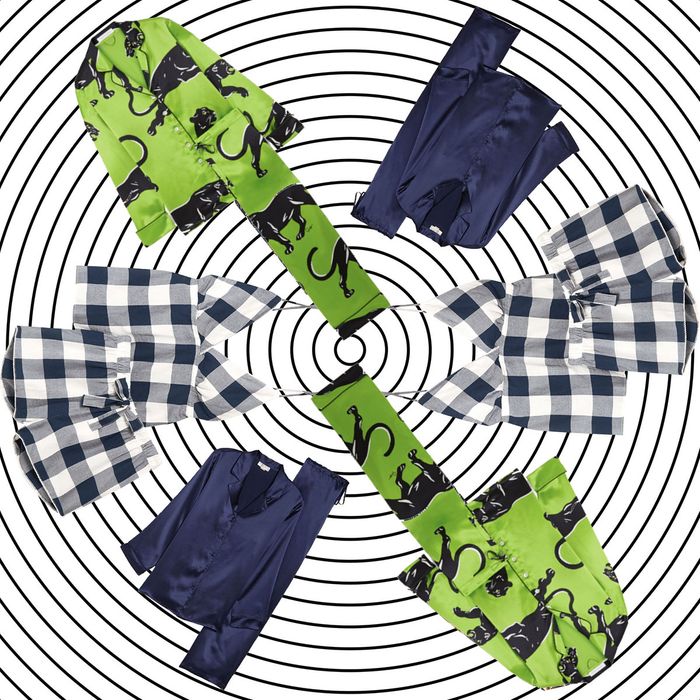 Photo: Courtesy of vendor.
According to statistics, you're going to spend roughly one-third of your lifetime asleep, so you might as well be doing it in good sleepwear. The first rule of pajamas is "Know thyself." Do you sweat at night? Then you'll need something breathable like cotton. Do you hate the feeling of pants in bed? Try a sleep shirt or shorts. Will anything but the smoothest fabrics keep you awake? You'll want the cool, slinky touch of silk or satin. Whatever your preference, we've rounded up the best women's pajama sets below. Scroll on to shop our favorites.
A Slinky Slip
This is the dress you wear after a night at the club. Or maybe this is the dress you wear to the club — either way, it's a great, affordable find.
Available in sizes 1X–4X.
The Pretty Embroidered Pair
Sleepwear brand Eberjey makes some of the softest pajamas around. This set includes fun stitching that makes a statement without being too loud.
Available in sizes XS–XL.
If You Love a Classic
These pajamas strike the right balance between classic and fun. The bubblegum-pink stripes on this set give them an unexpected, girlish twist.
Available in sizes XS-XL.
A Soft, Versatile Slip
Reviewers love the feel of the fabric and praise the fit, with many saying this makes for a great layering piece under dresses as well.
Available in sizes 16–24.
The Supersoft Set
Shoppers love how cozy this sporty set is. "The top is like a soft, lightweight sweatshirt," says one reviewer.
Available in sizes XS–XL.
Because Everyone Loves a Jumpsuit
Jumpsuits are the easiest way to get dressed, even if you're about to go to bed. This one is the perfect combination of sexy and comfy.
Available in sizes XS–XL.
Your New Go-to Pair
"You'll want to live in these," according to reviews. Many compliment the set for its stellar fit and "perfect" pant length.
Available in sizes 1X–3X.
If You Love a Caftan
Here's the pajama equivalent.
Available in sizes S–XXXL.
If You Love a Pretty Chemise
This lacy chemise is not only beautiful but supportive, with wide straps, lined cups, and elastic at the bust.
Available in sizes S–L.
If You Love a Sleep Shirt
This button-down nightdress is a nice upgrade from your old college T-shirt.
Available in sizes 16–24.
A Double-Duty PJ Set
Slide on some mules and sunglasses, and you can wear this out of the house in warmer weather.
Available in sizes XS–XXL.
Because You Hate Pants
If you prefer a slip dress that's more soft than silky, this V-neck jersey dress makes for a great sleep companion.
Available in sizes XS–XL.
For New Moms
This three-piece set includes a breastfeeding top and tie-front cardigan that's perfect for nursing.
Available in sizes S–2XL.
If You Love Pretty Lingerie
The delicate floral detail will match the rest of your lacy collection.
Available in sizes L–5XL.
The Vintage-y Option
Vintage-inspired white dresses straight out of The Virgin Suicides are a trend we're seeing a lot of on Instagram. If you're into that, this is the nightgown for you.
Available in sizes S–2XL.
A Sleeper Hit
Pun intended. Reviewers love Karen Neuburger's designs and fill the comments with praise for this lesser-known label.
Available in sizes S–3XL.
The Fashion-Girl Pajama Set
This suiting is a millennial's dream: It's perfectly pink, structured enough for use outside the bedroom, and most important … pockets!
Available in sizes XS–XL.
The Crowd-pleaser
This would be a great gift for your mom, sister, best friend, or yourself.
Available in sizes XS–XL.
A Fun Find
Not into a closet full of plain pajamas? This playful set is very affordable and ultracomfortable.
Available in sizes 1X–3X.
If You Wish You Could Sleep in Menswear
Much more practical than borrowing an actual man's shirt to sleep in, like characters in movies are often wont to do.
Available in sizes XS-XL.
The Luxurious Sleep Set
For those seeking a truly luxurious slumber, try this posh Josie Natori pair. With a classic cut and light weight, this jersey knit and silk suit is sure to have you feeling elegant even while you sleep.
Available in sizes XS–XL.
The Vacation-Ready Set
Bring a bit of vacation back home with you with these silky, panther-patterned pajamas. If you're feeling bold, they double as a suit for work.
Available in sizes 1–3.
If you buy something through our links, New York may earn an affiliate commission.