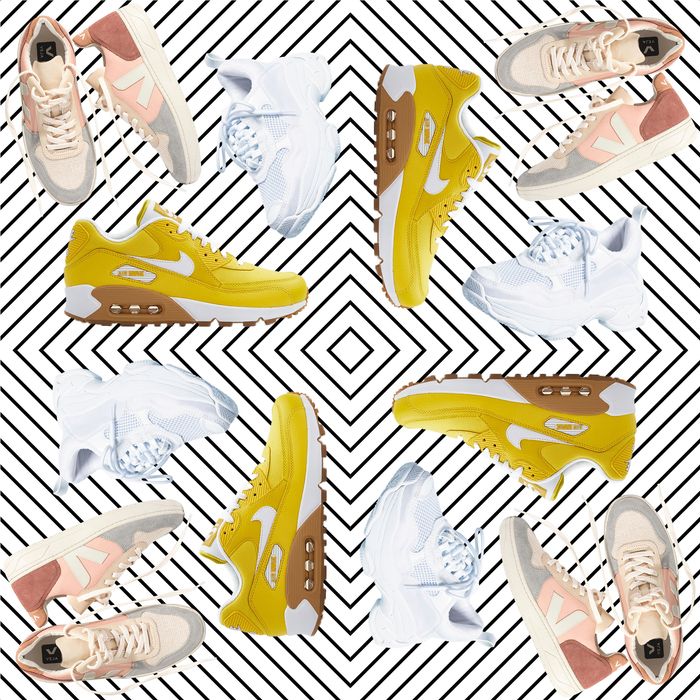 Sometimes, you just don't feel like wearing sandals. Whether you've had enough of running around in super flat wooden soles and dealing with finicky ankle straps or you just forgot to book a pedicure, there's no styling crisis a fun, vibrant sneaker can't remedy. From flashy Air Max 98s to the hot new sneaker collaboration to watch out for, we've gathered the best to wear for this season.
If You Love Eccentric Colorways
Purple suede and lime green might sound like a weird combination at first, but the sneaker's silhouette and contrasting textures make it look chic in the most eccentric way.
Keds are under-represented in the sneaker discussion. They've come a long way since their clean-and-boring '80s image. These sneakers from their Pro-Keds line marries the camo trend with a versatile chunky sole.
Sure, people will probably notice you wherever you walk, but you're also likely to get a lot of compliments — the marigold leather feels practically made for summer.
Remember when all the cool girls wore Fila in high school? Well, don't be surprised if you see your colleagues or neighbors in them now. The company has reintroduced some of its classic styles from the '90s including the Mindblower.
The Fun, Printed Sneakers
Currently at least two pairs of Chucks are already stuffed into your closet, so why not add a playful flamingo print pair?
From an Eco-Friendly French Brand
French brand Veja is already a familiar name among sneakerheads, but if you haven't bought a pair, might we suggest these cool colorblock kicks? Veja's shoes are made with sustainable fabrics, and they have a decent selection of vegan sneakers, too.
For their latest collab, Superga paired up with DeerDana, an NYC-based label by artist Dana Veraldi. Think yearbook-type sketches and font, but not as sloppy and much cooler.
If you tend to favor simple silhouettes and quality materials, Axel Arigato is your best best. These are much flashier than the brand's typical minimal aesthetic, but they're also now half the price.
For the Colorblock Extremist
It doesn't get more tropical-looking than bubblegum pink and vibrant red.
If You Love the Dad Sneaker Trend
In the spectrum of ugly dad sneakers, these probably rank as least offensive. They're also more affordable than the runway version they resemble.
Known for their pretty and dainty high heels, Aquazurra also makes a beautiful sneaker. The hot-pink satin is a refreshing change of pace from rigid leather and utilitarian details.
You can find several different colorways for Air Max sneakers, but the 98s stick out because of the unique shape and edgy striped pattern.
Photo: Brown, Indya
Founded by Supreme director Erin Magee, Mademe has become a rising star among female-focused streetwear brands. The brand recently collaborated with Converse for a new lineup of sneakers including these green corduroy kicks.
The New Brand on the Block
If you're at the point where Nike, Adidas, and Converse all feel a little too done, try Cariuma's clean canvas sneakers. This shoe even comes in 11 different colors if blue is not your style.
If you buy something through our links, New York may earn an affiliate commission.